Cycling Festival adds to Sea Otter Classic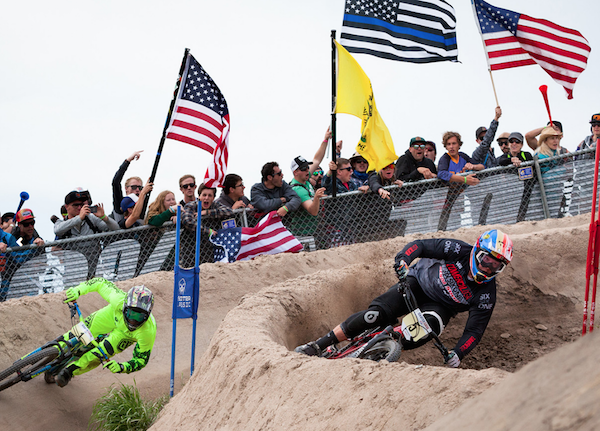 The 28th Annual Subaru Sea Otter Classic Returns to Monterey With an Even Bigger and Better Cycling Festival for 2018
The cycling festival that started in 1991 with 350 athletes and 150 spectators. It has grown to welcome over 9,600 athletes and 72,500 fans to Monterey, CA each April.
This year's Subaru Sea Otter Classic promises to be a sprawling and energetic "Celebration of Cycling". Along with a massive expo that includes booths from over 450 of the top brands in the cycling world.
Expo visitors can expect contests, giveaways, athlete meet-n-greets and more throughout the four-day festival.
Back again to entertain the crowds with his one-of-a-kind stunt show is Danny MacAskill. This year he will be joined by the whole Drop and Roll team.
Expect to see tricks, jumps, and tons of crowd interaction from all four riders.
In addition, Mike Steidley will be back with this trials show.
12-time National Champion
Watch this 12-time National Champion maneuver a custom set of obstacles and ramps, all on a mountain bike, during this high-energy feature. Plan to check these out in the Expo!
Looking to check out what's new on the bike scene for 2018? Test before you buy at the expanded demo areas.
Also, courses will be set up to test out eMTB, road eBikes, mountain bikes and kids' bikes.
For one thing, families can look forward to tons of kid-centric activities in the Specialized Kids Zone.
Including, daily races on the dirt track where everyone's  a winner.
Laguna Seca Track Race
Head to the famed Laguna Seca Raceway for the Laguna Seca Track Race. This year offered on both Friday and Saturday.
Recently named "Official Kids' Bike" of USA Cycling, Frog Bikes will have a booth in the Kids' Zone to get young riders up on two wheels, along with other kids' bike exhibitors.
Furthermore, are you looking for something for kids to do off the bike?
Skipper will be hosting daily Sea Otter Egg Hunts where little ones can win awesome prizes like a new bike.
The Hollister Hills SVRA booth is back with everyone's favorite remote-controlled vehicles and local animal pelts, skulls and hands-on activities.  In addition, young riders will enjoy meeting the folks behind Buddy Pegs. 
The podcast and book that encourage the love of cycling in kids.
The Sierra Nevada Beer Garden brings back everyone's favorite Sea Otter Ale for the third year – exclusively brewed for this event.
Also, look for all of your favorite brands that will be hosting events in the Expo.
Subaru owners can look forward to exclusive owner events and reserved parking.
Winnebago also gathers owners together for camping and a rally of owners. Check out the online activity calendar for all the events-giveaways, music, athlete signings, networking events, happy hours and more.
Interactive Festival Map
Also, the best way to search for your favorite brands is through the interactive festival map. Sort exhibitors by category and find out where booths are located while you are at Sea Otter.
Lastly, all of your favorite races and rides are back for 2018 including the always-entertaining Brompton World Championship USA.
The race features a Le Mans-style start in which participants dressed in formal wear. Instead of Lycra sprint to their folded bikes, unfold as quickly as possible and start racing.
Grab your spot watching riders.
Finally, duel it out on the Dual Slalom course or check out the action happening at the Pro Cyclocross event.
About Sea Otter Classic Cycling Festival  
Regarded as the world's largest cycling festival, this four-day "Celebration of Cycling" hosts nearly 9,600 professional and amateur athletes and 72,500 fans.
The 28th Annual Subaru Sea Otter Classic takes place April 19-22, 2018 at the Laguna Seca Recreation Area, Monterey, California.
For more information, visit www.seaotterclassic.com or call (800) 218-8411.
Additional cycling stories can be found by clicking the link here: SportStars Magazine