NorCal Preseason Softball Top 20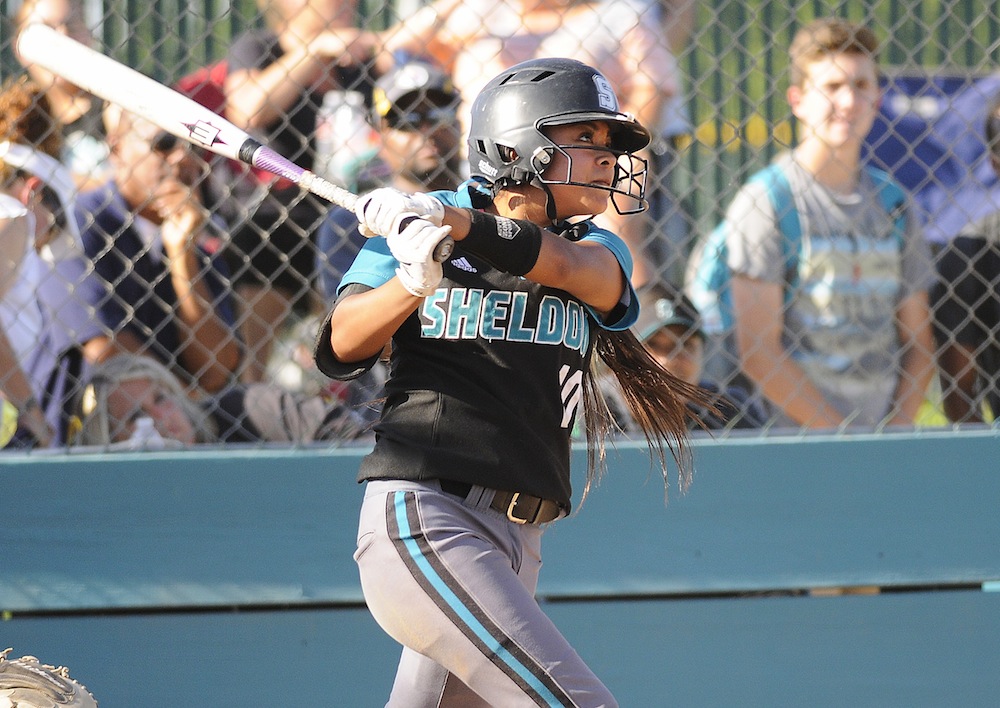 1. Pioneer-San Jose (25-3)
It all starts with pitching and Holly Azevedo is arguably NorCal's best coming into 2017. Just how good is the UCLA-bound fireballer? Over the last two seasons, she's surrendered just six earned runs in 361 innings while compiling 587 strikeouts and 53 wins. But no Central Coast Section titles. The Mustangs have twice been stung by Archbishop Mitty-San Jose in the Div. II final. Pioneer graduated just one senior off of last year's 25-win squad, and return firepower up and down the lineup — including Azevedo, who batted .482 with 20 RBI as a junior. The Mustangs also return Sydney Solis (.376, 28 RBI), Brooke Niewoehner (.489, 25 RBI) and Lauryn Garcia (.375, 21 RBI).
2. Sheldon-Sacramento (30-2)
The two-time defending Sac-Joaquin Section Division I champions return ace Taliyah Miles (23-2, 1.78 ERA) and plenty of offense in Maci Fines (.518, 58 hits, 50 runs) and Shea Moreno (.465, 33 RBI). UCSB-signee Fines will move from 2B to SS, and UCLA-bound Moreno will shift from 3B to C as the Huskies make room for more talent. Add a second arm in sophomore Grace Owen (6-0, 0.38 ERA) and more bats with Sarah Brown and Juju Malana, and an eighth SJS title in head coach Mary Jo Truesdale's 20th season at the helm seems likely.
3. Alhambra-Martinez (24-2)
So. Much. Offense. The two-time defending North Coast Section Div. II champs outscored opponents 292-57 over just 26 games in 2016. It all starts with the dynamic senior duo of Briana Perez and Karlee Sparacino. The two combined for 107 runs, 95 hits, 97 RBI, 16 doubles, 9 triples, 13 HR and 43 stolen bases. There's plenty more offense too as the Bulldogs graduated just two everyday hitters. The third graduate was starting pitcher Sam Whitworth (18-2, 2.44 ERA). Junior Briana Edwards (6-0, 1.89) is her likely successor.
4. Amador Valley-Pleasanton (21-5)
Looking to replace key offensive losses, the Dons will rely heavily on Missouri-committed junior pitcher Danielle Williams. Which is fine, because she's that good. She posted a 0.53 ERA with 245 strikeouts and eight no-hitters in addition to batting .456 with 2 HR.
5. Freedom-Oakley (19-3)
Playing for the memory of a slain assistant coach, the Falcons knocked off three of top four NCS Div. I seeds to win the program's first crown since 2008. Nearly every player returns, including East Bay Player of the Year, Vanessa Strong (17-3, 1.71 ERA; .423, 13 RBI).
6. Archbishop Mitty-San Jose (21-4)
The two-time defending CCS Div. II champs return the sophomore pitching tandem of Savanna Smith (9-1, 1.59 ERA) and Hannah Edwards (8-3, 2.30). Kaylin Stewart (.354, 17 RBI) and Julia Lucas (.415, 16 RBI) lead the offense.
7. East Union-Manteca (23-3)
The Lancers' lethal pitching duo of Mikayla Bongi (12-0, 0.56 ERA) and Delaney Pamplin (11-3, 0.20 ERA) are back along with hopes for a second SJS title in three years. Allie Tajii and Danyelle Godoy lead a strong group of underclassmen.
8. San Benito-Hollister (26-3)
The Haybalers return 18-game winner Amanda Moisa to the circle as they look to repeat as CCS Div. I champs. Brittnee Rossi (.552, 26 RBI, 13 doubles) leads a potent lineup too.
9. James Logan-Union City (20-6)
After graduating just four seniors from last year's 20-win team, the Colts are poised for a big season behind juniors Cassandra Wenn (.432, 19 RBI, 5 HR) and Aliyah Yates (.389, 27 RBI, 5 HR).
10. Benicia (23-7)
Senior McKenna Gregory is one of the top dual threats in NorCal with an arm as powerful as her bat. The Panthers graduated just two from last year's SJS Div. III finalist. Sluggers Nataschia Wibben and Chelsea Mari return.
11. Heritage-Brentwood (19-4)
12. Del Campo-Fair Oaks (21-7)
13. Marin Catholic-Kentfield (22-4)
14. Concord (16-8)
15. Tracy (24-7)
16. Bishop O'Dowd-Oakland (22-4)
17. Half Moon Bay (24-4)
18. Foothill-Palo Cedro (29-1)
19. Oakdale (22-3)
20. Rancho Cotate-Rohnert Park (18-7)