Rio Linda Football: Knight Fever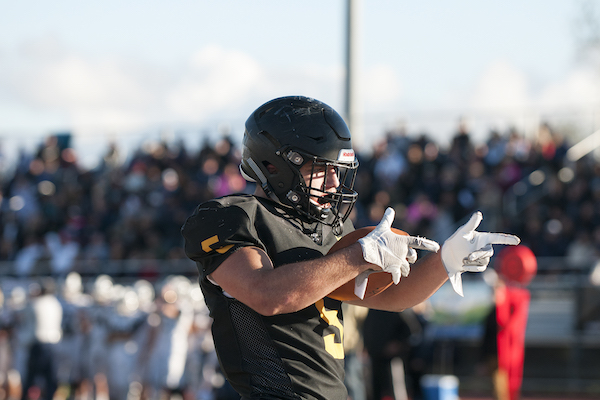 With The Sac-Joaquin Section's Most Prolific Running Back Leading The Way, Rio Linda Football Heads Into State Bowl Final With An Entire Town Behind It •
Rio Linda Football is changing the narrative. The football team's run to the CIF State Division 5-AA Bowl Championship has created a renewed civic pride and a buzz never before seen on the gridiron.
Leading the charge to bring together a community that has had its share of hard times and negative reviews is junior Cameron Skattebo. The running back is following in the footsteps of his father, Leo, and brother, Leonard Skattebo. Both donned the black and gold on the football field for family, school and community.
He is savoring every moment in the spotlight.
"This means a lot," Cameron Skattebo said after a brilliant performance in the Knights' Sac-Joaquin Section Division IV championship victory. "The little town of Rio Linda, we don't get this opportunity a lot. So when it happens, you gotta shine."
Skattebo and Rio Linda get a final opportunity to shine at 6 p.m. Saturday. That's when the Knights — and the community — host San Gorgonio for a state bowl showdown.
"The whole town will be there," Skattebo said of the final home game of the season. "When you've got nothing, it doesn't end well for anyone coming in here. They have no idea what they are coming in to."
The Spartans from San Bernardino can expect a packed house filled with locals anxious to be seen in a different, more favorable light. They can also expect the same brand of smash-mouth football that has elevated the Knights to unprecedented success.
In winning Rio Linda Football's first section title since 2004 and first-ever CIF Regional State Bowl Championship, the Knights have been predictable yet unstoppable on offense and increasingly staunch on defense.
Skattebo finds himself at the heart of Rio Linda's solid regular season and amazing postseason. The running back has set school records while leading the section in rushing and touchdowns. His 3,157 yards rushing is third-best in the state, as are his 45 total touchdowns. More than 1,000 of those rushing yards have come in four playoff wins. He has run for more than 200 yards in three contests, including a career-high 312 in the SJS final.
In the section final, Skattebo accounted for seven total TDs. He ran for five scores, caught a 24-yard TD pass and returned a blocked field goal 73 yards for a touchdown. In that game, he scored on three consecutive touches — 20-, 49-, and 62-yard scoring dashes — and four of five touches when he added a 65-yard TD run after halftime.
"He's a great player," Rio Linda football coach Jack Garceau said his star running back's super-human performance on the biggest stage. "He's done stuff like this all year long."
In the CIF Northern Regional State Bowl, Skattebo rushed for 239 yards on 28 carries and scored twice. However, it was a rare high school first for the junior that eventually gave the Knights the lead for good over West Valley-Cottonwood.
Trailing 13-7 in the fourth quarter, Rio Linda called for a double-handoff reverse. The defense disrupted the play. Skattebo received the second handoff and was supposed to run the ball, but improvised instead. He relied on his athleticism and skills as a former Junior Knights quarterback. The result was a 50-yard TD pass to QB Tyson Ybarra and a 14-13 lead.
"It was not a planned passing play," Skattebo said. "I saw that the play was busted, so I took a look down the field and found an open receiver."
Rio Linda seized the momentum and West Valley never recovered. Skattebo added a second rushing TD — his 14th of the playoffs — to seal the deal and punch the team's ticket to the state bowl game.
By no means, though, is Rio Linda's state bowl appearance a one-man success story. The star back will be the first to point out the play of others.
"The big guys in front of me, those five to six guys, they put their hearts out there for me," Skattebo said.
Additionally, Rio Linda's defense has shut out its last two opponents in the second half and allowed just eight points after the intermission in its last three playoff games. Junior linebacker Ben Pau has recorded 37 of his team-high 116 tackles in the postseason. Senior defensive end Dejon Sanders had three sacks in the section championship win over Casa Roble.
The secondary was key against the pass-heavy Eagles of West Valley. Juniors Johnny Serrano (27 tackles in the playoffs) and Ricardo Camacho (eight tackles and a pass break-up against West Valley) stepped up to shut out the Eagles after a second-quarter score. Junior linebacker Jamone Gates added a team-high nine tackles in the regional bowl. Since the SJS semifinals, the Knights have outscored opponents 38-8 after halftime.
"Our coaches have been huge," Skattebo said of Rio Linda's adjustments. "At halftime, they get together, get their minds right, and give us a plan. We just have to execute the plan."
The plan now is for Skattebo and teammates to raise their game and the community's spirits one final time. That plan may be the most challenging to execute for the Knights. San Gorgonio has a potent balanced offense that has averaged nearly 40 points per game during its current seven-game winning streak. Senior quarterback Jordan Pachot has thrown for more than 4,000 yards and 37 TDs. And senior tailback Elijah Hall has rushed for 2,210 yards and accounted for 35 total TDs.
Skattebo understands he and his teammates will have to compete at their highest level to earn a state bowl title for themselves and their town. For the star attraction, it will be nothing new. He has competed against his father and brother since the first time he touched a ball.
"There has always been competition among us," Cameron said. "Whether it was UNO at the table or hoops in the yard, it was always fierce competition.
"When you have two people in your life that don't like to lose, you learn that it's hard to win, but you have to refuse to lose."
Having seen tough times for his community and his family, Cameron Skattebo is excited by the opportunity to change the narrative. About both Rio Linda and Rio Linda Football.
"We work hard. We practice hard, and do what we do," he said. "And that speaks for itself."