St. Francis Soccer Pinnacle of Success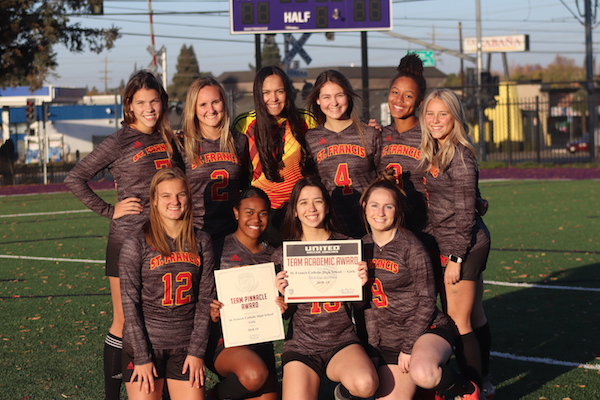 Soccer Program Named Winner of the Inaugural Team Pinnacle Award by United Soccer Coaches
The St. Francis soccer program was named one of 36 high school schools (26 girl's programs) in the nation to receive the inaugural Team Pinnacle Award by the United Soccer Coaches. The Troubadours were the only program in the state of California to earn the distinction. The awards were announced Friday at the United Soccer Coaches Convention in Baltimore.
"I think it speaks to the quality of the student-athletes we have here at St. Francis, our values as a program and the school we represent," said Head Coach Maryclaire Robinson '86, who was named the Section Coach of the Year by the NFHS. "The Pinnacle is the top of the top."
_______________________________
CONNECT WITH US:
Follow SportStars on Twitter & Instagram | Like us on Facebook | Subscribe!
_______________________________
Top of the Heap
The St. Francis soccer program was honored for the 2018-19 academic year for achieving a high level of fair play, educational excellence and success on the pitch.
To be considered for this award, teams must have received either the Platinum, Gold, Silver or Bronze version of the High School or College Team Ethics and Sportsmanship Award; achieved recognition in the classroom as a recipient of the High School Team Academic Award; and record a winning percentage of .750 or higher during the respective season.
"This prestigious new team award designed to recognize a combination of academics, sportsmanship and athletic excellence may be the most difficult award to achieve for any soccer program," said Steve Veal, United Soccer Coaches Awards Manager.
St. Francis won the 2019 CIF Northern California Division II Regional title after a runner-up finish in the Section playoffs. They finished the season with a 23-3-4 overall record and ranked No. 39 in the TopDrawerSoccer.com Fab 50, No. 16 in the state rankings and No. 6 in the regional list. SFHS was ranked No. 7 in the state and No. 21 in the nation by Maxpreps.
Team Smarts
Robinson's program also received the Ethics Award distinction for the third consecutive season, garnering the Silver Award for the second year in a row, while earning Team Academic Award with a 3.48 Team GPA.
St. Francis is currently 11-2-2 on the season with both national and state rankings entering this week's action. The Troubies play at Franklin on Wednesday before hosting Cosumnes Oaks on Friday and Christian Brothers on Saturday in the annual Holy Cup.
SCHOOL, CITY, STATE, PROGRAM
St. Francis Catholic High School, Sacramento, Calif., Girls
Abraham Lincoln High School, Council Bluffs, Iowa, Girls
Albemarle High School, Charlottesville, Va., Girls
Belleville/New Glarus Co-Op High School, Belleville, Wis., Girls
Benet Academy, Lisle, Ill., Girls
Bishop Watterson High School, Columbus, Ohio, Girls
Cambridge Christian School, Tampa, Fla., Girls
Catholic Memorial High School, Waukesha, Wis., Girls
Cheyenne Central High School, Cheyenne, Wyo., Girls
Christ Presbyterian Academy, Nashville, Tenn., Girls
Ellington High School, Ellington, Conn., Girls
Hammond School, Columbia, S.C., Girls
Lee's Summit West High School, Lee's Summit, Mo., Girls
Lincoln Lutheran High School, Lincoln, Neb., Girls
Louisburg High School, Louisburg, Kan., Girls
Manheim Central High School, Manheim, Pa., Girls
Maryvale Preparatory School, Lutherville, Md., Girls
Mauldin High School, Mauldin, S.C., Girls
McKeel Academy of Technology, Lakeland, Fla., Girls
Mt. Vernon High School, Greenfield, Ind., Girls
Northview High School, Brazil, Ind., Girls
Poly Prep Country Day School, Brooklyn, N.Y., Girls
Pomfret School, Pomfret, Conn., Girls
South River High School, Edgewater, Md., Girls
Southern Boone County High School, Ashland, Mo., Girls
Wallenpaupack Area High School, Hawley, Pa., Girls