Bombs A-May: Behind St. Mary's Football's Hail Mary Playoff Win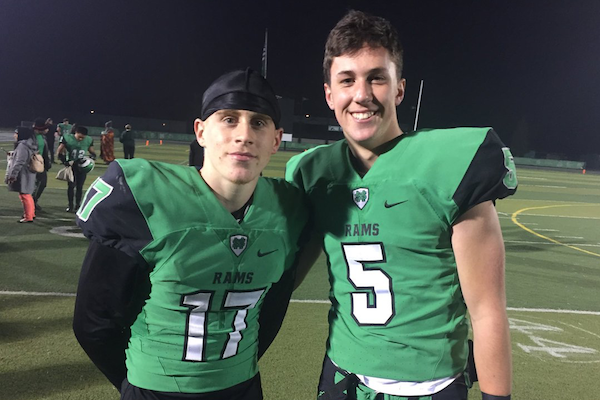 After Missing His 2017 Season With A Shoulder Injury, Quarterback Noah May Delivered An Epic Hail Mary Throw To Send St. Mary's Football Into The Sac-Joaquin Semifinals •
Call it luck, or call it skill. The truth is it's a little of both for the quarterback of the St. Mary's football team.
Despite suffering a season-ending shoulder injury to his throwing arm as a sophomore, Noah May used all his power to throw a 46-yard Hail Mary for the game-tying touchdown with 16 seconds left in the game Friday night in the Sac-Joaquin Section quarterfinals.
May bought some time on the play, scrambled to his right and tossed a high-arching bomb to the goal line. His receiver, Joe Fontes, had gotten behind the defense and collected the two-handed grab to tie the game at 29.
"He's been through a lot, but he definitely put all of it into that last throw and got it down there," St. Mary's football coach Tony Franks said.
"It's just rewarding to see him (May) back. It was tough for him to sit out a year, and then try and get right with a shoulder. That's probably a little bit different. But it was nice to see him get rewarded."
Seconds after the touchdown, following an excessive celebration penalty, the Rams added a 30-yard extra point to clinch the 30-29 victory over the Huskies.
"It was crazy," Fontes said. "I don't think I've ever been so excited in my life."
The original play called for Fontes to run a post, but Sheldon had a safety covering the middle of the field. When May saw his primary target was covered, he scrambled up the gut, headed to the sideline, sidestepped a linebacker chasing him down, and bought just enough time for Fontes to shake his defender.
As May signaled for a deep throw, Fontes broke free and faded to the end zone.
"I saw Joe with one arm up, so I threw it and trusted my teammates," May explained. "And he came down with the catch in the end zone, so it was pretty great."
May called the throw and catch ironic following his team's two-minute drill this week at practice.
"It was pretty much the same exact thing that happened with three seconds left in our two-minute drill," May added. "So it's pretty ironic that it happened in the game as well."
The Hail Mary ending also brought back Deja Vu for St. Mary's football fans.
The incredible finish was a repeat of last year's conclusion to a 2017 playoff game versus the same Sheldon program. Except it wasn't May throwing the ball, due to his injury.
Instead, it was senior Hunter Low who found Fontes with a similar, 30-yard touchdown in the waning minutes of a 31-28 quarterfinals win.
"I went up to Joe after the play and said, 'Huh, that looked familiar,'" May said.
The throw was a mix of skill and good fortune. But the reality is that May is lucky to even be throwing a football again after a gruesome injury in 2017.
After tossing three touchdowns in his team's 2017 season-opener, May dove for a fumble and two defenders landed awkwardly on his shoulder. He tore 80-percent of his labrum in the process.
"I also dislocated my shoulder and dented the bone," May said. "Pretty much everything that could have gone bad, did."
That was August 26 — a date May remembers vividly. But it wasn't until March of the following year that he started feeling better. And it started with a strenuous rehabilitation regimen.
He slowly regained arm strength, beginning the process by throwing a tennis ball just five yards at a time. It took two more months to throw a football. He says it's still not 100 percent. But he had enough arm strength for the heroic completion Friday night.
"Honestly, I just knew I had to get it to him," May confessed. "The worst thing would have been that I under threw it and it would get picked. So I just put it out there and knew that the fastest guy on the field was back there, and hoped he could go get it."
The touchdown brought the St. Mary's football team back from a six-point deficit following a late touchdown and two-point conversion from Sheldon's Francisco Salinas to Michael Graves.
"We saw them be extremely effective all season long, against good teams," Franks said of Sheldon. "They run the ball really well, they have talented backs — it's a simple, but tricky scheme that they run, and it causes problems for you."
The Huskies capitalized on a pair of big plays in the game, including a second-quarter Statue of Liberty draw off left-end to running back Tyrell Smith, who scored from 10 yards out to take an early 14-7 lead. That came six minutes after a 78-yard fumble recovery from Sheldon cornerback Dillon Juniel.
"I felt like we were in control of the game, with the exception of some turnovers on offense that clearly hurt us, but defensively, I thought we played well," Franks pointed out.
It was Donovan Jordan who added the Rams second touchdown of the night. He broke through the left side of the line for a 40-yard touchdown to tie the game at 14-14.
The Rams added a field goal before halftime, but wasted no time in the second half. Jordan added another score on the opening drive to put his team a 23-14 lead.
"We had a lot of good blocks tonight, and all of the holes were wide open," Jordan said. "The line really did a great job of executing tonight."
Despite moving the ball late in the third quarter, the Rams were stifled by three fumbles. The Huskies hung around and took advantage by grabbing the lead late in the fourth quarter.
In a six-point hole with just 50 seconds remaining, Franks called a few short pass plays to put his team in position for one final heave.
"It was a tall task, but it's not something we weren't prepared for," he added. "We practice those types of situations all the time, and it's competitive in practice too."
In the wake of the victory, May recalled an interview from before the 2018 season. He said he'd predicted and hoped for a rematch with Folsom High — the team's next opponent.
"I said I wanted to get back to Folsom, so that was evident in the way I played this year. And that (last) play pretty much summed up how everything went for us this year," May admitted.
The Bulldogs — who defeated the Rams 50-21 in last year's SJS championship — won their own quarterfinal Friday, 64-28 over Edison.
The Nov. 23 rematch is scheduled for 7 p.m. at Folsom High.
"We love it. We treasure another chance to be together for another week, do what we do, and be out here with these kids and our coaches," Franks admitted. "And we'll go up, play as hard as we can, and see what happens."