Pinewood High Won The NorCal Open Division Title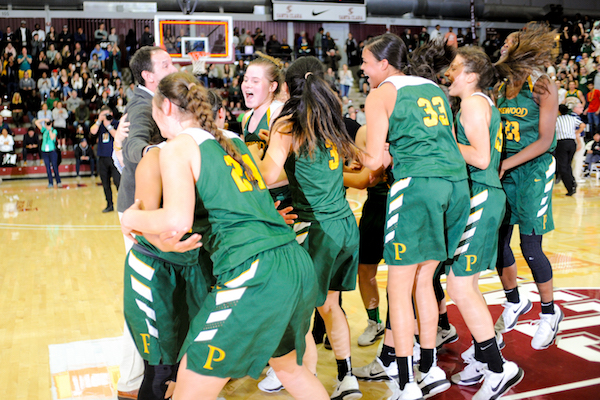 With A Triple-OT Triumph Over Archbishop Mitty, Pinewood Won The NorCal Open Division Title After Topping The Nation's No. 5 And No. 1 Teams In The Same Week •
A 16-point second-half deficit against the undefeated No. 1 high school girls team in the country — especially against a team that has been your nemesis for more than a decade — is a tall mountain to climb. But Pinewood High has proven time and again that it's not afraid of heights.
The Panthers reached their peak Saturday at Santa Clara University. Outlasting Archbishop Mitty-San Jose, 78-67.
In an excruciating triple overtime victory to take the NorCal Open Division championship back home to Los Altos Hills.
Pinewood High Coach Doc Scheppler
Was it a satisfying win, Pinewood High coach Doc Scheppler was asked? He leaned back, took his time and said "You could say that.
"That's the best game I've ever been a part of… I'm so proud of the heart, the grit and the resilience of my team," he said, Also, he pointed to the conditioning that allowed Briana Claros and Hannah Jump to play all 44 minutes.
Along with Kaitlyn Leung and Klara Astrom to play 42 minutes.
And despite never leaving the floor, Claros took over the game in the third and final overtime. Scoring six of her 20 points, handling the Archbishop Mitty pressure and penetrating at will.
Jump led all scorers with 24, making five of eight 3-pointers in the second half, and Astrom had 13 rebounds to spark Pinewood's effort on the boards.
After getting seriously outrebounded in  the Central Coast Section championship game two weeks ago, Pinewood High School won that battle against Mitty this time, 50-45.
Postgame Glory:
But it didn't seem like Pinewood would be basking in postgame glory midway through the third quarter, as the Panthers trailed 39-23. Even though Pinewood is known for its 3-point shooting, its defense turned the tide in this one.
The Panthers held Mitty scoreless for the last 4:50 of regulation to send the game into the first overtime, and from there, it was back-and-forth non-stop drama.
In the first overtime, Pinewood had a pair of two-point leads, but Hunter Hernandez, who led Mitty with 18 points, hit a three-pointer from the corner to put Mitty up two with 42 seconds left.
Astrom responded with a layup 15 seconds later to tie the score. Mitty's 3-point try with time running out missed.
In the second OT, Jump, who finished with a game-high 24 points, hit consecutive 3-pointers. This give Pinewood a 63-57 lead, but Hernandez and Ashley Hiraki put Mitty ahead, 64-63 with 1:07 left.
Karisma Ortiz missed the front end of a one-on-one for Mitty, and the teams traded misses and turnovers until Claros tossed in a runner with eight seconds left to give Pinewood a one-point edge.
Hiraki, though, hit the second of two free throws with four seconds remaining to force overtime number three.
Third Overtime
The tone was set early in the third overtime, when a Mitty deflection rolled the ball right to Pinewood's Leung, who buried a 3-pointer, and though Charlize Andaya made two free throws with 1:39 left to cut it to one. Mitty could not score thereafter. Pinewood put the game away at the free-throw line.
Archbishop Mitty's chances were diminished with 1:31 left in regulation when star Haley Jones. Who scored 17 points in just 24 minutes, fouled out.
Another starter, Anna McNicholas, fouled out in 18 minutes and starting center Nicole Blakes tore her ACL in the last regular season game.
Mitty Coach Sue Phillips
Mitty coach Sue Phillips took all that into account, and was hardly disappointed that her No. 1 ranked team in the nation fell short of a state title.
"Our starting center goes down, Haley plays only 24 minutes and we go into triple overtime against a heavy hitter like Pinewood. I couldn't be prouder," Phillips said. "My only disappointment is that I won't get to coach these girls on Monday."
Of course, had Mitty shot better that 22.6 percent from beyond the arc, or controlled the boards as they did just two weeks ago in a 76-62 win over Pinewood, she would be coaching the Monarchs on Monday.
Instead, it's Scheppler and Pinewood who will be back at it, getting ready for the Open Division championship game at 8 p.m. next Saturday against Windward-L.A. – the third straight nationally-ranked team Pinewood will face in California's elite Open Division playoffs.
Pinewood (27-2) defeated national-No. 5 St. Mary's-Stockton 59-56 in the NorCal semifinals. Windward (26-3) rank No. 21 in the MaxPreps.com Xcellent 25, and No. 4 in the site's computer rankings as for March 14.
Story by CLAY KALLAM | Photos by SAMUEL STRINGER