FINAL Boys Basketball Rankings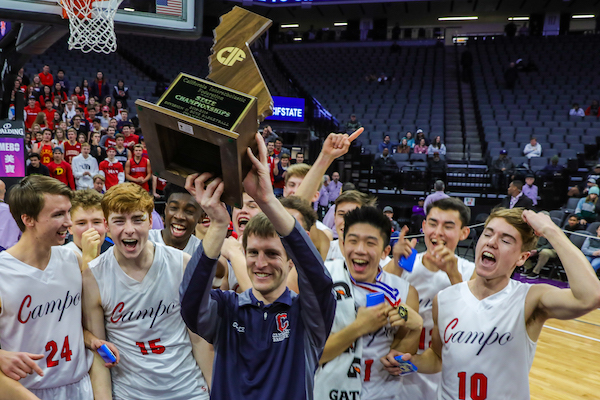 Campolindo Lays Claim To NorCal's Only Boys State Title, But Sheldon Finishes As The Region's No. 1 Team For Second Straight Year  •
Final Boys Basketball Rankings
All Records Are FINAL
1. (1)  —  Sheldon-Sacramento   24-11*   
2. (2)  —  Modesto Christian  27-8
3. (3)  —  Salesian-Richmond  31-1
4. (4) —  De La Salle-Concord  29-4    
5. (5)  —  James Logan-Union City  27-7
6. (6)  —  Branson-Ross  31-3  
7. (7)  —  Weston Ranch-Stockton  31-2
8. (8)  —  Campolindo-Moraga  27-7  [PICTURED ABOVE: Coach Steve Dyer Holds Up The Div. II State Title Trophy; David Gershon photo]
9. (9)  —  Dublin  25-6
10. (10)  —  Archbishop Mitty-San Jose  18-9
11. (11)  —  Moreau Catholic-Hayward  26-8 
12. (12)   —  Bishop O'Dowd-Oakland  23-9
13. (13)  —  Archbishop Riordan-S.F.  18-9   
14. (14)   —  St. Mary's-Stockton  19-14**
15. (15)   —  Grant-Sacramento  26-8
16. (16)  —  San Leandro  24-6
17. (17)  —  Folsom  26-7
18. (18)  —  Serra-San Mateo  20-10
19. (19)  —  Bellarmine-San Jose  20-8
20. (NR)  ↑  Stuart Hall-S.F.  28-5
* — includes four forfeit losses (ineligible player)
** — includes seven forfeit losses (ineligible player)
DROPPED OUT:
No. 20 Monterey
SIX THAT JUST MISSED (ALHABETICALLY):
Foothill-Palo Cedro (25-9), Fortuna (30-3), Monterey (25-5), Oak Ridge-El Dorado Hills (19-13), St. Joseph Notre Dame-Alameda (20-8) and University-S.F. (27-10).
FAST

BREAK

DOWN

Since we don't count the Central Section as NorCal, Campolindo's CIF Div. II championship was the region's only state title for boys this year. But the impressive win over Colony-Ontario was never going provide a great shakeup our final boys basketball rankings. The Cougars hold at No. 8, right behind the Weston Ranch team which beat them by 13 earlier in the year.

The other Top 10 teams to compete at the Golden 1 Center on CIF Championship Weekend were No. 5 James Logan and No. 1 Sheldon. Logan nearly erased a 14-point fourth-quarter deficit before eventually falling to Chino Hills 69-63. Sheldon battled admirably but couldn't meet the firepower of Cal-Hi Sports State Team Of The Year, Sierra Canyon-Chatsworth. By winning the NorCal Open Division bracket, Sheldon had already secured our final No. 1 for the second straight season. As for Logan, if the Colts had completed their comeback and won a Div. I crown, we may have bumped them ahead of No. 4 De La Salle. But with no state title, we couldn't bump them ahead of the team they lost to in North Coast Section final.

Finally, just one new team entered the rankings for our final version. We gave long thought to putting CIF Div. III state runner-up University-S.F. in that slot, but couldn't ignore the Stuart Hall-S.F. team that defeated the Red Devils three out of four times. Stuart Hall also had a win over Miramonte-Orinda, which was one of the seven teams to beat Campolindo this season.