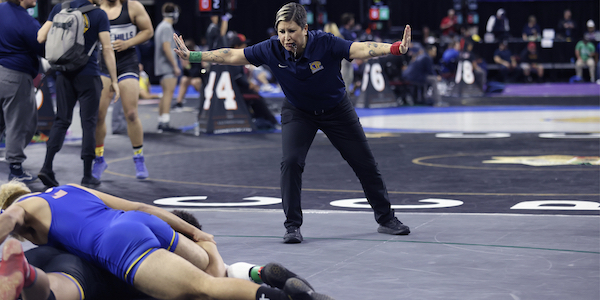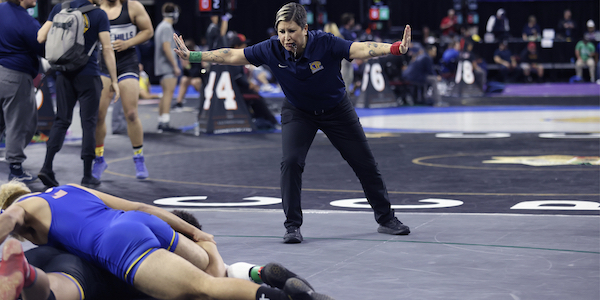 Santa Rosa Native And Vacaville Sixth Grade Teacher Kathy Kopara Endured To Become Groundbreaking Wrestling Official At The 2023 CIF Wrestling Championships • TOP...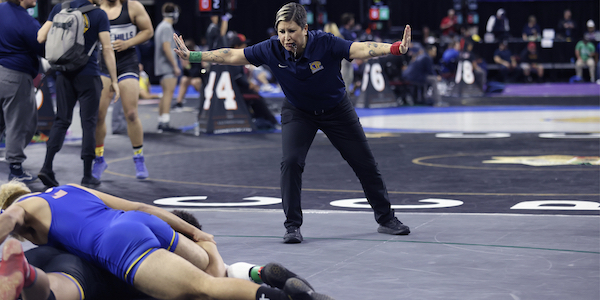 Santa Rosa Native And Vacaville Sixth Grade Teacher Kathy Kopara Endured To Become Groundbreaking Wrestling Official At The 2023 CIF Wrestling Championships •
TOP PHOTO CREDIT: John Sachs/Tech-Fall.com
Kathy Kopara remembers the moment distinctly, though she was oblivious at the time.
The 45-year-old Vacaville resident was officiating a first-round match at the CIF State Wrestling Championships at Mechanics Bank Arena in Bakersfield, when suddenly the crowd turned toward her mat (No. 9) and began to cheer.
"I thought someone was getting pinned on another mat, because nothing special was happening on mine," Kopara said.
The elation wasn't directed at a match, but at a prep wrestling milestone. A tournament announcer had just informed the crowd that Kopara was the first female official in CIF wrestling history to officiate a match between two boys at the state tournament.
"I didn't expect the recognition, I was just stoked to be there," Kopara said. "It's a really big deal to me, because it's a big deal to any official, just being there.
"When you are at state as an official, it's kind of like going as a wrestler, because it means you are one of the best officials in the state."
_______________________________

CONNECT WITH US:
Follow SportStars on Twitter & Instagram | Like us on Facebook | Subscribe!
_______________________________
Twenty-four of the best officials in California, representing eight CIF sections, made the CIF cut this year. They were selected by an 11-member committee directed by Monty Muller, the Coordinator of CIF Officials. Committee members evaluate officiating at tournaments throughout the season, then hop on a call in late January to decide which candidates will join incumbents who performed well enough to earn automatic selection to return as state officials the following year.
"The discussion was by people who had seen her throughout the state, and she went to some difficult tournaments where you get the best wrestling," Muller said. "She did a good job at those, and she was voted in by the group."
Kopara's 2022-23 resume included the preseason World Challenge in Clovis, the Sierra Nevada Classic in Reno, the Joe Rios Memorial Tournament in Chico, the Tim Brown Memorial Classic in Sacramento and Sac-Joaquin Section Team Dual Championships and SJS Masters Championships, both in Stockton.
She expects even greater challenges next season. Her biggest appearance is already on the calendar, thanks to CIF tournament evaluations. Kopara is among the 15 state officials who earned the aforementioned incumbent status for 2024.
"She will be back next year," Muller confirmed. "My evaluator was pretty positive on her being there and she had a good tournament."
Muller said Kopara's selection wasn't driven by a desire to bring the first female official to state, though it certainly made his team look good when the group was successful, partly because Kopara was.
"We need more like her," Muller said. "Girls wrestling programs are getting bigger and bigger, and we need more officials to do those matches and to do the boys matches.
"We are hurting for officials in all sports."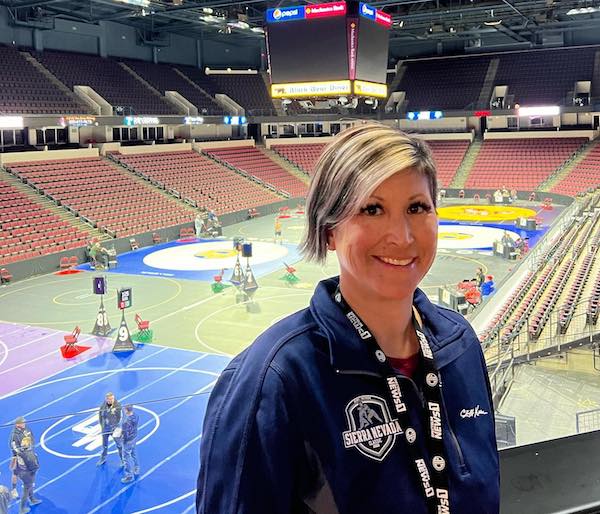 Kopara's CIF entry was mentioned on FOX58's KBAK coverage of the state meet and some celebrated the feat on social media.
"Special shout out to my ref sister/homie Kathy Kopara for making history on her selection as the first female official to officiate the State Tournament in the 50 years of its existence," CIF table worker Joseph Sepeda said via Facebook. "She did very well!! Kudos Kat."
Sepeda coincidently worked the table at mat No. 9 during the CIF announcement of Kopara's first match between boys.
"Any recognition and coverage of our sport is awesome," Kopara said. "It's not about the officials; it's about the wrestlers."
Of course, pioneering advancements in wrestling weren't always met with such collective enthusiasm.
California didn't host CIF state championships for girls until 2014. The previous three seasons culminated with invitational state brackets that weren't filled from any other postseason advancements.
Before that, from 2006-2010, the girls finished their seasons in NorCal and SoCal regional tournaments. The organizational support was virtually nonexistent in prior years, with girls filling an occasional lightweight spot on a dual roster, or wrestling in rare exhibition matches against each other in other duals.
What Kopara did to get started in wrestling is incomprehensible.
"My journey was a little bit rocky, starting in junior high in the early '90s," Kopara said with a laugh. "There were not that many girls (wrestling) around, especially in my area.
"I was met with a lot of adversity."
According to Kopara, when she joined the wrestling team at Santa Rosa's Rincon Valley Junior High (now Rincon Valley Middle School), it was strictly forbidden by school administration.
"The athletic director and the principal told me, 'Stop going to practice,' every day, but the wrestling coach said, 'No, you can keep coming.'"
So she did.
"I kept coming, and they kept suspending me from school, and said girls were not allowed to be on the wrestling team," Kopara said. "What the principal and AD told me was that it was against district policy to do the sport during this season, and that I would have to do volleyball."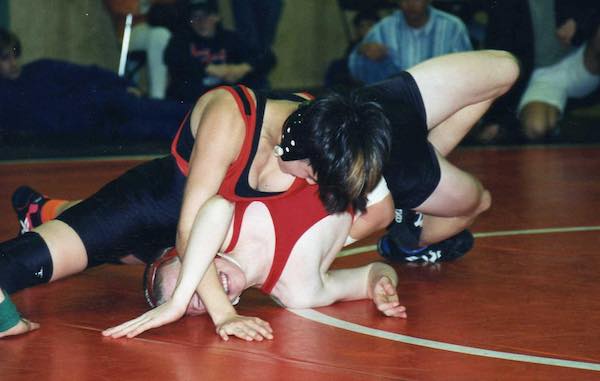 Muller, himself a former junior high principal for the San Juan Unified School District in Carmichael, was appalled by Rincon Valley's administrative approach 20 years after the Title IX civil rights law — a cornerstone for curbing sex-based discrimination in schools — was enacted.
"It's ridiculous," Muller said. "Totally dumb, dumb, dumb. I was a principal for 16 years and girls were encouraged to come out to wrestling, and that was in the '70s.
"That's stupid. A lot of words could work there, but that's an easy one."
"I was 14 years old, so I didn't know that Title IX had already been established," Kopara added. "I wasn't a troublemaker, but I wanted to wrestle."
Civil rights activists agreed that she should be given that chance.
"One day I was suspended from school for going to practice, and I went to practice anyway that day, and they put me in for an expulsion," Kopara said. "Then the ACLU got my phone number and said, 'We are ready to go to court on your behalf,' but by that time, I happened to start wrestling in high school."
At Santa Rosa High School, Kopara was warmly welcomed by coaches and administrators who supported her interest. Opportunities were still limited, and all but two of her high school matches were wrestled against boys. Logistical support of girls wrestling was also so new, even simple routines, like weigh-ins, were challenging.
Kopara recalls instances where she would have to strip off her clothes to make weight in front of boys, and once when a coach said, "You are on-weight, right?" and processed her through before she undressed further and stepped on the scale. She even had to cut her hair short to meet now-removed requirements for grooming.
Then there was the challenge of wrestling stronger opponents in her weight class.
"I didn't get to win as many matches as girls today, wrestling all boys, or get to learn how to wrestle like a girl," Kopara said. When I was on bottom, I most likely was going to be pinned, so I never picked bottom, because even if I had the technique, I was getting pinned.
"I would go neutral and try to (earn a 15-point lead and a technical fall). I was always getting pinned or winning by tech. It was one or the other."
And winning wasn't always well received.
"I remember at a high school tournament, a mother came out of the stands to tell me I made her son cry," Kopara said. "My coaches said to walk it off.
"My coaches were amazing, and I am still in contact with them now. They, along with my teammates, were so supportive."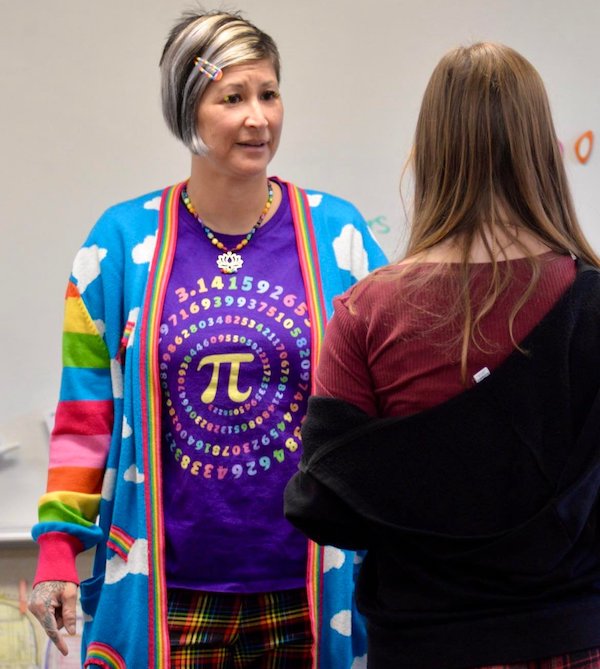 Wrestling at Santa Rosa introduced Kopara to a local official, Fred Ayers, who ultimately guided her path back to the sport. After a brief middle school coaching career, she joined Ayers and began officiating in 2002. Aside from a brief hiatus from the mat, Kopara has officiated matches ever since.
She watched women's wrestling become an Olympic sport in 2004 (Athens) and saw prep competition in California thrive, with the emergence of girls tournaments.
"It would have been amazing to wrestle at a girls tournament," Kopara said. "I officiated one of the first girls tournaments in California, the Napa Valley Classic (the 23rd annual event was held this year), and girls were like, 'Did you wrestle here?'
"I said, 'This wasn't a thing back then.' The girls who come through don't realize what it was like before."
Kopara now lives in Vacaville and is a sixth-grade teacher at Eugene Padan Elementary. She has two sons, Vacaville High senior Cael Gaudreau and UC Santa Cruz student Toby Gaudreau. She also works part-time as a 5K coach at the Fleet Feet Running Club, but it wasn't her only sporting interest away from the mat.
From 2000 to 2009 Kopara was skydiving from planes, helicopters and even a hot air balloon. She has plummeted 10,000-13,000 feet to the earth exactly 600 times.
"In the sport, 600 is nothing, actually," Kopara said. "Funny thing is I hate flying, which is why leaving the plane seemed to make sense."
It seems to put the pressure of officiating in a different perspective for the CIF's supervisor of state officials.
"When you get to a certain level, 50 to 100 jumps, you are not just falling from the sky," Muller said. "You are doing tricks, and sky pyramids, and if she can get through all of that not being scared, it has to make high-pressure calls a lot easier in wrestling."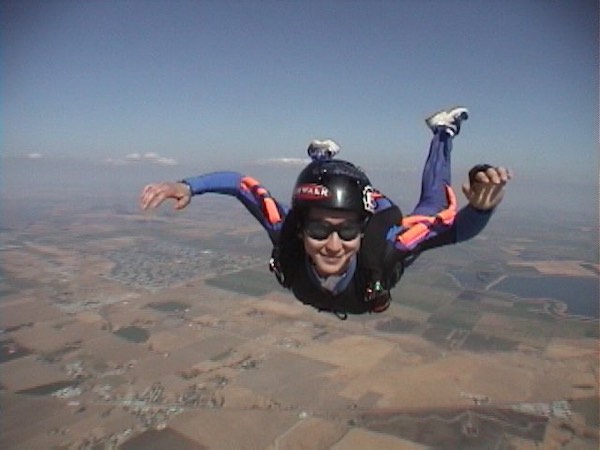 Officiating wrestling is challenging because interpretation of how every match should be scored isn't as simple as judging, say, a strike zone, a catch, or especially violent actions. Takedowns, for example, are decided by control. And with infinite possible combinations in the positioning of limbs, backs, heads and holds, each position is unique.
To be truly great at it, an official has to:
• Know the complicated rules exactly as they are written.
• Quickly interpret how those rules impact a match that doesn't stop for scoring.
• Perform the above while also communicating points and decisions to the table. 
It's continuous judgment of control, back points, pins and violations with only your eyes, and occasionally an assistant referee as your guide.
And fans and coaches have little patience when a call doesn't go their way.
"I think every referee has to have pretty thick skin," Kopara said. "Our (goal) is to be as objective as possible so the right kid wins.
"Control, for example, is a lot about feel. Yes, there is specific criteria, but you also have to feel it in the match, because you can never make a call based on a picture. One thing I was also coached on is having patience. Because, yes, you want to see action, and I hate stalling, but you have to let the wrestlers play it out."
That coaching came from Ayers, the 27-year head of the Redwood Empire Wrestling Officials and Coaches Association, which assigns officials to Sonoma, Napa and Marin Counties. Ayers officiated Kopara's matches back when she wrestled. She's the first woman he has seen join the REWOCA.
"She was kind of a barrier-breaker even when she was wrestling, because she balled," Ayers said. "How many middle school students are going to take being suspended for being on a wrestling team and still go to practice? I would have quit the team, and I'm pretty strong-willed."
Ayers said that grit is what has driven Kopara to excel in all that she does.
"If I could teach every ref to be as strong as she is, and not take things personally like her, I would have more refs at state than anybody," Ayers said. "I can teach you where to stand and mechanics, but I can't teach judgment and those personal things that make you strong, accept who you are, and understand that when a coach yells at you, it's not the wrestler's fault. She gets that."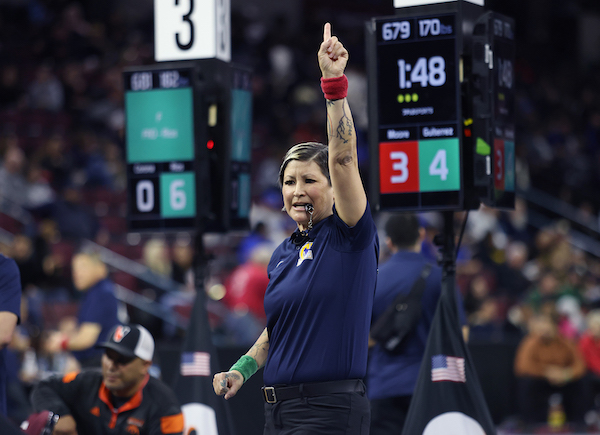 It's the kind of officiating that made Kopara appear so favorable to CIF evaluations.
"She went and she stood toe-to-toe with the best refs in the state, and now it doesn't matter that she's a woman," Ayers said. "She succeeded not because she was a woman, but because she was good. But she's also that ambassador that opens doors and allows people to see officiating in a different light."
That light continues to shine.
Next year, when the ambassador of female officials returns to Bakersfield, she can imagine that the chorus of "two!" shouted by fans and coaches in the midst of a potential takedown is actually just an homage to her years of CIF service.