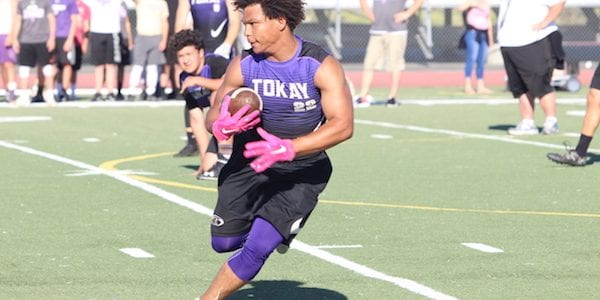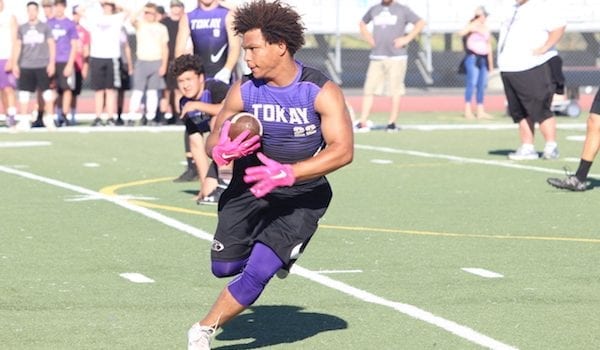 Two-Way Talent Cory Glasgow Is Poised For A Breakout Season At Tokay-Lodi • Story & Photo by MIKE BUSH Cory Glasgow is small in...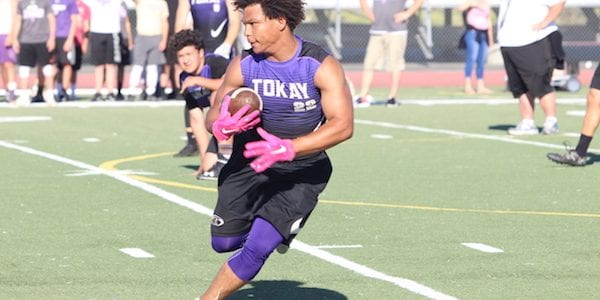 Two-Way Talent Cory Glasgow Is Poised For A Breakout Season At Tokay-Lodi •
Story & Photo by MIKE BUSH
Cory Glasgow is small in stature but big on talent.
The 5-foot-6, 170-pound running back and strong safety plays for a Tokay High-Lodi football team which is looking to make some noise. The Tigers went 4-6 last fall, including a 2-3 mark in the Tri-City Athletic League that features powerhouses St. Mary's-Stockton, Lincoln-Stockton and Tracy. The Tigers haven't tasted a winning season since 2014, when Tokay was 7-4 and made the Sac-Joaquin Section Div. I playoffs. The Tigers were regular playoff attendees prior to 2014.
Last season, Glasgow rushed for 901 yards on 142 carries, averaging 6.3 yards with 10 touchdowns and had four games in which he rushed for more than 100 yards.
Glasgow is one of 30 seniors slated for this year's team, and more than half that started on one or both sides of the ball. Since the end of last season, Glasgow and the Tigers have been dedicated to the weight room.
In June, Tokay competed at the Lake Tahoe Football Camp, a non-contact and non-padded camp designed for teams to work on fundamentals.
Prior to the section's dead period, which started on July 10, Glasgow and the Tigers competed at Thursday Night Lights at Cosumnes Oaks High School-Elk Grove, playing 7-on-7 games. They also took part in a one-day camp at Sacramento State.
"A lot of improvement," said Glasgow of this year's team to last year's squad. "Everybody knows their role. It's all coming together."
Weight room sessions and field workouts have been more intense, Glasgow pointed out. Some colleges are showing interest in Glasgow. At one of the summer camps, he said he spoke with the UC Davis coaching staff.
"They really know what they are talking about," said Glasgow of the Aggies' staff, led by new head coach Dan Hawkins.
Part of the meeting included talking with Davis assistant head coach Mark Speckman, considered the mastermind behind the intricate fly offense. A standout inside linebacker and running back in high school and college in the 1970s, Speckman has successfully moved up the coaching ranks after long runs at Golden Valley-Merced, Merced, Gilroy and Livingston. Speckman, who was born without hands, has also served as a motivational speaker.
"He knows the ways of being a running back," said Glasgow. "It's great to connect with a coach that used to be a running back."
Glasgow is strong in the classroom. According to Tokay head coach Michael Holst, Glasgow carries a 3.5 grade point average.
"As far as the next level, he'll get passed up by somebody because of his size," Holst said. "Which is unfortunate, because he's every bit as good as somebody who is going to be 4 inches taller than him."
Glasgow is still learning to play strong safety. "Few more assignments," Glasgow said. "I just keep continuing to get better at it, continue to do my job."
Glasgow started playing football at age 9. He began as a fullback, but moved to tailback. "The coach saw how fast I was, so he moved me. It was like 'Here's the ball, now go and score,'" recalled Glasgow. "It still gives me the thrill."
Holst, a resource teacher at Tokay who was the Tigers' defensive coordinator before taking over the program in 2015, recalls seeing Glasgow his freshman year.
"The first thing I noticed is the kid is fast," Holst said of Glasgow, who also showcases his speed as the leadoff hitter and centerfielder for the Tokay baseball team. "He's agile. He can cut on the dime. Just trying to tackle that kid … it's not easy."
The Tigers run the pistol spread option, which thrives on misdirection and giving the quarterback multiple hand-off and quick passing options.
"It's pretty fun," Glasgow said. "(Offensive coordinator Todd Dillon) is a pretty smart man. All we have to do is follow his directions and we can succeed."
Holst noted that Glasgow "understands the schemes a little better (after a full varsity season); he's reading linebackers in the holes, setting up blocks. Putting that together with his athletic ability and his talents. He's going to be pretty dynamite."
Tokay will open Aug. 25 at Heritage-Brentwood, one of five nonleague games before starting TCAL action against St. Mary's at the Grape Bowl on Oct. 6.