2019 High School Cycling State Championships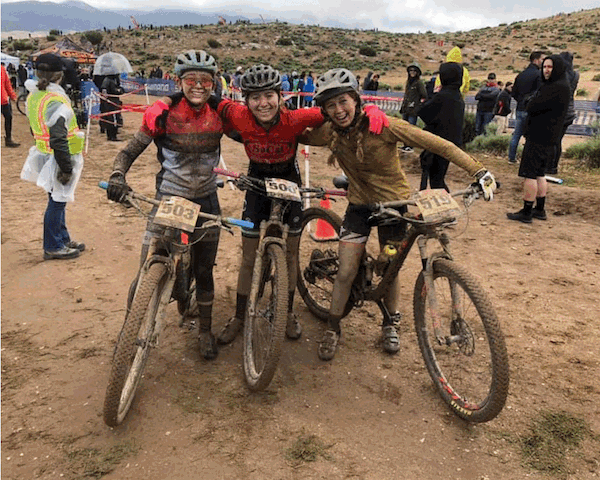 If the photos above don't tell the story of this years High School Cycling State Championships Race race nothing will!
State Championships is an extremely competitive event by nature and given the growth of the two leagues, each having it's own unique categories and structures, it only gets tougher to qualify each season.
When the front of fields begin with a wall of riders in Leader Jerseys you know the stakes are high. That said, State Championships is as much about the experience as it is about the racing and for that reason the desire to secure a ticket increases exponentially each season.
Tradition dictates that our two leagues alternate hosting the State Championships event every two seasons. Call it what you will but it's always a bit "interesting," trying to figure out how to make sense of things after two years of growth.
This season in an effort to try and put a race together that did just that, the SoCal League simplified things a bit by going back to a more traditional High School based category structure while also offering an open category aimed at being inclusive of those who just really wanted the States experience.
So the spectrum of racers at States this year was as broad as we could accommodate and in total 603 SoCal and NorCal high school student athletes made their way out to the Lehigh Trail System with expectations and aspirations. They were ready for racing, for barbecues, ready for campfires and for a bit of Saturday night dancing, even ready for a little weather. What the got was not what they bargained for.
Tehachapi, CA
Friday as families and teams began rolling into the venue it was apparent that a bit of weather was creeping in and that it may be a cooler weekend. Forecast were calling for a beautiful day on Saturday, which the venue did deliver, and Saturday was indeed picturesque. Sundays forecast was to say the least a bit more of a misnomer. In fact it was completely wrong.
It's one thing to host an event in light rain and usually a little bit of weather is actually a great thing. It helps knock the dust down, keeps riders from overheating, and makes for a more memorable experience. However when the forecast predicts a light rain and then delivers nearly five times that overnight only to follow up with smatterings throughout the day a memorable experience turns into an unforgettable one. And that was States last weekend.
Photos Tell The Story
More Cycling state championships photos:
As I opened this race report saying the photos tell it all and you really should give them a look if you are reading this. State Championships 2019 will always be remembered as the year we pushed the whole day back an hour and nearly cancelled. The year that started out with sending trucks out to recover stuck vehicles on the access road. The year a parent drove a grading truck along that road all day and literally saved the race. And the year countless riders rode through the finish, so mud-caked, looking like glazed doughnuts. The year podiums were essentially just a huddle of water-logged folks hiding under umbrellas.
Lets Do It Again
We can't think of a more memorable race in our eleven year history and we are so proud of all the riders who showed true grit and braved the elements. Thanks to the many coaches, volunteers, and parents, Tehachapi Mountain Trails Association, Lehigh Cement Company, and our SoCal Staff!
States took a monumental effort this season and without all of you and the support of our 2019 California State Championship sponsors Hyperthreads and Specialized Bicycles we would never have made it across the finish.
Congratulations to all those involved last weekend and especially to those for whom State Championships was their last ever high school mountain bike race. We hope everyone has a safe and enjoyable off season and we look forward to returning in 2019 to do it all again.