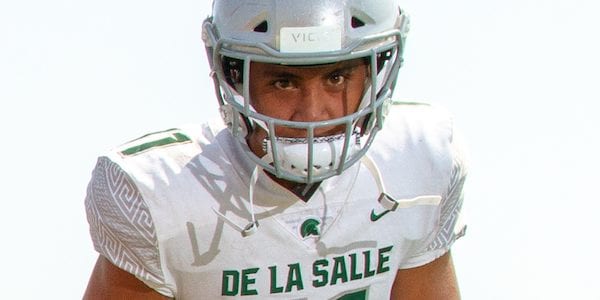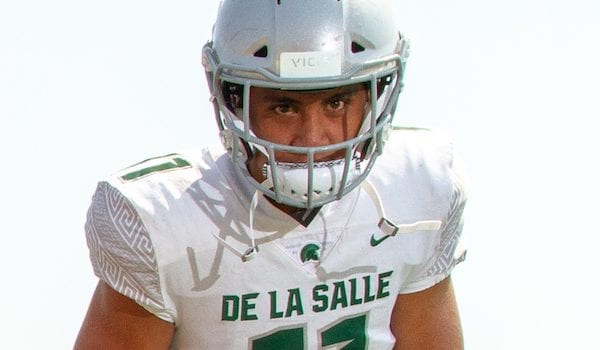 De La Salle's Wrecking Ball Linebacker Embodied The Physical Nature And Served As The Emotional Center To NorCal's Best Team, Defense • Henry To'oto'o...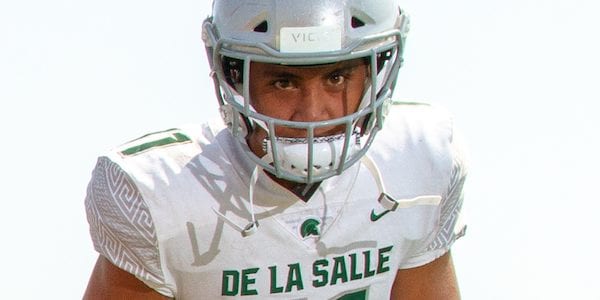 De La Salle's Wrecking Ball Linebacker Embodied The Physical Nature And Served As The Emotional Center To NorCal's Best Team, Defense •
Henry To'oto'o spent 12 games of 2018 cementing his stature as Northern California's best linebacker — for the second year in a row. His standing as one of De La Salle-Concord's all-time best defensive talents was a given. 
In his 13th game, he took it a step further.
If one could imagine the storied program's history as a giant quilt, To'oto'o's final game as a Spartan would've earned its own square. All for a game in which he managed just six tackles in a 35-21 loss to Mater Dei-Santa Ana in the CIF Open Division State Bowl Championship game. 
He played the game on a broken foot. An injury that was barely 24 hours old. 
"It never occurred to him that he wasn't going to play," De La Salle coach Justin Alumbaugh said in a late January interview. "We had a lot of young guys playing in that game, and he showed a lot of them what it means to be a Spartan. 
"That will always stick with me. He kind of displayed himself as the alpha dog. Grit and determination and toughness. Those aren't easy qualities for a young athlete to exhibit, and it was on full display for all those guys."
None of it was an act. To'oto'o spent the better part of the past three seasons becoming the rock of the De La Salle defense. As a senior, especially, he not only represented the physicality of the Spartans' defense, but served as its emotional core as well. 
He's the first player to win the SportStars Defensive Player of the Year Award in consecutive seasons. 
 "He was always smiling. Always competing," Alumbaugh said. "It was a unique mix. There are a lot of players who like being out there with their guys. And there are players who also just like hitting. You don't always get both in the same guy."
Following his lead, the De La Salle defense was easily NorCal's best. Prior to surrendering a season-high 35 points to Mater Dei, the Spartans had allowed opponents to eclipse 20 just twice in their previous 12 games. 
Folsom and Liberty-Brentwood, the two NorCal teams which won CIF Division 1-AA and 1-A State Bowl championships one week after De La Salle's loss, combined to score just seven points against De La Salle in 2018. Division 1-AA champ Folsom was shut out 14-0 in a Week Zero blockbuster in Concord. Liberty was a 42-7 victim in the NCS Open Division championship after the Spartans defense forced five turnovers.
To'oto'o finished his senior season with 76 tackles (17 for loss), 42 solo tackles, four sacks and two fumble recoveries. He also rushed for more than 500 yards and scored five touchdowns. On Feb. 6, he committed to Tennessee on national TV. He chose the Volunteers over remaining finalists, Alabama and Washington.
"I love the kid," Alumbaugh said. "I'm gonna miss him and miss coaching him. He was simply one of those kids who was fun to coach. He loved his teammates and he loved his coaches."
Those teammates and coaches who stay behind will be sure To'oto'o's legacy is sewn into the fabric of De La Salle football.
— Chace Bryson 
SEE MORE ALL-NORCAL HONORS
Player Of The Year — Sione Vaki (Liberty-Brentwood)
Offensive Player Of The Year — Kaiden Bennett (Folsom)
All-NorCal Offensive Roster
All-NorCal Defensive Roster