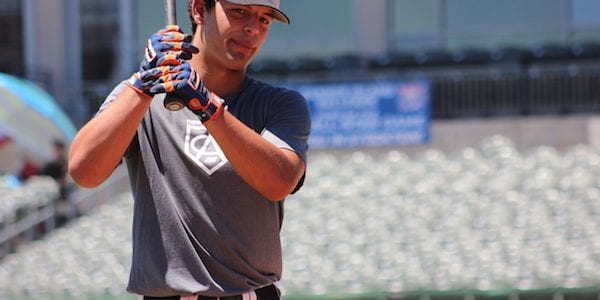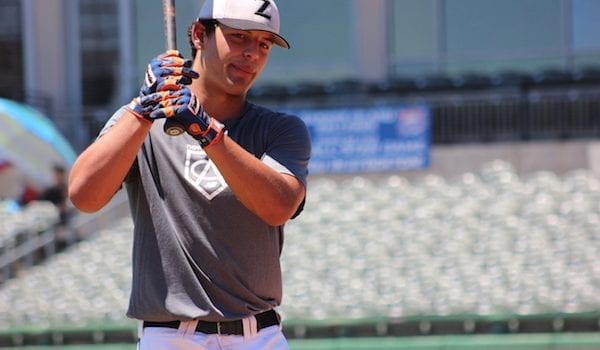 SHORT CODES: Six Quick Profiles From The Northern California Tryouts For The 2019 Area Code Baseball Games Each year the top 220 or so...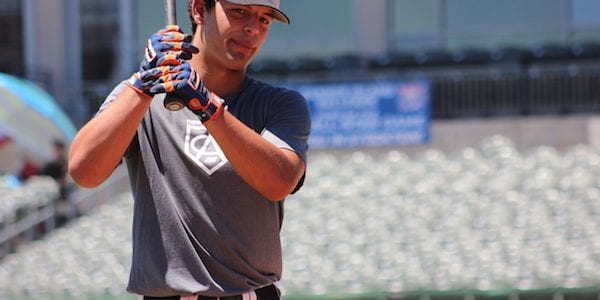 SHORT CODES: Six Quick Profiles From The Northern California Tryouts For The 2019 Area Code Baseball Games
Each year the top 220 or so high school baseball players from across the country come together to compete in the Area Code Games — a five-day showcase at Blair Field in Long Beach which wrapped up on Aug. 9. The eight regional teams, each represented by a Major League affiliate, primarily fill their roster with the top rising seniors in the country. This year that's the Class of 2020. 
SportStars spent July 11 at the NorCal invite-only tryout hosted by the Oakland A's. More than 120 players — from all points of Northern and Central California and even Northern Nevada — gathered at Banner Island Ballpark in Stockton. Players participated in batting practice, fielding drills and a continuous 22-inning scrimmage in hopes of cracking the top 25 percent.
Here are six short profiles of players who competed at the event, five of which made the eventual 29-man roster.
NICK YORKE: Archbishop Mitty-San Jose, INF
If you attend a game in which Yorke (pictured at top) is on the field, he can commonly be heard by all as he does his best to get his teammates hyped for each game. He uses that energy and desire to play the game as long as possible and be the best leader on and off the field. 
Although he posted a stellar junior season for the Monarchs, it didn't come without adversity. After having surgery on his right (throwing) arm in August 2018, he was forced to put his glove on the shelf. Defense wasn't an option during the healing process. Yorke spent his entire Mitty season as a DH. 
"Not being able to play defense was a huge struggle for me," he said. "It was tough staying engaged just playing DH."
It didn't affect his offense. He boasted an impressive team-best .505 batting average and his 40 RBI led the Central Coast Section. Regardless of his role, the Arizona commit will continue to be the boisterous leader his team has become accustomed to.  
Baseball is more than a sport in the Yorke household. It's a way of life. The Monarchs had three Yorke brothers on the roster this season. Joe graduated and is headed to Boise State while younger brother Zach is entering his sophomore season. Yet, a solid argument could be made that the best player under the roof is their mother. Robyn Yorke was a four-time softball All-American for Fresno State.  
JAYSHAUN WISE: Benicia, INF
When you're told you can't do something, there's two ways to handle it: Listen to the negativity and accept defeat, or use it as fuel to prove doubters wrong. Jayshaun Wise chose the latter. 
"I was a bigger kid early on in high school playing shortstop and people would tell me I needed to move to a corner position," Wise said. 
Unwilling to give up a position he was passionate about, he put in the time to make sure no one would take his spot. He added muscle and focused on his footwork. Adding that to his above average hands, it was no longer a question if he was at the right position. 
Growing up around his uncle, Cory Dunlap, who was drafted by the Dodgers, gave him an edge. 
"My father and uncle have spent real time with me, missing work to make sure I get better," Wise said. 
Even after his invite to the prestigious tryout, he's sticking with a prove-everyone-wrong mindset. He and his Benicia teammates did just that in May when they won the North Coast Section Division II championship as the No. 10 seed. Wise will look to close out his high school career with back-to-back titles come springtime. 
NICK KRESNAK: Acalanes-Lafayette, RHP/INF
It was a common occurrence for Kresnak to be the big kid on the field. Even at a young age he tended to tower over most — something he quickly learned to embrace. 
"I always felt I had more to prove," Kresnak said. "You have to have the tools to go with the physical (side), and I feel I can compete with the best out there." 
He certainly proved that case during batting practice at the tryouts. He effortlessly carried the bat through the box making sound contact with the ball while the scouts looked on.  More than capable at the plate (.366 average with 19 RBI as junior), he may be even more valuable on the mound. 
Kresnak posted a 1.09 ERA with six wins accompanied with 56 strikeouts last season. The 6-foot-1 Washington commit has been picking up a bat and ball for as long as he can remember. He hopes to turn that dedication into a big-league reality very soon. Upon finishing the Area Code baseball games, he'll return home to put football pads on. It will be his second year starting at quarterback for the Dons football team. As a junior, he passed for more than 2,500 yards with 25 touchdowns and rushed for two more.
TYLER SODERSTROM: Turlock C/INF
Soderstrom's father, Steve, reached the big leagues as a pitcher for the San Francisco Giants. His older brother, Tate, plays at the University of Arizona. Which makes it safe to assume Tyler has the support system to push him ahead of the rest. 
"I have always been confident in my abilities," he said approximately an hour before blasting a no-doubt home run to right field during the live scrimmage portion of the tryout. 
That confidence has shown at the high school level as Tyler will be entering his fourth consecutive year on varsity. His strict everyday schedule of hitting in the cage and off the tee has created a mainstay attitude to "out-grind" everyone else. He led Turlock in batting with a .455 average, 27 RBI and four homers during his junior season. 
In addition to making the Area Code Baseball roster, he was also recently named to the World Baseball/Softball Confederation U-18 40-man national team roster. If all goes according to plan, the UCLA commit will compete at the WBSC U-18 Baseball World Cup in Busan, South Korea, from Aug.30-Sept. 8.
CHASE DAVIS: Franklin-Elk Grove, OF
When one is invited to play in front of top scouts, and already committed to play for the University of Arizona, it's easy to believe you've made it. But not if you ask Davis. 
"I want to create a spot for myself, and keep on getting better," he said. "This never stops." 
Baseball has become more than a sport over the years for Davis. He uses the sport to find out the type of guy he is on and off the field. Knowing the game is set up for more individual failures than successes, Davis embraces his future struggles. 
"At the top level, you get paid to fail," Davis expressed excitedly. 
Putting in more work than the next guy is a mentality he knows will lead him to experience that lifestyle in the majors. 
In between throwing lasers from right field to home plate and crushing balls in batting practice, Davis can be seen constantly sporting a huge smile.  
"I want to represent NorCal, above all else." 
MICHAEL BROWN: Vacaville, 1B
With a 6-foot-5, 230-pound frame, it's impossible to miss Brown when he takes the field. 
The lefty has superb hands at first base with plus power at the plate. All of which makes his athletic build the less impressive trait of his game. 
Although he concedes baseball is "the best sport in the world", he may not have had much of a choice. His father, Michael Brown Sr. played for the Pittsburgh Pirates organization after being drafted in the 5th round out of Vacaville High. Getting handed a bat and ball at a young age, Brown gives all the credit to the support system around him. 
"My dad showed me the grind; what it takes to get through slumps," he said. 
Brown is happy to take the torch from his father and compete with the best in the world at the game they cherish. 
This spring, Brown will look to close out his impressive high school career with a Sac-Joaquin Section Div. I three-peat. He finished the 2019 season with a .312 batting average and 22 RBI. He led the SJS champions with 12 doubles and three home runs.