Vacaville Baseball: Simply Spectacular SJS Repeat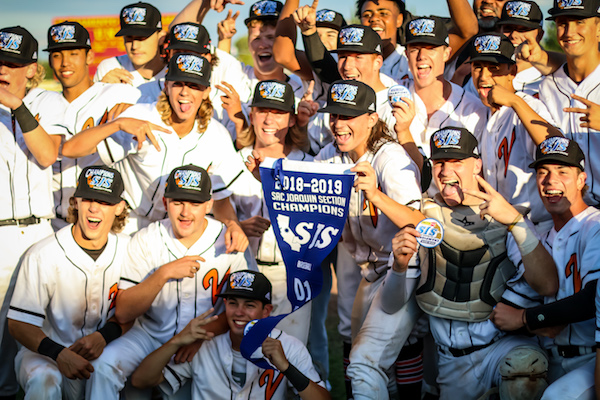 Third Generation Vacaville High Athlete Devereaux Harrison Sends 31-Win Baseball Team To The Sac-Joaquin Championship "Bulldog"-Pile •
One does not simply win a section baseball pennant without a massive infield dogpile. Something Vacaville baseball star Devereaux Harrison knows all too well.
The obligatory title celebration of Sac-Joaquin Section baseball programs consumed the mind of Harrison in the final moments of his team's Division I finale with Jesuit-Carmichael on May 27 at Sacramento City College.
Up 5-1 with two outs in the bottom of the seventh inning, the dogpile was stalled. A sure third-out sailed over first base for an error. Then Harrison walked the next two batters to load the bases. After a conference with coach Stu Clary, he proceeded to heave four straight pitches at head-height to walk in a run.
"I was aiming a little bit," Harrison admitted. "Jesuit is a great ball team. I knew if I threw it down the middle, they would piece it together and get hits.
"I was a little too excited, but I just wanted that moment, the dogpille, to happen already."
Harrison earned his moment in the next at-bat, but he violated the first rule of dogpiles — never be on the bottom. The Long Beach State-bound senior forced a lazy infield grounder to finish the game. And was swarmed immediately.
Considering the error and his team-rousing triple in the third-inning, Bulldog faithful can forgive the errant pitches.
"He doesn't usually miss high, so I think there was a little bit of adrenaline pumping there," Clary said. "Devereaux is our guy that closes games for us. That's just what he does.
"I mean… we didn't have anyone warming up. We were going to ride or die with that kid."
An easy bet. All year long.
Harrison led Vacaville pitchers with a remarkable 60 strikeouts in only 39.2 innings pitched. Clary said he throws a 91-mph fastball. It's aided his 0.71 ERA with six wins, three saves and just 13 hits allowed.
At the plate, he also leads Vacaville in RBIs (29) and triples (four). He trails only senior teammate Hunter Dorraugh in hits (39) and runs (29). The two sluggers, alongside the bats of Jared Breedwell, Brian McClellin, Kenny DeCelle and Michael Brown generated the bulk of an offense responsible for a 31-2 campaign, a 14-1 Monticello Empire League championship and a second straight SJS title.
After the game, players and coaches whispered of a quest for three straight pennants, but Clary clarified the Vacaville baseball program's official position.
"A section championship next year is not our goal, that would be an unreasonable goal," Clary said. "That's a wish. A goal is all the little things that add up, like getting in the weight room, going to your classes, making it to practice on time, being a good teammate.
"If you do all of those things right, it adds up to success. Of course, it doesn't hurt to have all these super talented guys on the team."
The Vacaville pitching staff combined for a 1.80 collective ERA, thanks to the likes of Harrison, David Rodriguez, Brandon Chalk and Carson Hawkins.
Chalk led the program with nine wins and Rodriguez pitched six sharp innings to earn Monday's victory. He gave up a first-inning home run to Jesuit's Daniel Susac, but settled to fan five batters and escape trouble for the next five frames.
According to the coaching staff, six Vacaville baseball players are committed to collegiate programs. Clary attributes the wealth of talent to the brand.
We have third-generation players and kids who are all proud of where they come from," He said. "We are playing for the name on the front of the shirt.
"You saw the people here in the stands. They weren't all moms and dads."
Easily the most prolific lineage on display was provided by the Harrison family. 
Clary said Devereaux's grandmother, Judith Hughes-Lopez, was one of the best tennis players in school history. She could have played in college, but her school, Sacramento State, didn't start a women's tennis program until 1992, nearly 50 years after she graduated Vacaville (class of 1957).
Tracy Lopez-Harrison, Devereaux's mother, is a member of Vacaville's Hall of Fame. She won a section softball title the year she graduated in 1988, before playing at San Jose State and earning her spot on the Spartan's All-Time Roster (she had 168 assists in 1991).
She also survived Devereaux's four-pitch, bases-loaded walk.
"I was a little nervous because he usually is pretty consistent," Tracy said. "I knew he would settle down. He's a gamer.
"I knew he would compose himself be able to finish it out."
The guys play a little too. Dad, Russ Harrison, played football at Solano College while older brother, Donovan Harrison, pitched for Vacaville and Cosumnes River College. Sophomore brother, Griffin Harrison, enjoyed a postseason call-up from Vacaville's frosh-soph squad.
Devereaux Harrison was quick to show the family the SJS ball cap awarded to division winners and the specialty championship T-shirts Vacaville coaches made in anticipation of a title.
One of the deep thinkers in the group questioned the fate of these T-shirts if Jesuit had claimed the pennant, but one does not simply ponder such outcomes.