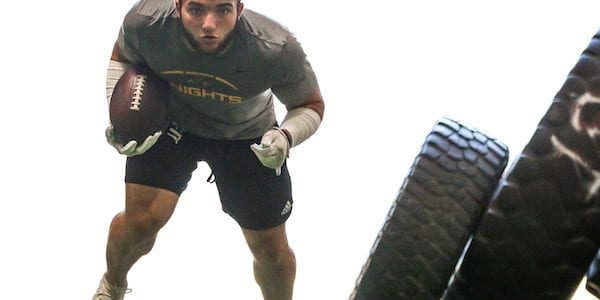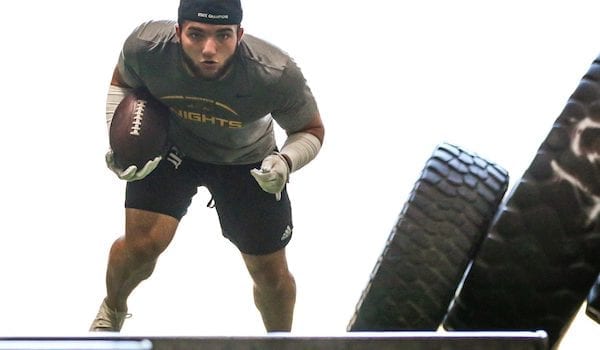 NorCal's Most Prolific Running Back From 2018, Cameron Skattebo Returns With A Goal Of 300 Yards A Game For The Defending CIF Bowl Champs...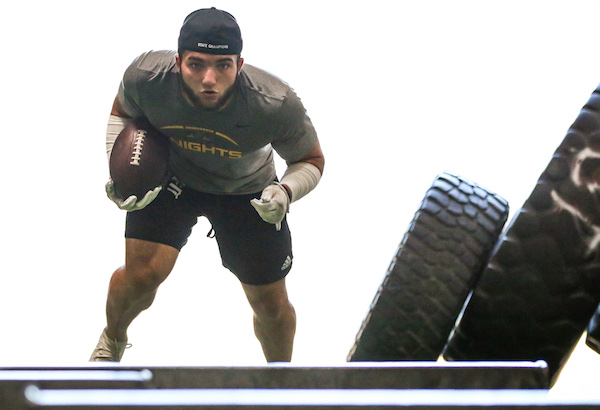 NorCal's Most Prolific Running Back From 2018, Cameron Skattebo Returns With A Goal Of 300 Yards A Game For The Defending CIF Bowl Champs •
Before he was a Northern California football legend and a Division 5-A State Bowl Champion for Rio Linda, Cameron Skattebo was a running back with a promise.
"I will score."
He made the pledge to coach Jack Garceau on 4th-and-3 from Oakdale's 48-yard line. It came in the third quarter of the 2018 Sac-Joaquin Section semifinals.
It took Skattebo fewer seconds (seven) to fulfill that promise than Oakdale had defenders packed into the box (eight).
His touchdown jaunt lifted the Knights to a 31-28 victory that night. Three games, 12 touchdowns and 944 rushing yards later, Skattebo and the Knights were cemented into CIF lore.
"Everything about Cameron and everything about our team changed in that moment," Garceau said. "He called his own shot. And afterwards, he was hitting every offensive lineman on the head, telling them what a great job they did.
"I don't think he understood how important for the team that would be. Everything flipped — the attitude of the team changed that night."
It was the turning point for Rio Linda, the same team that was bounced by Center-Antelope 40-26 in the season opener, and stunned at home by Foothill Valley League champion Placer-Auburn. 
The Knights shellacked 11-1 Casa Roble-Orangevale 63-14 in the SJS finals before beating West Valley-Cottonwood and San Gorgonio-San Bernardino in straight weeks to close the campaign.
"It was pretty special," Skattebo said last month after an agility workout at Game-Fit Sacramento. "To win a section and state title was just amazing."
It's tough to follow a season of Skattebo's magnitude, which amassed 3,788 yards from scrimmage and 48 touchdowns. Lofty goals and improved athleticism are the current approach.
"I want to average 300 yards a game," Skattebo said. "I've put 60 pounds on my power clean and 100 extra pounds on my squat. I also feel faster and more explosive, and have been hitting the hole a lot better."
It's a haunting horizon for CIF foes. Especially considering Rio Linda returns 15 other starters from its championship squad, including two athletic quarterback/receivers and a prolific fullback.
Rio Linda also runs an undefinable multiple-set offense that features spread, option and power running packages. It's a cocktail of coaching styles from past and present members of the staff.
It's safe to wager on the run, but clairvoyance does not guarantee conquest. No team stifled Skattebo last year. Even Placer, which held Skattebo to 73 rushing yards, surrendered 134 receiving yards and two touchdowns to the 5-foot, 10-inch, 205-pound dual threat.
"I have never been around anyone like him before," Garceau said. "His biggest asset is that he doesn't want to be second to anybody. It's refreshing to see a kid that will work as hard as he does and take care of himself the way he does."
It's a measured science.
"Cameron is all business all the time," Garceau said. "His focus is freakish."
Garceau said Skattebo has thrived in a leadership role this offseason and become an unquestionable leader.
"Cameron coaches our younger kids," He said. "It's just very satisfying to watch him right now. It's like lightning in a bottle and you want to capture it and don't let it get away.  I think this year is extremely important to him."
Leadership is nurtured at Rio Linda, where every coach on staff has a historic tie to the program. Most coaches are former players. The program thrives from the support of athletic director Michael Morris. Morris built the football program in 1991 and captured its only other SJS title in 2004.
After Morris departed, the perennial postseason contenders slipped to back-to-back losing seasons, but enjoyed a school-record 13 wins last year and is poised to enrich the community in athletic achievement in 2019.
"I feel like we took it from our mentor (Morris) and have turned this into something else," Garceau said. "We have a responsibility to this community. You can't even go down to the store without someone saying something about football now."
Skattebo is a go-to topic, but coaches anticipate other breakout seasons. The quarterback competition is between Abraham Banks and Kyle Deloney-Spencer. Banks is a better runner, ideal for option packages, while Deloney-Spencer has the edge on throwing prowess. The athlete not behind center will likely be the other's top downfield target.
Fullback Jamone Gates will lead a cast of dual-threat athletes set to eat up whatever yards Skattebo doesn't acquire. Top candidates include Elian Morales, Johnny Serrano  and Destin Savage.
It also helps that the anchor of the offensive line, Eddie Rabuku (6-4, 265), grew four inches and gained 60 pounds at tackle.
Defensively, Garceau has big hopes for a returning cast that includes Serrano (safety), Rabuku (defensive line), defensive backs Ricardo Comacho and Lashawn Collins, and defensive lineman Cody Thompson.
Skattebo is also a prolific tackler, but coaches will likely keep his legs fresh for those 300-yard games. 
It helps that his father, Leonard Skattebo III, drives him to cryotherapy sessions after each practice. Cameron said mother Becky Skattebo, older brother Leonard Skattebo IV (who played football at Bowling Green) and sisters Danielle Skattebo and Kylee Skattebo all rally behind his efforts on the gridiron.
"They all embrace what I do and support me, no matter what," Cameron said. "They like how I represent them and the community."
Rio Linda opens the campaign with a shot at vengeance against Center and quarterback sensation Michael Wortham. Garceau said the Knights won't overlook anyone in a vaunted conference that includes Lincoln and Ponderosa-Shingle Springs. He does admit he'll be highlighting a visit to Placer on Oct. 11.
He may need a few more promises from his Skatt-back.
BEST OF THE SJS—MEDIUM SCHOOLS
Names to know and teams to watch from Sac-Joaquin Section schools expected to be in the Division III-IV enrollment group for the 2019 season.
TOP OFFENSIVE THREAT: Cameron Skattebo, RB Rio Linda, Sr.
TOP DEFENSIVE TALENT: Johnny Serrano, S Rio Linda, Sr.
BEST ARM (QB): Ryan Ward, QB Manteca, Sr.
BEST BACK (RB): Hans Grassmann, RB Placer-Auburn, Sr.
TOP DEEP THREAT (WR): Jacob De Jesus, WR Manteca, Sr.
TOP ROAD GRADER (OL): Logan Foumai, OL Patterson, Jr.
BIGGEST RETURN THREAT: Zack Fernandez, WR/CB Golden Valley-Merced, Sr.
BIGGEST LEG (P or PK): Adrian Melesio, K Patterson, Jr.
TOP PASS RUSHER: Renicko Mcdonald, OLB/DE Vanden-Fairfield, Sr.
TOP BALLHAWK (DB): Youlas Dickson, DB Buhach Colony-Atwater Sr.
OFFENSIVE BREAKOUT CANDIDATE: Brevin Treadwell, RB/LB Capital Christian, Jr.
DEFENSIVE BREAKOUT CANDIDATE: Cody Chapman, RB/LB, Merced, Jr.
BIGGEST TITLE FAVORITE: Rio Linda
TOUGHEST SCHEDULE: Placer
BEST CHANCE TO SURPRISE: Manteca