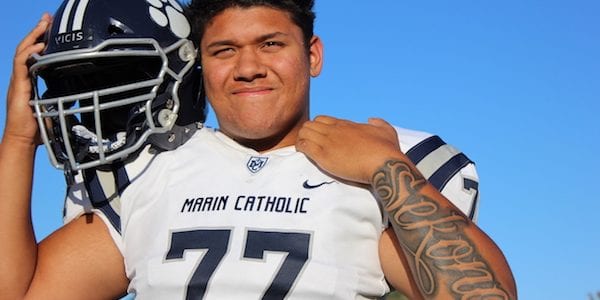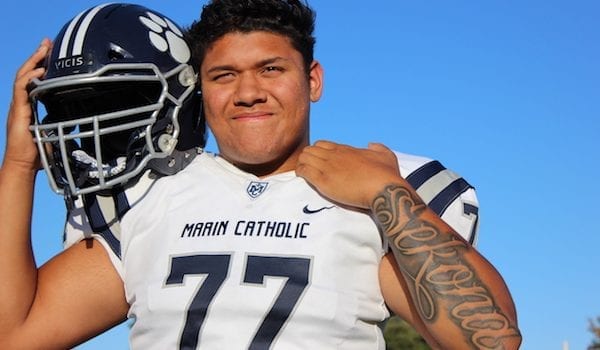 USC Is Next Stop For Marin Catholic's Jamar Sekona, One Of State's Most Coveted Linemen — But Unfinished Business With Wildcats Comes First •...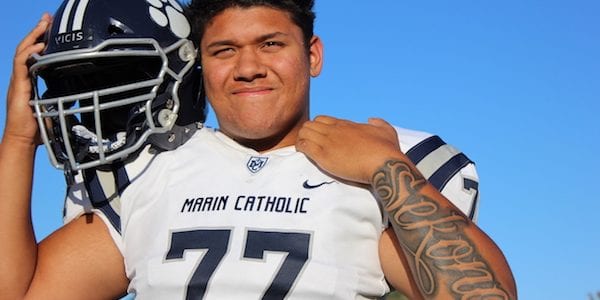 USC Is Next Stop For Marin Catholic's Jamar Sekona, One Of State's Most Coveted Linemen — But Unfinished Business With Wildcats Comes First •
There are very few student-athletes who would warrant a 5 a.m. wake-up call for a 7 a.m. interview 30 miles away in commute traffic, but Marin Catholic High-Kentfield two-way lineman Jamar Sekona is one of them.
He's personable, polite and respectful. But don't let that off-the-field demeanor fool you. On the football field, between the lines, Sekona is fearsome.
Opposing offensive linemen trying to block him, and defensive linemen trying to move him off the line of scrimmage, rarely succeed against the 6-foot-4, 310-pound USC-committed man-child. 
"What stands out about top-five power players is their freakish size and athleticism," Marin Catholic coach Mazi Moayed said. "What makes Jamar a rarity is the addition of his character and leadership.
"Jamar motivates everyone around him and leads by example, and not just on the team but within the entire Marin Catholic community. At the same time, he genuinely cares about everyone around him with his big heart. And some of that has to do with the fact he's experienced some lows and highs life has to offer."
_______________________________
GET CONNECTED:
Follow SportStars on Twitter & Instagram | Like us on Facebook | Subscribe!
_______________________________ 
Monday morning in the weight room begins at 6:30 a.m. and by 7:00 there were still no coaches there. They don't need any coaches present because Sekona has the team firmly in hand. 
"One of my personal goals is to be the best leader I can be for the team," Sekona said. "I want to be sure I leave a legacy for the younger guys, and for my class when I leave knowing I left it all on the field helping us have the best year we've ever had." 
Outside of a 19-7 loss to three-time defending CIF State Bowl Game champion McClymonds-Oakland on Aug. 31, the Sekona-led offensive and defensive lines have dominated.
They smothered El Cerrito and Monterey in running-clock wins, dominated an Archbishop Mitty-San Jose with a pretty decent resume, 35-9, and improved to 4-1 with an impressive 34-7 win at Antioch. Sekona played a key role in each game.   
St. Vincent de Paul-Petaluma coach Trent Herzog also serves as the National Preps western region scout. His area covers NorCal, Nevada, Oregon and Washington for as many as 300 colleges. He calls Sekona "the best defensive lineman in the state." 
Herzog knows Sunday-level talent. Prior to taking over the St. Vincent program two years ago, Herzog had an extensive tenure leading Casa Grande-Petaluma. There he coached defensive lineman Elijah Qualls, who earned a Super Bowl ring with the Philadelphia Eagles in 2017. 
"Sekona has it all," Herzog said. "Size, strength, power, quickness, explosiveness and heavy hands. Plus, he's a great kid and he wants to learn and asks questions. In the 30 years I've been around high school football in the Redwood Empire, he and Qualls are the two best defensive linemen I've seen. Qualls was more athletic but Sekona is bigger, stronger and has better fundamentals and technique."
Herzog spent a good amount of time around Sekona over this past summer as he helped select a roster for the Pro Football Hall of Fame World Bowl. 
"We brought him and 40 other All-Americans out to Canton, Ohio, for three days," Herzog said. "I got to know him pretty well. What an awesome kid. The sky's the limit." 
When asked if it makes him feel good to have his character pointed out just as much as his football prowess, Sekona had this to say. 
"Yes it does, and it makes me proud of how I was brought up by my mother."
Jamar is the only son of a single parent. His mother, Margaret Sekona, a hospice caregiver, also has six daughters. They're all older than the baby of the family. According to Moayed the family has had it challenges, but they've always risen up to overcome them.
When Sekona committed to USC on July 30, it ended the buzz that had been circulating on social media. He had 13 major college offers, including nine Pac-12 schools, but USC always appeared to be the front-runner as the first team to offer him a scholarship. 
"I definitely had a lot more interest in USC right away when they offered me my sophomore year," Sekona said. "But after The Opening (Nike combine in May), and the beginning of summer, I narrowed things down.  
"USC was a school I really liked right from the start, and over time I began liking them even more. I was just waiting for the right moment."
Jamar is of Tongan and Samoan descent. Was USC's tradition of looking for Pacific Islanders a factor? 
"I knew about USC taking in Polynesians and a lot of them came out very successful," Sekona said. "I knew about the history, and that was a great benefit to look at. But it was not the factor that persuaded me."
Then what did?
"I've been playing nose (guard) in high school so I'm used to taking on double- and triple-teams, and I'm usually successful," he said. "I also have been playing on the offensive line, but I want to play nose in college — and USC knows that. I feel very confident I'll be successful at nose with the right coaching, and I felt that from USC and the coaching staff."
Herzog isn't the only respected analyst to sing the praises of Sekona.
"Sekona emerged early on as one of the best in the Western region and has maintained that," 247Sports.com National Recruiting Editor Brandon Huffman said. "He's shined at numerous events over the years." 
"He still needs to work on consistency and using his technique rather than just relying on his strength and size, which is key," continued Huffman, who rates Sekona as the No. 2 defensive lineman in California. "But using a variety of moves will get him on the field earlier in college, since he already has the size for it." 
Saturdays on the turf of the Los Angeles Coliseum are still a ways off. As of Sept. 21 — while not even playing in the fourth quarter of blowout wins — Sekona had 33 tackles with 10 for loss, five sacks, 11 quarterback hurries plus a forced fumble. Those numbers have Sekona well on his way to duplicating or exceeding his defensive numbers from last season. As a junior he had 102 tackles (21 for loss) and 10 sacks. 
"About the only thing that has changed since I committed to USC two months ago is I've been pushing on conditioning. Especially going both ways," Sekona said. "Another thing is working on technique on both sides of the ball, but mainly defense."
Sekona is looking ahead, but not too far. 
"The biggest thing is we have to take this week to week and concentrate on execution, the mental part of the game and setting the tone," Sekona said. "It's still a little early to say. But as long as we do what we need to do, and take care of what we need to take care of, we'll have a great shot at our ultimate goal of winning state."
Before Sekona, Qualls was the top lineman recruit ever from the Redwood Empire portion of the North Coast Section.
There have been other players who made it to the NFL from the Redwood Empire. Cardinal Newman-Santa Rosa linebacker Jerry Robinson and Novato quarterback Mike Moroski were the first, back in 1979. Since then, San Marin-Novato fullback Brad Muster followed, and then Newman running back/linebacker Scooby Wright was next, followed by Jared Goff of Marin Catholic. 
The difference between those players and Sekona is none of them, even Goff, were considered either the state's No. 1 or No. 2 player at their position.
The sky could indeed be the limit for Sekona.