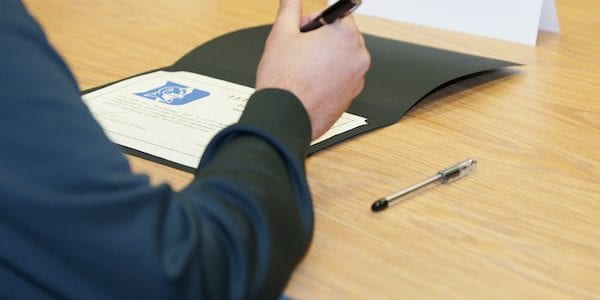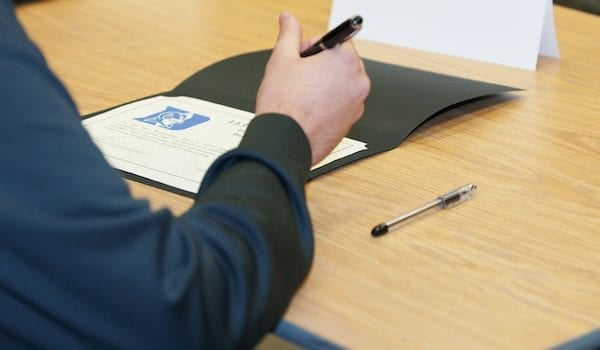 Many Talented Athletes Sit On The Recruiting Bubble But Still Find A Chance — Thanks To Work Ethic And A Little Bit Of Help...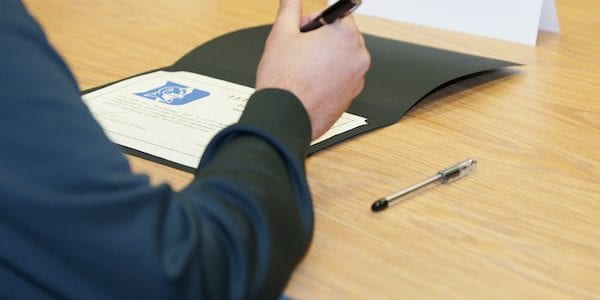 Many Talented Athletes Sit On The Recruiting Bubble But Still Find A Chance — Thanks To Work Ethic And A Little Bit Of Help •
When high school athletes need to seek a scholarship, or are exposed to the recruiting process, a daunting number of factors are often in play.
Location, climate, compatibility with the coach, cost, career goals, campus size and academics are just a small part of a wish list that can go on forever in finding the right college.
And you thought trigonometry and physics were tough!
With an internet saturated with profiles and videos of hundreds of thousands of athletes, companies which help guide students and parents through the recruiting jungle can be so valuable.
There are a variety of organizations that offer help in that often-difficult process. Costs, approaches, philosophies and styles differ from company to company. More localized companies have recently joined established groups like Next College Student Athlete (NCSA) and National Scouting Report (NSR). Those include Tompkins-Gould College Athletic Consulting out of Fremont and SPEAK Leadership Consulting from Las Vegas.
_______________________________
GET CONNECTED:
Follow SportStars on Twitter & Instagram | Like us on Facebook | Subscribe!
_______________________________
Some offer online platform-building, others focus on connections with schools and/or coaches. Some work to grow personal skills or give direction to parents. A number are straight-up consultants and others act like de-facto agents.
Like anything with the educational work, work ethic is the key.
"A lot of kids are committing to going to schools without doing their research," Julian Jenkins said. Jenkins is NCSA's Senior Director of Regional Recruiting. "You have to physically get on that college campus. I see kids wanting to go to the Florida Everglades who have never set foot out of Fresno or Richmond."
Sometimes financial need fuels the effort.
"Sometimes that family that doesn't have the money sees the value in it," said Stacey Harris, NorCal Area Director for NSR, which began in 1980. "At the end of the day, they know they cannot afford it. They scratch and claw to get something for their kid. The only way they can do it is by scholarship."
Figuring out how to start is a big piece of the puzzle.
"You get a reasonable list of target schools, work with them to reach out," said Rick Gould of Tompkins-Gould College Athletic Consulting, which launched earlier this year. "Bring the numbers down and hold their hand through the process … Part of it is what school the student likes the best. But there is also which coaches like the student the best."
The internet is a double-edged sword for college-seekers. It's easy to create a presence, but it becomes just another in a saturated web sea, because anyone can do that, said Jenkins. He began his career as a prep football star in Georgia, made his way to Stanford and then the NFL with Tampa Bay and Denver.
"With all the social media, there are still the same number of spots on a basketball team that there were 20 years (ago)," Jenkins said. "The same number of spots, while tuition is much higher."
That can be a very difficult dart throw.
"Every college coach has social media, so they think if they just put their info on Instagram and Twitter, what is the percentage that the coach sees it? Pretty low," Harris said.
And waiting until senior year to start the process makes it even more overwhelming.
"I truly believe that this should be started no later than sophomore year. Because you still have one year before you get bombarded by colleges and recruiters," said Bill Teel, co-founder and president of SPEAK, which began two years ago.
There are many reasons for late entries.
"Yes, you have a group of people, either they didn't seek information soon enough, or kids are late bloomers, and just now showing the coaches they are making the commitment or have grown into being that athlete who coaches want to recruit," Jenkins said.
Likewise, it can be a trap to close the deal too soon. Gould said committing early on, or even before high school starts, is detrimental to both the athlete and the university.
"Typically, an athlete in 9th or 10th grade doesn't know what they want in a college," he said. "It sounds great when they are a freshman. Three or four years later when they are going to college, things have changed."
Teel discovered how lost some parents could be when his daughter was playing with a club soccer team and suddenly it was time to embark on college searches.
"We were thinking about what needed to be done to get her into the recruitment world." Teel said. "We asked others, and the predominant response was, 'Are we supposed to be doing something?'"
That response led to the creation of SPEAK. Teel and his associates created virtual profiles for soccer athletes, with a 100 percent success rate in attaining college scholarships, he said.
"We helped them focus on schools which would consider them, areas of importance, what region of the country would you like to live in, what is the specific climate, specific program, your educational program. What do you want to get from your college experience?" he said. "If you want to live in the area you went to college, what is the job market like there?"
It can be a challenge to get a dedicated athlete to look beyond sports.
"I tell the athlete 'Picture yourself at this school without the sport. … Would you still attend?'" Harris said. "You need to look at it socially, geographically, financially and academically."
The pitfalls of making a wrong college choice are starkly evident. In July, NCSA released an extensive State of Recruiting report. More than 45 percent of underclass athletes are not listed on their college roster the following year. NCSA analyzed roster data from 2012-17 of more than 1,400 NCAA and NAIA schools.
The study didn't pinpoint reasons for athletes dropping off a roster. Possibilities are many — becoming homesick, not fitting in academically or socially, not getting along with a coach, seeing the coach who recruited you depart, or an injury.
When venturing out into the adult work, people skills are important for the prospect.
"For anywhere, for sixth-graders or seniors in HS, it is about developing a student who is ready to attend college." Gould said. "Some athletes look good on paper, but don't look you in the eye when they shake your hand. They don't say 'Thank you,' they are mumbling, they don't manage their time well," Gould said. "That's an overlooked aspect."
Jenkins' own quest began with sending VHS video tapes to over 100 colleges. While technology has changed, the notion of casting a wide net remains a useful approach.
"The first time I was stepping on those college campuses, they were like Sewanee in Tennessee, Furman College in South Carolina, then to Clemson and North Carolina," Jenkins said. "By the time I got to Stanford and Notre Dame, I was ready for the process. Just like a player wouldn't have gone into a game without having practice, I don't know how a lot of parents can go into recruiting without doing the practice, doing the reps."
Gould has seen the recruiting process from three perspectives. His father, Dick, had a legendary tennis coaching run at Stanford. Rick was a recruited collegiate swimmer and swam for Stanford. Most recently one of his daughters emerged from the recruiting process.
"People don't naturally know how to do this," Gould said. "Everyone is pushing so hard on academics, so it's hard to differentiate yourself. Achieving excellence in a sport is a way to differentiate yourself."
In the end, athletes, parents and coaches will seek out resources they trust.
"This is all about getting the info in front of the coaches," said Harris, who has worked at NSR for 13 years. "If it's coming from a proven established company, they are going to look at it."