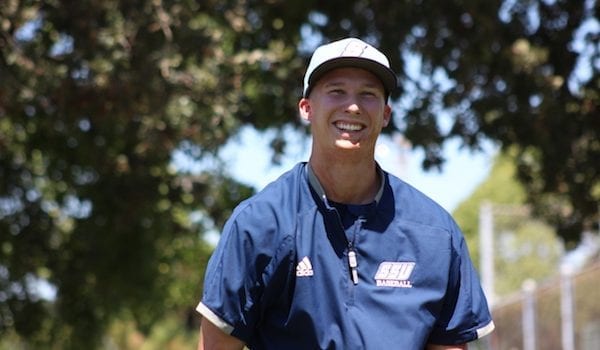 Six Years After Spending 72 Days In A Burn ICU, Freedom High Grad Trevor Gillilan Is Attempting To Realize A College Baseball Dream •...
Six Years After Spending 72 Days In A Burn ICU, Freedom High Grad Trevor Gillilan Is Attempting To Realize A College Baseball Dream •
Baseball was the last thing on Trevor Gillilan's mind as he lay critically injured flying hundreds of feet above ground in a medevac helicopter.
He was being rushed to The Firefighters Burn Institute Regional Burn Center in Sacramento where doctors would frantically try to save a young man with second- and third-degree burns over approximately 67 percent of his body. 
After a successful year with the Freedom High freshman baseball team, the Oakley teen was hoping to make an impact on JV as a sophomore. The plan was to keep developing his skills — but playing college ball was always his dream. 
But after a freak accident on Aug. 30, 2013, even the most obvious things in his life were no longer guaranteed. 
On a Friday night, two weeks into their sophomore year, Gillilan and two friends were enjoying a backyard campfire. As the flames began to dim, one of his friends poured accelerant on the existing flame. Unexpectedly a fireball projectile shot out from the fluid container, dousing Trevor's lower body. 
_______________________________
GET CONNECTED:
Follow SportStars on Twitter & Instagram | Like us on Facebook | Subscribe!
_______________________________
"All I remember thinking was STOP, DROP and ROLL," Gillilan said. "But it didn't work".
The flames continued to thrive, gaining fuel from his clothes and the fresh accelerant. They quickly progressed from his legs to his torso, stopping at his neck, just under his chin. With quick thinking, his two friends ran in opposite directions: one grabbed the hose while the other turned on the water. Eventually, they were able to put out the flames. 
Gillilan's adrenaline took over. He was numb to the pain. He read the expressions on his friends' faces and remembered having one thought: Don't look down.
Six years later, Trevor stands on the mound and looks down — at the baseball in his glove. He's pitching for the Santa Rosa Athletics in a college summer league as he prepares for his sophomore season with Sonoma State in 2020. 
"We couldn't be prouder," said Rick Gillilan, Trevor's father. "Watching him overcome and play the game he loves, it has given us the courage to recover as well."
A LIE THAT HEALED
It was courage that helped Rick and his wife Joelle relay a message of hope to their son as he lay fully bandaged in the burn center. Even if it may not have been entirely truthful at the time. 
"I would ask a lot of questions, when I first woke up," Trevor said. "I wanted to know what my future was, how bad of shape was I really in?"
His legs were far and away the most impacted area. They were burned so severely the medical staff strongly believed walking normally again would be a long-term battle. Furthermore, his right arm — his pitching arm — was severely burned to the extent that contracture had begun to form. Burn scar contracture causes the skin to pull together near the damaged areas. It can lead to long lasting problems if not treated immediately. Permanently shortened range of motion is one of those problems. Baseball players, especially pitchers, rely on extended range of motion in their arms.
Using a dry-erase board because of the 4-foot long intubation tube in his throat, Trevor didn't take long to ask his parents if normal life — and baseball — would ever be an option again. When the medical team told Rick and Joelle the answer was no, they agreed to give Trevor a different answer. 
"We knew we had to tell him something," Rick said. "We looked him in the eye and told him 'You'll be able to do everything you want to do in life, but you will have to work very hard.' "
It was years later when Trevor discovered this was not his medical team's diagnosis.
By that time, Trevor had already returned to the diamond. 
DEFYING THE ODDS
It was a week before the ventilator tube was removed. Ditching the white board and using his voice again was a big morale boost. But reality never strayed for too long.
Life inside the ICU of a burn hospital is like playing a never-ending game of tug of war. And pain. Pain was a constant theme, not only for Trevor as he healed, but also the sounds he heard each day of new patients arriving.
"The dressing changes were brutal," Trevor said. "The pain was unbearable because the bandages would stick to my body. Twice a day I had to feel something so excruciating, I could only deal with the pain because I had no other choice."
Every experience he endured was slowly creating the mental strength that would push his recovery forward. He was cleared to begin in-bed rehabilitation after six weeks. Simple tasks like using his arms and hands to play card games would be his first step.
Most of his muscles had deteriorated — even standing on his own two feet was far beyond the pain he could have imagined. "Getting carried was a tough reality," he said.
He wasn't carried for long. What started as assisted bicycle kicks on his back quickly escalated to slow walks down hospital hallways.
Nearing three months inside the hospital, and making amazing progress, the hospital allowed him to spend a night with his parents in the hotel across the street. Rick and Joelle had stayed there every night since he'd arrived.
"It was awesome to walk out of those hospital doors" Trevor said. "Even if it was just for the night."
 After two more weeks, plans were made for his release. The nursing staff marveled at the recovery time. The term "miracle" was used more than once. On Nov. 9, after 72 days, Trevor left the Sacramento facility 25 pounds lighter and six weeks ahead of schedule.  
BACK BETWEEN THE LINES
Normal comes slowly for burn victims like Trevor. 
His first few months required mandatory pressure garment clothing as his wounds continued to heal. Readjusting to school life wasn't a snap either. He was steadfast that he wasn't going to worry if people looked at him differently.
"These scars are a part of me. They make me who I am," Trevor said of his mindset. "I wear them every day and use it as fuel."
In April 2014, not even nine months after the accident, Trevor was back in a competitive baseball game as a pitcher in the Brentwood Pony League. 
"I was nervous, but mainly excited to play the game again,'' Trevor explained. "Being able to step on the mound and compete was something truly special." 
Freedom High's coaching staff placed him on junior varsity the following year. They wanted to give him an opportunity to play regularly and regain muscle memory. 
"I really wanted to play varsity right away, but it turned out to be a blessing in disguise," Trevor said. "I made great friends and big strides in my game."
He played varsity as a senior, but it was a frustrating season for the Falcons. The team finished under .500 and Trevor only pitched 18.2 innings.
Facing the reality that baseball likely wasn't going to be a part of his future, he hung up his spikes and began considering school and career options. 
To no surprise of anyone who knew his story, he went to Los Medanos College and enrolled in its Fire Science program — getting his California EMT license in the process. "He's a driven guy. That has been clear over the past six years," said his cousin, Drew Gillilan, a firefighter in Stockton. "He will do great at the college level and in the fire service if he chooses." 
ONE LAST GO
Studying for fire service was stirring a new passion. "I really enjoyed the brotherhood and camaraderie that the fire service provides," Trevor said. "I liked learning how to help people in need. The same way the crews helped me when I got hurt." 
Just one month before he was to begin the fire academy at LMC, his old passion flickered.
Two years from his last time stepping on a baseball field, an opportunity presented itself. After mentioning to his dad he'd love to give baseball one last go. Rick Gillilan found a pitching skills coach and connected him with Trevor. 
Dominoes fell quickly and suddenly Trevor found himself throwing in front of Sonoma State head coach John Goelz. 
After battling nerves, rust and a few wild pitches, his tryout ended with Goelz encouraging him to enroll at the school and try out as a walk-on for the 2019 season.
Remembering all that he'd gone through to get back to this point, Trevor knew saying no wasn't an option. He had to take his shot. He made the 60-man fall roster and spent the 2019 season as an off-roster redshirt.
"We love the kid," Sonoma State pitching coach Dolf Hes said. "He's a great person. The only thing that you can control on the baseball field is attitude and hustle, and he has both." 
As always, Trevor will enter the 2020 season as an underdog. He'll push himself through training sessions, grind in the weight room and work constantly on his craft. 
He'll know the odds are against him. And he'll remember what he's been through.
The odds will have an 0-2 count — and Trevor Gillilan will wind up for his best fastball.