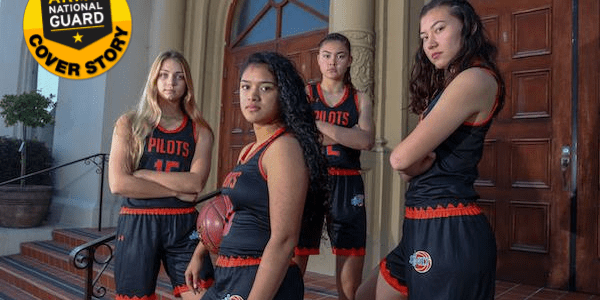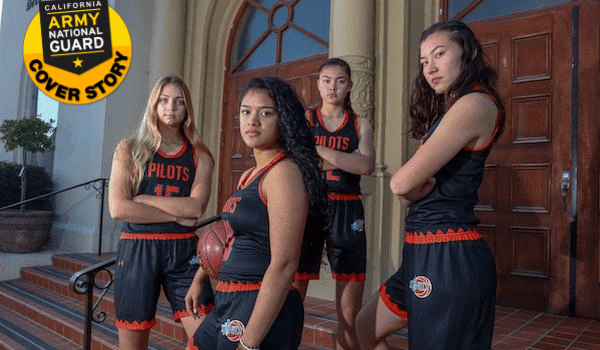 Alameda's St. Joseph Notre Dame Has Reached A North Coast Section Final In Each Of The Past Five Seasons — And Is Ready To...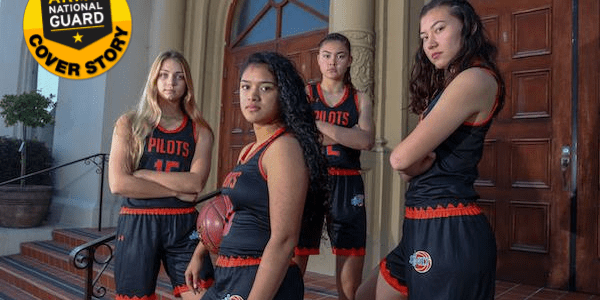 Alameda's St. Joseph Notre Dame Has Reached A North Coast Section Final In Each Of The Past Five Seasons — And Is Ready To Add On •
We've all been there: Ms. Grunion's English class, and it's time to write a book report. Ms. Grunion, who settles for no nonsense, wants a theme. You know, with a topic sentence that states the theme, three supporting paragraphs and a conclusion. Satisfying Ms. Grunion with a report on the St. Joseph girls basketball team isn't likely to require a long time searching for a theme.
In fact, that theme wouldn't even require a sentence — it's just one word, but it runs through the entire St. Joseph girls basketball program like the Pilots' fast break running through a hapless opponent for yet another uncontested layup. 
The word for St. Joseph? Competitive.
Let's start with coach Shawn Hipol, now in his sixth year at St. Joseph Notre Dame High in Alameda. He was a point guard at Alameda High back in the day, and one guy he had to guard twice a year was a guy who's only in the Naismith Memorial Basketball Hall of Fame: Jason Kidd.
"There wasn't much you could do," recalls Hipol, but he eagerly looked forward to playing Kidd — who not incidentally went to St. Joseph Notre Dame. "To me, it was great to play them twice. As a competitor, that's what you're doing this for."
_______________________________
CONNECT WITH US:
Follow SportStars on Twitter & Instagram | Like us on Facebook | Subscribe!
_______________________________
Hipol went on to play at Chico State, and it was a natural progression for him to get into coaching. "As a point guard, you're always helping guys at other positions," he said. "You've got to know everything – and you're used to team dynamics."
He started out coaching freshman boys at Alameda, but when Felix Douglas asked him to help out with the Skyline-Oakland girls, he decided to give it a shot. "I went there to help my old coach," he said. "I didn't plan on staying — but then one year turned into 15."
Hipol didn't know what to expect coaching girls, but found it immediately satisfying.
"They are so coachable," he said. "They're like sponges. Maybe they play below the rim, but these kids listen and they are committed."
When Douglas stepped down, Hipol took over as the head coach and went 95-46 in five years there, but then there was an opening at St. Joseph Notre Dame. 
"St. Joe's was always the flagship school," he said, especially for a guy from the Island. "An opportunity to coach there doesn't come around very often."
But the St. Joseph girls basketball program had hit a lull, with a .500 record in its prior two seasons, so immediate expectations were not that great. Hipol, though, is too much of a competitor to accept anything less than high-level success. He hit the ground running. 
St. Joseph Notre Dame made it to the North Coast Section Division V finals in his first season — and amazingly, has played in an NCS final every year he's been at the school. Along the way, the Pilots have won two NCS championships, in Division IV and Division V, and reached the NorCal finals twice (losing to Eastside Prep-East Palo Alto both times).
"A state championship has been our goal every year," said senior guard Malia Mastora. "Coach Hip has held us to a high standard all four years I've been here."
That first season, two years before Mastora arrived, St. Joseph Notre Dame went 21-13. Since then, the record is 105-28. And sure, there's talent at the school, but Hipol has put in more than his fair share of sweat equity.
"He works so hard for us," said Mastora, "and he's proven he's serious — so we have to work hard and show how serious we are."
Other coaches take notice of that hard work. "His preparation for an opponent is excellent," said Steve Pezzola of Salesian-Richmond. "He's able to get his team to execute great game plans."
But note the word "execute." There are a lot of coaches who can draw up great plays and fancy defenses, but when it comes time for the players to make them work, too many times there's a big gap between the vision and the execution.
"We learn how to make decisions at crunch time," Malia Mastora of St. Joseph said. "We're confident we can do what we need to get done."
Everyone involved in the St. Joseph girls basketball program expects to get a lot done this year. Even though two starters graduated — both of whom will play in college — there are 10 returners, including Sophie Nilsson, who missed last year with a torn ACL. 
Mastora and her sister Makena, a junior, are expected to start. Another sister act, Maila and Talana Lepolo will also start. Power 5 schools are already recruiting sophomore Talana Lepolo.
"It's going to be amazing to watch her grow," said Mastora, but she's also excited about the return of Nilsson.
"It's great for us to have another versatile player," said Mastora about the 6-0 Nilsson, who can shoot 3s but also gives the Pilots some size and rebounding — which they'll need against a competitive (there's that word again, Ms. Grunion) schedule.
And in the brave new world of postseason basketball, Hipol knows he's taking a risk by scheduling teams like St. Mary's-Stockton and playing in the top bracket of the West Coast Jamboree against nationally ranked teams like Sierra Canyon-Chatsworth and Mater Dei-Santa Ana. 
"It could affect our seeding," Hipol said, but just like his time playing against Jason Kidd, he's up for the challenge.
He's also up for the challenge of the NCS Open Division, which he favors. He's also OK with the state's move to competitive equity placement, which put 400-student St. Joseph Notre Dame in the CIF NorCal Open Division last year against the biggest and best schools in this part of the state.
So what will the team that has to play that schedule, and live up to all the expectations, look like? "You're going to see kids that are ultra-competitive," he said, "and you'll be able to feel it in the stands."
And you'll see it on the scoreboard as well.