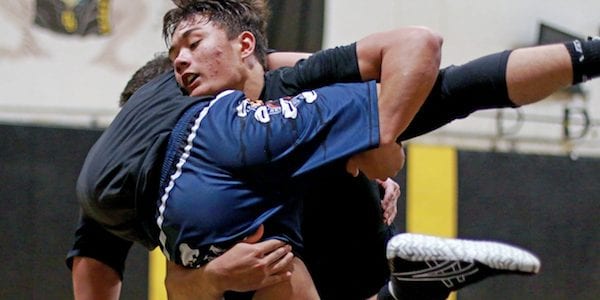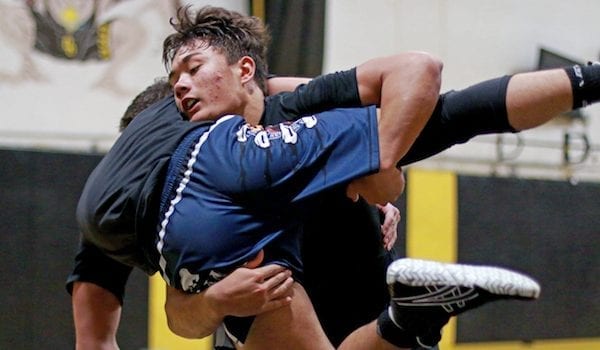 2019-20 WRESTLING PREVIEW: A Social Media Sensation During The Fall, Kainoa Acia Has Traded In Pads For Singlet As Part Of Del Oro's Stellar...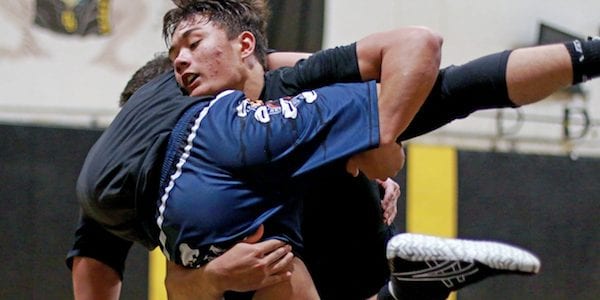 2019-20 WRESTLING PREVIEW: A Social Media Sensation During The Fall, Kainoa Acia Has Traded In Pads For Singlet As Part Of Del Oro's Stellar 2023 Infusion •
A month before his Nikes stepped onto the wrestling mat, Del Oro-Loomis freshman Kainoa Acia was a household name. That is, if your household happens to watch NFL Sunday Night Football.
Al Michaels introduced the hard-running halfback and wrestler to the world on Sept. 22, highlighting a magical touchdown run. During a break in action, NBC showed a clip from the Del Oro-Granite Bay freshmen game from three days earlier, when Acia broke to the edge, stiff-armed a Grizzlies' defender to the ground, and leaned into another would-be tackler before flipping (suplex style) to his feet, and running another 30 yards into the end zone.
After varsity coach Jeff Walters shared the play on Twitter and Acia shared it on his Instagram account, it was spread by a bevy of news outlets, including the primetime showcase on Sunday Night.
"It was really cool and everyone was excited, but I know it was a one-time thing," Acia said. "I don't think I will be able to go viral like that in wrestling."
While his favorite sport is football, Acia is one of five key freshman on a Del Oro wrestling squad that will contend for a Sac-Joaquin Section Masters title this year. Acia, the 2019 State of California Wrestling Alliance for the Youth (SCWAY) Kids State Champion at 167 pounds, is on a quest to qualify for the CIF State Championships in his first season.
_______________________________
CONNECT WITH US:
Follow SportStars on Twitter & Instagram | Like us on Facebook | Subscribe!
_______________________________
He's joined on that quest by a fantastic freshman class that includes standouts Isaac Herrera (ranked No. 4 in NorCal by SportStars at 106) and Jaxson Taber (No. 10 at 113). Eli Honsa (106) and Ethan Oliver (160) will also contribute varsity wins, though they may have a tough time cracking the postseason lineup in February. Herrera, perhaps the most reputed of Del Oro freshmen, was second at the 2019 California World Challenge (elite bracket) and is a three-time Flo Reno Worlds medalist.
Acia, who ran for nearly 1,500 yards and scored 21 touchdowns in the fall, will contribute right away for a program that won back-to-back SJS Masters titles in 2015 and 2016. He ranks No. 8 at 170 and could drop down to 160.
"I'm really happy to be here and be a part of this," Acia said. "We have a lot of good freshmen and we all want to help the team."
"(Acia) will do great things for us this year," Del Oro wrestling coach Clint Madden added. "He is a petty patient guy who does a lot of misdirection and fakes.
"He figures guys out and starts picking them apart."
The additions are critical after Del Oro lost senior Brenden Johnson, a returning state medalist, to a Gridley transfer. The Northern Section also claimed JT Stinson of East Nicholas (No. 1 at 160) and Dallas Stevens of Gridley (No. 10 at 138) from Del Oro last year.
State qualifiers Damion Elliott (No. 4 at 120), Evan Ivaldi (No. 4 at 132), Eli Blake (No. 2 at 145) and Jed Campos (No. 4 at 152) are all back, though the team graduated four-time CIF medalist Noah Blake, Eli's brother, now wrestling for Air Force Academy. Eli, a seventh-place finisher at state in each of the past two seasons, is committed to Cal Poly.
The Del Oro lineup will also include Masters qualifiers Colt Guthrie (No. 8 at 182), Matt Ciocci (160) and Tyler Randall (285). The deep roster will be tough to combat in duals, and Del Oro's best wrestlers will turn in significant team points at tournaments.
"We have a pretty solid lineup, even though we are really young," Madden said. "We should be tough for years to come."
Madden and assistants Grant Gambrall and Mike Anderson will corner most of Del Oro's matches this year. Madden is in his 23rd year as a head coach after wrestling at Sierra College and Oregon Tech. 
Gambrall was once considered the best high school wrestler in the country, and was an NCAA All American at the University of Iowa in 2011. Anderson wrestled for Madden and placed sixth at the 1999 state championships (125 pounds). He went to wrestle for UC Davis. 
The coaches will look to develop young talent as Del Oro jumps into a gauntlet schedule of tournaments. In a three-week stretch starting Dec. 27, Del Oro will wrestle in the Sierra Nevada Classic (75 teams), the Doc Buchanan Invitational (117 teams) and the Tim Brown Memorial Classic.