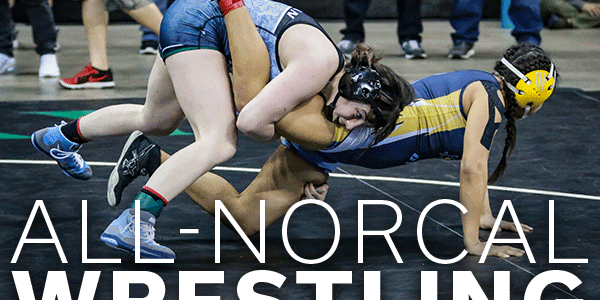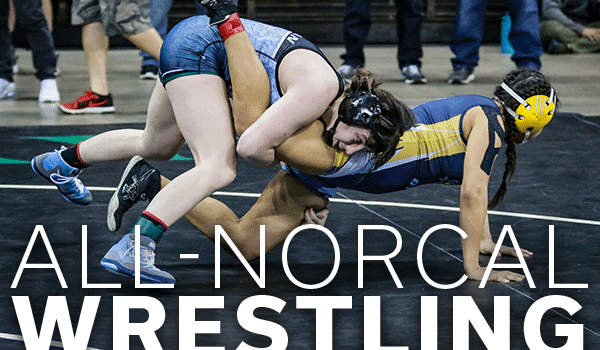 Chase Saldate, Lilly Freitas and 22 NorCal teams represented in SportStars' Third Annual All-NorCal Wrestling Honors • Though it again spanned three grueling days,...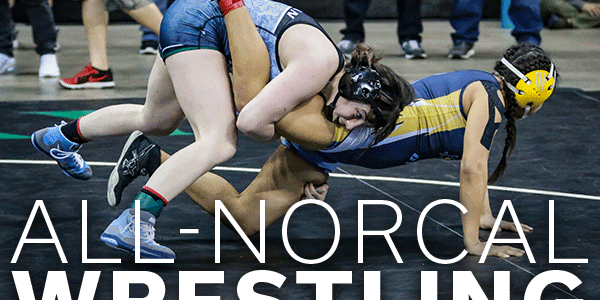 Chase Saldate, Lilly Freitas and 22 NorCal teams represented in SportStars' Third Annual All-NorCal Wrestling Honors •
Though it again spanned three grueling days, the combined Boys-Girls CIF Wrestling Championships at Mechanics Bank (formerly Rabobank) Arena in Bakersfield was a resounding triumph for NorCal's best wrestlers. And for the third year in a row, we'll be celebrating many of them as part of our All-NorCal Wrestling Honors.
The region's boys escaped with only one champion, but NorCal girls claimed gold in eight of the 14 weight classes.
The North Coast (three qualifiers per weight), Central Coast (five qualifiers) and Northern (two qualifiers) sections combined for just nine total medalists, but the Sac-Joaquin Section impressed with big wins in the "blood round" (top-12) and brought home 20 medals.
Below is a look at the top performers from the CIF championships, and four recipients of special "Most Valuable Wrestler" and "Breakout Wrestler" recognition.
Note: SportStars NorCal coverage includes the Central Coast, North Coast, Sac-Joaquin, Northern, Oakland and San Francisco sections.
_______________________________
STAY CONNECTED:
Follow SportStars on Twitter & Instagram | Like us on Facebook | Subscribe!
_______________________________
BOYS MOST VALUABLE WRESTLER
Chase Saldate, Sr., Gilroy (CCS)
The only NorCal state champion, Saldate also ended the year as the national No. 1 and capped his prep career by going undefeated. He will redshirt his first year at Michigan State before aiming for All-American prestige as a redshirt freshman in 2022.
GIRLS MOST VALUABLE WRESTLER
Lilly Freitas, So., Pitman-Turlock
Freitas won her second-straight state title after another undefeated season, and still sports a perfect record in prep folkstyle matches. She pinned every opponent at state. Freitas is a cadet national champion who is gunning for a world cadet medal this offseason. She is a 2024 Olympic hopeful when the Games arrive in Paris.
BOYS BREAKOUT WRESTLER OF THE YEAR
Casey Roberts, Fr., Vacaville
Only an on-the-bubble name before the SJS Masters and ranked as low as ninth (NorCal) and 31st (state) before the CIF tournament, Roberts exploded with a monster consolation bracket performance at state. He fought off elimination with five consecutive victories, ultimately placing seventh in the bracket. Roberts may be the only SJS wrestler in history to lose both his first match at Masters and his first match at state and come back to win a medal at both events.
GIRLS BREAKOUT WRESTLER OF THE YEAR
Elena Ivaldi, Fr., Del Oro (SJS)
She was only third at state, but Ivaldi beat the eventual repeat state champion (Folsom's Desinee Lopez) twice during the postseason. Ivaldi is one of the top freshmen in California and will look to pick up her first gold in 2021.
ALL-CIF CHAMPIONSHIPS TEAM
101 POUNDS (GIRLS)
Lizette Rodriguez, Sr., James Logan-Union City (NCS)
Rodriguez led James Logan to the girls team title by winning this weight class at state. It helped when No. 1 seed Paige Morales of Central-Fresno was upset and pinned in the first round of the tournament, but Rodriguez beat Southern Section champ Brianna Gonzalez of Arroyo-San Lorenzo to win the crown here. Rodriguez was also the NCS champ.
106 POUNDS (BOYS)
Clarence Moore, Fr., Gilroy (CCS)
This spot seemed destined for Oakdale sophomore Michael Torres until the consolation quarterfinals at state, where Torres was bested by Temecula Valley's Ethan Perryman and dispatched to the seventh-place match. It's the same round where Moore outlasted Vacaville's Isaiah Medina to reach the top six. Moore ended sixth and beat two wrestlers who were seeded higher.
106 POUNDS (GIRLS)
Nyla Valencia, So., Sobrato-Morgan Hill (CCS)
The CIF championships will probably be the last tournament of Valencia's prep career where she goes unseeded. She didn't get much love for winning the CCS, but she made an immediate impact on the bracket, shellacking the No. 2 seed 9-1 in her second match. The No. 1 seed didn't fare much better, as Valencia beat Alyssa Valdivia of Frontier-Camarillo 11-4 in the finale.
111 POUNDS (GIRLS)
Lexy Beadles, So., Calaveras-San Andreas (SJS)
Just third at the SJS Masters a week prior, Beadles stunned SJS champion Adrienna Turner of Davis 3-2 in the quarterfinals and ousted Southern Section champ Leah Gaitan of Yucaipa (No. 2 seed) in a 5-0 semifinals. Beadles ended runner-up at this weight to take the top NorCal honor here.
113 POUNDS (BOYS)
Brayden Abell, So., Oakdale (SJS)
Abell's biggest moment of the season came in back-to-back consolation rounds. The No. 7 seed faced elimination in the blood round, but hustled to a rare 16-1 technical fall in that spot against the No. 11 seed. A round later he overcame the No. 6 seed to make the fifth place match, where he fell in overtime to Dario Lemus of Clovis. Abell was also the SJS champion.
116 POUNDS (GIRLS)
Desinee Lopez, Jr., Folsom (SJS)
Prior losses to Del Oro's Elena Ivaldi mattered little at state, where Lopez won four straight decision victories to claim CIF gold. She beat No. 2 seed Charlotte Kouyoumtjian of Monache-Porterville 6-5 in the finals. Kouyoumtjian had pinned Ivaldi in the semifinals.
120 POUNDS (BOYS)
Carter Bailey, Jr., Granada-Livermore (CCS)
One of only two NCS place-winners, Bailey landed where he was seeded when he finished 4-2 in the bracket and reached the semifinals. He upset No. 4 Richard Castro-Sandoval of Santa Ynez in the quarterfinals and bested No. 10 Fernando Barreto of Rowland-Rowland Heights in the fifth-place match.
121 POUNDS (GIRLS)
Jennifer Soto, So., Orland (NS)
After leading her team to a SJS Masters title, Soto successfully defended her state crown with two first-round pins and a 5-2 decision over No. 2 seed Melanie Mendoza of Selma, a returning fourth-place medalist, in the 121-pound finals. Soto also had a 10-second pin in the tournament semifinals and survived a 7-4 quarterfinal decision against the No. 8 seed.
126 POUNDS (BOYS)
Damion Elliott, So., Del Oro-Loomis (SJS)
Elliott has the remarkable distinction of winning 16 consecutive matches in his 2020 postseason campaign, before falling 12-3 to three-time CIF champion (and four-time hopeful) Maximo Renteria of Buchanan-Clovis in the 126 finals at state. Elliott's big triumph was a surprising 3-2 upset of No. 3 seed Wayne Joint of Lemoore in the quarterfinals, but that only guaranteed a medal. A round later he took advantage of No. 7 Kimo Leia's upset of No. 2 Jason Miranda of Poway by beating Leia 7-3 to make the finals.
126 POUNDS (GIRLS)
Adaugo Nwachukwu, Jr., Silver Creek-San Jose (CCS)
The CCS champion rolled through the 126 bracket with one of the best single performances of the tournament, including a round No. 1 technical fall, two pins and a 16-6 shellacking of the tournament's No. 2 seed, Southern Section champion Samantha Barragan of Hemet. Nwachukwu was fourth at state last year.
131 POUNDS (GIRLS)
Maya Letona, Sr., Santa Cruz (CCS)
Letona came up big in two tight decisions to reach the state finals — a 6-4 win over NCS champ Desirea Tauluuluu of Antioch and a 3-2 decision over Bella Vista-Fair Oaks's Emily Alderman. In the finals, a close score went the other way. She slipped just 5-4 to state champ Tiera Jimerson of Northview-Covina.
132 POUNDS (BOYS)
Adrian Heras, Sr., Turlock (SJS)
An injury default from the seventh-place match wasn't the punctuated ending Heras had imagined, but he made the medal podium at state by beating No. 9 seed Noah Tolentino of Poway, the San Diego Section champ. Heras was also an excellent SJS Masters champ at 132.
137 POUNDS (GIRLS)
Joanna Qiu, Sr., Albany (NCS)
The NCS champion followed her section title with a No. 3 seed at state. She fulfilled the prophecy after losing in the state semifinals and winning two straight in consolation to take bronze. She beat No. 1 seed Faalia Martinez of Central Catholic-Modesto 7-3 in the third-place match.
138 POUNDS (BOYS)
Henry Porter, Jr., Gilroy (CCS)
It's the same spot his best mate, Chase Saldate, held down last year. Porter is now a three-time place-winner, winning his first two with Oakdale in the SJS. Porter thrived after transferring to Gilroy, but he couldn't overcome Southern Section runner-up Isaac Salas of St. John Bosco-Bellflower in a 6-3 state semifinal. In consolation, Porter pinned No. 5 finisher Zach Watts of Clovis North-Fresno and outlasted CS champion Kyler Lake of Buchanan in a 5-4 score for third.
143 POUNDS (GIRLS)
Emmily Patneaud, Sr., Gilroy (CCS)
The CCS champion rebounded from a semifinal defeat by beating Gianna Anaya of San Fernando in a tight 5-2 score. In the third-place match she outlasted Annie Hua of Fremont-Sunnyvale for the third time in two weeks. They had also met in the CCS finals and state quarterfinals.
145 POUNDS (BOYS)
Eli Blake, Sr., Del Oro (SJS)
This spot seemed likely in the hands of Oakdale's Cesar Garza after he took down Blake in overtime to win the SJS Masters finals. At state they met again in the consolation quarterfinals, where Blake sent Garza to the seventh-place match by shutting out his Oakdale rival, 6-0. Blake is a three-time medalist. He beat No. 4 seed Luke Gayer of Calvary Chapel-Santa Ana in the fifth-place match to snare the best of the three.
150 POUNDS (GIRLS)
Lilly Freitas, So., Pitman (SJS)
The top girl in California, Freitas defended her crown with five straight pins at state. The first four lasted a combined 2:25 before a 3:24 pin of fellow finalist Maddie Konopka (Hannah Ricioli-El Molina-Forestville). Freitas was also the SJS champion. 
152 POUNDS (BOYS)
Chase Saldate, Sr., Gilroy (CCS)     
National No. 1 Saldate did not disappoint on California's biggest stage. He won his first four matches by pin and dominated Reymundo Raiz of Buchanan (ended fourth) in a 14-0 semifinal. In the CIF finals, Saldate muscled Tyler Badgett of Rancho Bernardo-San Diego (a returning state runner-up) into pin position and captured the fall with two seconds left in the opening round.
160 POUNDS (BOYS)
Kendall LaRosa, Sr., Pitman (SJS)
The SJS champion earned this spot by beating his stiffest NorCal competition, Windsor's Trent Silva, in a 4-0 consolation semifinal. LaRosa lost his quarterfinal rematch with Rocco Contino of Buchanan in the third-place match, but brought home his first state medal in three attempts. LaRosa has bagged 10 wins at state in three years.
160 POUNDS (GIRLS)
Ariana Pereira, Sr., Newark Memorial (NCS)
The returning CIF runner-up and NCS champion upheld her No. 1 seed by winning three matches by pin and surviving upsets in the final two rounds of the state tournament. Pereira survived a 5-4 showdown with Alyssa Arana of San Fernando in the semifinals and beat No. 2 seed Francesca LoPresti of Albany 2-1 in the finals. LoPresti was third in CA last year.
170 POUNDS (BOYS)
JT Stinson, Sr., East Nicolaus (NS)
The football and wrestling star from tiny "East Nic" enjoyed a sensational season punctuated by his fourth trip to state, third section title (one in the SJS for Del Oro) and third CIF medal. He got better each year, placing seventh (2018), fifth (2019) and third (2020). This year's feat was aided by overtime wins in the quarterfinals and consolation semifinals. He also beat Poway's Alex Hernandez 3-2 in the bronze medal match.
170 POUNDS (GIRLS)
Valerie Osborne, Sr., Oakdale (SJS)
Surprisingly the second and final Oakdale wrestler on this list, Osborne excelled as unseeded in the 170 bracket, despite winning the SJS Masters. She won two straight matches before slipping to the consolation bracket, where three straight wins (including a pin of the No. 4 seed) led her to an eventual fourth place.
182 POUNDS (BOYS)
Kodiak Stephens, Jr., Bret Harte-Angels Camp (SJS)
Stephens won a critical match by pinning NorCal's next-best, Carston Rawls of St. Francis-Mountain View, in the quarters. Stephens then upset No. 5 seed Jadon Martin of Buchanan to reach the bronze-medal match, where he finished fourth. Stephens's only losses were to third-place Javen Jovero of Rancho Bernardo.
189 POUNDS (GIRLS)
Alia Abushi, Sr., Arroyo-San Lorenzo (CCS)
One of the more dominant performers at state, Abushi is a returning state champ who defended her No. 1 seed with a 3:16 pin of the No. 2 seed (San Fernando's Adelina Parra) in the 189-pound finals. She had three other pins and prevailed 6-2 in a semifinal showdown with Silver Creek-San Jose's Julianna Bolli. 
195 POUNDS (BOYS)
Donovan Giangregorio, Jr., Calaveras (SJS)
The SJS champ from the Mother Lode League capped his second trek to state with his first hardware. He avenged the loss that dropped him to consolation by beating Selma senior Rudy Garcia 3-2 in the seventh-place match. Giangregorio pinned No. 8 seed Shan Hansen of Oceanside to guarantee a medal.
220 POUNDS (BOYS)
Jacob Christensen, Jr., Durham (NS)
The No. 1 seed ended runner-up at state after a 9-4 defeat to Southern Section champ Brandon Leon of Roosevelt-Los Angeles. Christensen was the Northern Section champ and a returning medalist who enjoyed 10 tournament victories and only the lone loss to Leon on the season. Since Leon beat Elk Grove's Peter Ming (third in the state) in the semifinals, Christensen didn't have to see a rematch of the wrestler he beat 2-1 in the first action of the season.
235 POUNDS (GIRLS)
Lilly McCoy, Sr., Casa Grande-Petaluma (NCS)
The NCS runner-up had a terrific run through the consolation bracket after being pinned by state champion Julia Richey of Newbury Park. After the loss, McCoy won four straight matches, including back-to-back pins to close the tournament. She stuck Tatianna Herrera of James Logan (third in the NCS) in the bronze medal match. 
285 POUNDS (BOYS)
Nicholas Villarreal, Sr., Gilroy (CCS) 
The CCS champ is a three-time CIF place-winner and now two-time runner-up after being pinned by Josiah Hill of Bakersfield in the state finals. Villarreal is committed to wrestle for Fresno State. He clinched NorCal's top honor at this weight by beating SJS champion Chris Island (Vacaville) in a 4-2 semifinal. With Lucas Cook (Lincoln-Lincoln) ending fourth and Island fifth, there were three NorCal wrestlers in the top five at state. Villarreal was the best of the bunch.