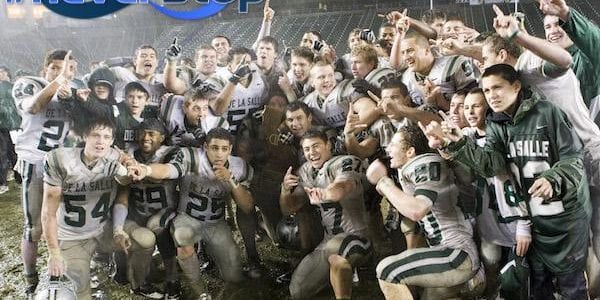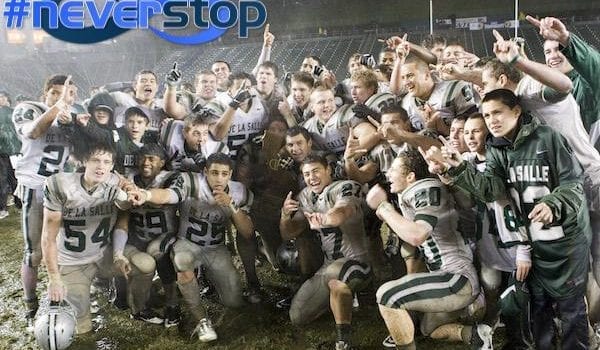 De La Salle Football Coach Justin Alumbaugh Contributes To The SportStars #NeverStop Project With A Spartans Moment That Even Caught Him By Surprise •...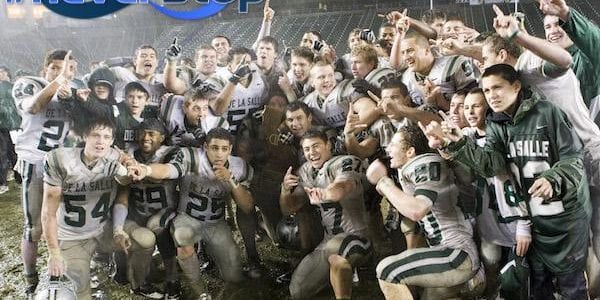 De La Salle Football Coach Justin Alumbaugh Contributes To The SportStars #NeverStop Project With A Spartans Moment That Even Caught Him By Surprise •
It is always difficult for me to describe moments where I've been truly surprised during my coaching career. 
Teenagers are capable of some incredible things, and I've been a part of such a rich tradition with De La Salle Football, that I've come to expect something unique and extraordinary will happen. What happened on December 18, 2010, in the CIF Open State Championship Bowl game, however, was something that caught me by surprise. 
Don't get me wrong. That 2010 De La Salle football team is one of the finest I've had the pleasure of being around. And their success that year, and the fact that we won the state championship was not surprising in any way. What WAS surprising (and gratifying) was the WAY that we won that game. 
Servite (of Anaheim) came into that night as a nationally top-ranked 14-0 team. It was fresh off a Trinity League championship and a run through the top playoff division in Southern California that included wins over previously-undefeated Mission Viejo and Alemany-Mission Hills. They were disciplined, well-coached, big, fast and physical. 
After watching game tape leading up to the final night, we knew the 2010 Spartans would need an inspiring effort. It would have to include playing nearly mistake free. 
_______________________________
STAY CONNECTED:
Follow SportStars on Twitter & Instagram | Like us on Facebook | Subscribe!
_______________________________
When we first walked out for pregame, we were met with a field that was legitimately under water. As coaches, any uncontrollable variable always puts us on edge. Once our warm-ups started, however, a sense of excitement and anticipation began to arise. 
Our line was completely focused and silent during our pregame. What noise they DID make was the result of a physical — even brutal — pregame session. In fact, we cut it short because their intensity was so high. As we progressed through full team warmups, the aura of excitement and confidence continued to rise. 
None of this came from coaches. The great leadership on that 2010 De La Salle football team — provided by the likes of Dylan Wynn, Blake Renaud, Lucas Dunne, and many more — created a team intent on greatness that night. Once the opening kickoff happened, it took two possessions for us to see what the night would hold. 
Servite lost four yards on its first three plays. We promptly returned the ensuing punt to the Servite 29 yard line. Three bruising running plays later, Dunne excitedly found his way into the end zone. This beginning only proved to be a harbinger of things to come. 
By halftime, we held a 35-0 lead by scoring on all five of our first-half possessions. The defense had completely stifled Servite. The Friars managed ZERO first downs and only 22 yards on their 18 first-half plays. By game's end, the 2010 Spartan team found itself a 48-8 victor. It walked off the field having dominated a game against an incredible opponent in a way that still inspires me. 
The play of top such top level guys like Renaud, Wynn, Dunne, Lucas Shapiro, Bart Houston, Michael Hutchings, among others, was awesome to behold. What was even more awesome was, the common, gritty Spartans that helped us rule that night. There was our 185-pound center, Josh Cabral, leading a "diminutive" offensive line (as they were once called). There was Kyle Miller, our gritty, tough and, if we are honest, athletically challenged nose guard (he was famous for spraining his ankle — TWICE — during off-season backpedal drills) leading a stifling and disciplined defense. 
Those are just to name a few. The beauty of that 2010 De La Salle football team, and the effort it put forth that night, is that they could ALL bask in the reward they received: California State Champions. The way they did it left me in inspired awe. 
One college coach present who was recruiting a high-level player from the opposing team grabbed us after the game and mentioned that he had never seen kids play as hard and disciplined as ours had that night.