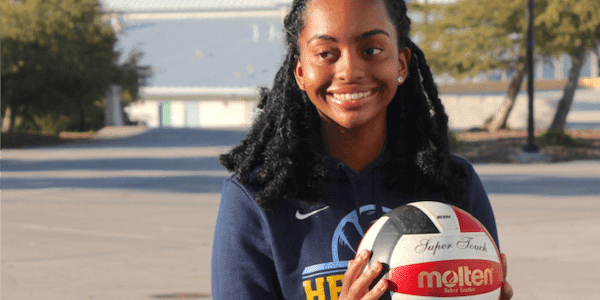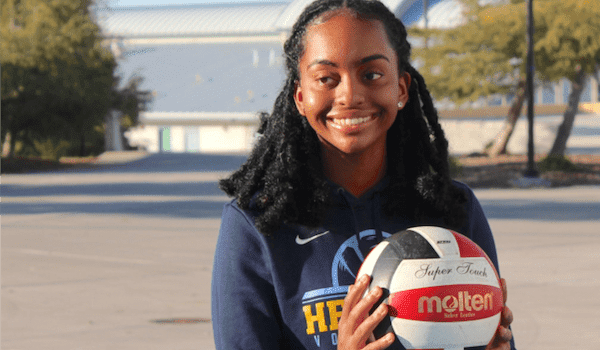 Meet Heritage Volleyball Junior Setter Rochelle Mosley. She Rocks A 4.8 GPA And An Impressive Inner Strength Formed From Learning And Loss • For...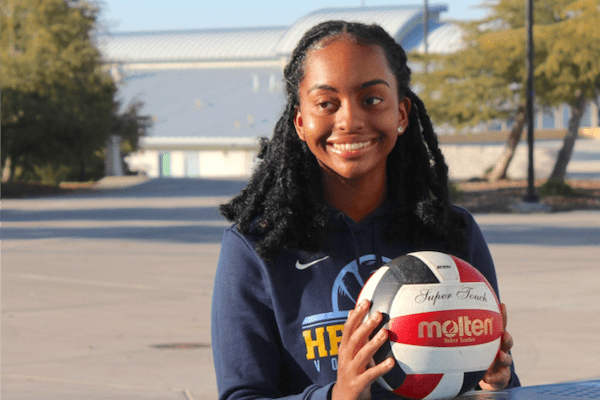 Meet Heritage Volleyball Junior Setter Rochelle Mosley. She Rocks A 4.8 GPA And An Impressive Inner Strength Formed From Learning And Loss •
For anyone concerned that young athletes might short-change their study time during this virtual school year, they should meet Rochelle Mosley.
Mosley is a junior at Heritage High in Brentwood, apt for her role as setter for the volleyball team, a job that requires attention to detail and solid leadership skills.
What's astonishing is her mastery of academic studies.
Just try to wrap your head around her latest semester grade point average — 4.88. That number blasts past the 4.0 barrier because of remarkable grades in seven Advanced Placement classes. Yes, seven of her eight classes are AP.
"I like challenging myself," Mosley sums up her approach. "I welcome any challenges, whether academic or not."
Her mother, Tammie, has seen many exceptional academic performances, having spent much of her life in academia. She's a professor of finance and real estate at Cal State East Bay. Still she was wowed by her daughter's semester GPA, which pushed her cumulative GPA past 4.3.
"I was just completely amazed," Tammie Mosley said. "4.88 … I never have seen that."
Rochelle's inspiration is a moving tribute to her mother and to her father, Rolph, who passed away in 2017 but remains part of her life and her actions.
"He is always in the back of my mind," Rochelle Mosley said. "He still is playing an active role in my life even though he is not physically here."
_______________________________
CONNECT WITH US:
Follow SportStars on Twitter & Instagram | Like us on Facebook | Subscribe!
_______________________________
It's that inspiration that is the basis of an incredible ability to focus.
Janet Hannigan, her coach at Heritage, saw that for herself at a pre-dawn practice during Mosley's sophomore season.
"When I got there, the gate was locked, and the girls had their music playing and were dancing outside the gate, at 6:30 a.m. in the dark," Hannigan said. "Then I noticed Rochelle is not there with them. She was in the car with her mom, studying, working to stay focused."
Her determination was evident when she was really young. She tells a story of her mother trying to teach her ABCs, writing them down on a piece of paper for her 4-year-old to emulate.
"What we would do, my husband and I would dot out the letters so (she and three siblings) could trace over them," Tammie Mosley said. "She didn't seem receptive to that."
Rochelle explained: "I crumbled it up and threw it away because I wanted to do it myself."
"She never wanted any help when learning," Tammie said. "She didn't want you to read to her. Rochelle is very determined but quiet about it. She does not tend to talk about accomplishments unless you ask her."
Mosley credits her success and inspiration to values and examples instilled by her parents.
She keeps her father in the present. He plays a key role in her decision-making, as does her mother.
"I think about what he would say, which makes it easier because I know what he would do in that position," she said.
"I give a lot of credit to him for being the person I am today," she added. "He wasn't just saying to work hard, he was demonstrating and was a prime example. So I saw I worked that hard, too."
Her father earned an MBA and worked in sports marketing, He played defensive end at Weber State and enjoyed coaching football at the high school and youth levels in East Contra Costa County.
His example has helped Rochelle develop as a leader, which suits her as a setter.
"You want that leader, and she has that quiet leadership and she is really good in that role," Hannigan said. "Go in and just get the job done. Someone's who's not focused on self and wants the betterment of the team, and Rochelle fits that bill pretty well."
"As a setter you have more control as to what is going on, and they say you are the quarterback of the team," Rochelle said.
She has two older sisters, Rocquel, a sophomore at Arizona State, and Roxanne, a freshman at University of Arizona. Her younger brother, Rolph Jr., is an Adams Middle School seventh-grader. They have had quite a scholastic foundation to draw from. Her mother's extensive scholastic journey brought her to Cal State Northridge, Tulane University and then to University of Wisconsin-Madison, where she earned her PhD in business, majoring in real estate with a minor in financial quantitative theory.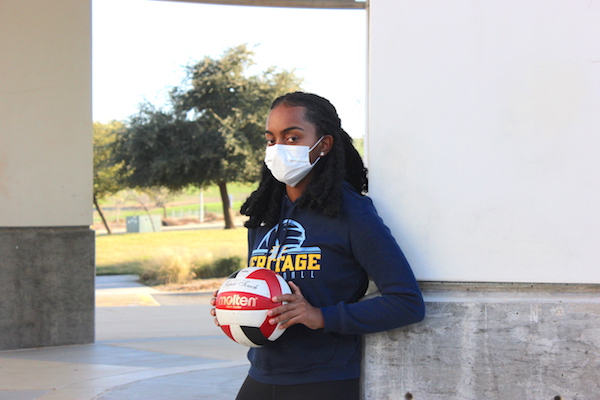 Her father earned a bachelor's degree from Arizona State in political science and sociology and went on to earn his MBA at Cal State East Bay.
Tammie and Rolph, who were close friends dating back to junior high, were married in 2000.
Growing up, all the Mosley children swam and took part in First Tee golf.
Rolph got to share his enjoyment of football with his son, whom he began coaching when his son was 3. When he was 8, Rolph Jr.'s head coach for East County Lions football was his dad. "They won everything, including their Super Bowl," Tammie said. "It was wonderful he had that experience of coaching him.
"It was so important to him for our children to make sure that they are successful and they are happy," she added. "It's heartbreaking he's not here to be a part of their development."
There were challenges early on for Rochelle. She was born eight weeks premature and didn't walk until she was almost 2 years old, her mother said.
She had a knack for studies, something her dad found assuring.
"He would say, 'Rochelle is smart, we don't have to worry about her,' and that was when she was in elementary school," Tammie said.
Her father told Rochelle when she wanted to be serious with sports, he would work with her, and trained her on strength and conditioning. He also shared his love of cooking, Tammie said. Rolph taught Rochelle to make lumpia and spaghetti, among other dishes.
"He was the primary person who cooked," she said. "He preferred his cooking, so did the kids. To this day, my kids say 'Can Rochelle cook?' They prefer her, more so than myself."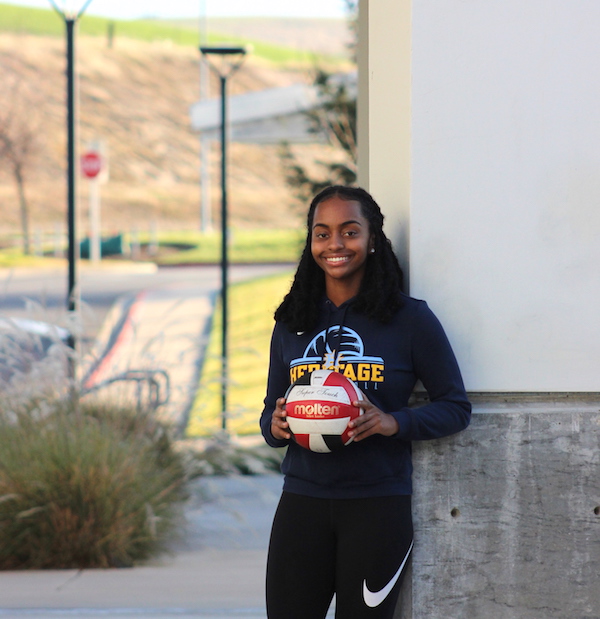 When Rochelle was starting eighth grade at Adams Middle School, her father passed away unexpectedly after surgery. He was just 47. The loss was felt throughout the community at Heritage High where he was a member of the freshman football coaching staff, and foremost by his family.
"He was completely their best friend," Tammie said. "The most amazing father someone could have. He gave so much to them. He gave his time, he gave them wisdom, he gave them actual tools in how to think about problem-solving."
Tammie said that for Rochelle, volleyball provided her with something to focus on after her father's passing.
"My husband really supported her in sports, so in playing she feels a connection with that," her mother said.
Along with golf and swimming, Rochelle also tried volleyball, water polo, tennis and a little bit of track and field. When she entered high school, her mother advised her to specialize in one sport. She chose volleyball. She has been with Xceleration Volleyball Club out of Martinez since eighth grade and is now with the 17 Blue team
Always working ahead, she's zeroed in on collegiate and career goals. She wants to go to USC and study biomedical engineering.
"I want to eventually become a neurosurgeon, or if not, I want to become an engineer," she said.
Even in middle school, she was ahead of the curve, taking high school Spanish 1 and Algebra 1. At Heritage, she dove into AP studies by taking AP Human Geography as a freshman. From there she took two AP classes her sophomore year before making the jump to seven as a junior, and that is with distance learning.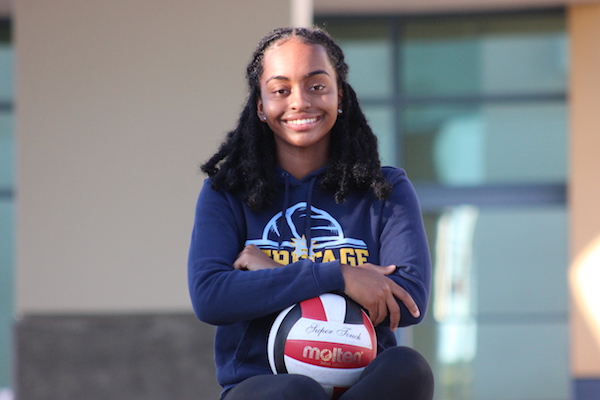 So what is her favorite subject? "Honestly, I like all of them," she said "Math and English are my top two. With math I like how there is one answer. In English, I try to explore the depths of my own mind."
Even with all the AP classes, she is taking online collegiate coursework in subjects ranging from philosophy to jazz through Sacramento's Los Rios Community College District.
She is in her second year as class president and aspires to be student body president her senior year.
And she is CFO of a nonprofit that provides tutoring services to younger students. Rochelle wrote the grant proposal, which was awarded for $2,500, her mother said.
It's about hard work, a point she strives to get across.
"She tells them, 'Even if you think I make it look easy, it is not easy," Hannigan said. "She is class president but it is not like she has her head in the books and can't talk to kids."
Even when Mosley was a freshman, Hannigan saw that ability. Two other students were in a verbal argument, and before the coach could walk over to handle the situation, Mosley was already taking care of it.
"She is very well balanced, especially (after) what she and her family have gone through," Hannigan said. "She is very mature sounding and her presence is very mature. She's calming. She is never one to express outward frustration that would bring down the team."
It's that approach that is helpful for Heritage, a team with a lot of potential but eager to see when high school sports will resume after being shut down for nearly a year due to the COVID-19 pandemic.
In their most recent season back in fall 2019, the Patriots went 15-8 overall. They finished 8-2 in the Bay Valley Athletic League, placing behind a resurgent Pittsburg team.
Hannigan has seen her athletes persevere in the unusual twice-weekly outdoor settings, working out with masks on, and finding enjoyment in the mere ability to be together.
"With all that, I've been blown away when kids have told me, 'Coach, even if our season is not happening, this is good for us.'"
At this point, any season would be a short one, without playoffs. But Mosley is hoping for a little something.
"I would love to play high school; even if it was just one game it doesn't matter," Mosley said. "Just being able to play again with my teammates who are seniors this year."
Meanwhile, she will keep focused on her studies. To stay single-minded despite many potential distractions, she uses strategies like putting her phone away in another room while she studies.
"Whether it is going to take five minutes or five hours," she said, "I will dedicate myself to getting it done."