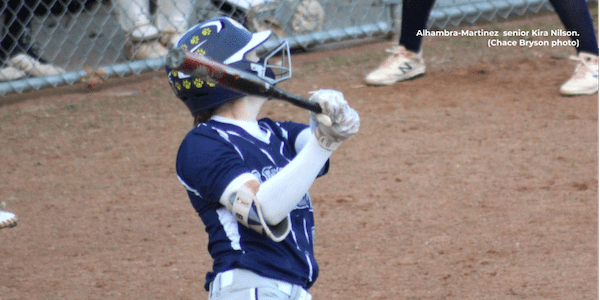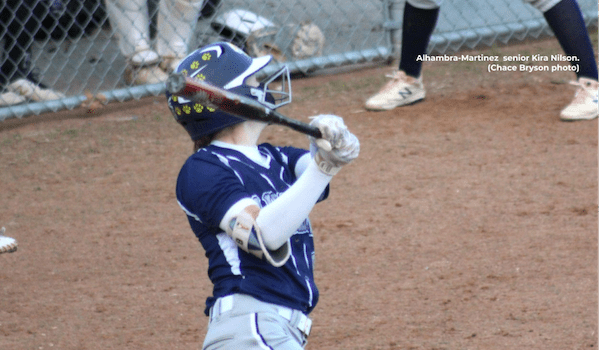 Behind A 13-Hit Assault, The Senior-Driven Alhambra Softball Team Topped Clayton Valley For The Program's First Win In 22 Months For the Alhambra Softball...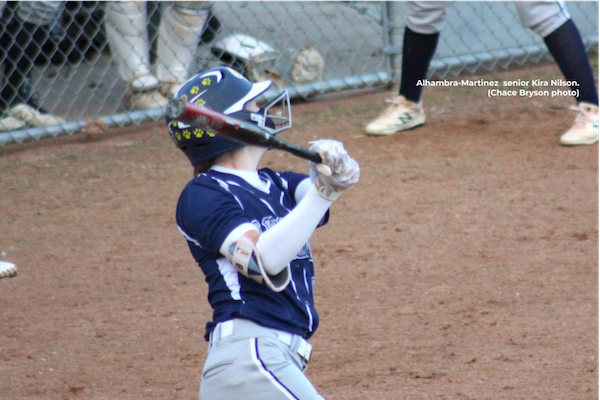 Behind A 13-Hit Assault, The Senior-Driven Alhambra Softball Team Topped Clayton Valley For The Program's First Win In 22 Months
For the Alhambra Softball team, a long year of waiting to play softball together again ended Tuesday, March 9.
That was followed by a long 44 hours of waiting to do it again.
After their Diablo Athletic League-Foothill Division opener ended in a lopsided loss to College Park-Pleasant Hill, the Bulldogs played host to Clayton Valley on Thursday. They did so with a clear mission.
"We definitely needed to hit," senior shortstop Justine DeLaCruz-Carranza said. "We knew that we had to come out and bang today, and to start off reading the pitcher early in the game."
It was DeLaCruz-Carranza who picked up the Bulldogs' first hit of the game, a first-inning, two-out flare to shallow left. Her best friend and fellow senior captain, Isabela Emerling, followed by smashing a double to left. DeLaCruz-Carranza scored on the hit and gave Alhambra a lead it would never relinquish en route to an 8-2 victory.
"We just had to make that adjustment to come out stronger with more energy," Emerling said. The University of North Carolina-bound catcher finished 2-for-4 in the game. "Our first game didn't have the best outcome, but it was good to come back and fight hard this game."
The Bulldogs busted the game open in the bottom of the second inning. The team sent all nine batters to the plate and scored four runs on five hits and two walks. Sophomore third baseman Kyomi Apalit led off the inning with a double, and the hit parade took off from there. Sophomore first baseman Mackenzie Stenson added an RBI single and junior second baseman Kennedy Gustin brought two more home with a double. The third senior captain, centerfielder Kira Nilson, added an RBI single that made it 5-0.
Alhambra hitters led off four of six innings with a hit. Three of the times that hit was a double. Apalit did it twice and DeLaCruz-Carranza opened the bottom of the sixth with a two-base knock. The shortstop finished the game 3-for-3 with two doubles and a walk. She also scored two runs to go with an RBI and a stolen base.
_______________________________
CONNECT WITH US:
Follow SportStars on Twitter & Instagram | Like us on Facebook | Subscribe!
_______________________________
"It felt great," DeLaCruz-Carranza said. "It's good to come out of quarantine and get that first win."
DeLaCruz-Carranza and Emerling were just sophomores the last time they won a game in Alhambra uniforms. That was a North Coast Section Division II quarterfinal win on May, 20, 2019. The Bulldogs' 2020 season lasted just one game before COVID-19 forced high school sports to shut down across the state.
Emerling said that she was able to play a few travel ball tournaments over the summer, but it wasn't the same as getting back with the Bulldogs.
"Justine and Kira and I used to be on the same travel team," the catcher said. "But other than that, this is the only chance I get to play with these girls."
All three of the senior captains are relishing their opportunity to play, but also to lead the younger half of the roster.
"It feels great being a leader on this team," DeLaCruz-Carranza said. "Especially with the younger girls."
"I like how scrappy we are," Emerling added. "It's good to see the younger players work hard and fight every day. I just like how they're all tough and want to compete."
Senior pitcher Allison Patrick was an example of that scrappiness on Thursday. After taking the brunt of the damage in the loss to College Park, Patrick held Clayton Valley to just two earned runs on four hits. She struck out seven and walked only one.
Clayton Valley was playing in its first game of the season after its opener with Northgate-Walnut Creek was cancelled as Northgate works on finalizing a roster. The Ugly Eagles were led at the plate by juniors Jackie Alday and UCLA-commit Jordan Woolery. Alday went 1-for-3 with a double. Woolery was 2-for-3 with a solo home run and scored both Clayton Valley runs.
Alhambra is scheduled to face Concord and St. Patrick-St. Vincent-Vallejo during week two of DAL action. Clayton Valley has College Park and Benicia on its slate.
"We're only really eight days into everything, but it was nice to get a W today," Alhambra coach Adam McLane said. "The girls work together really well and they seem to play for each other, which is always nice. … Hopefully we can continue to improve and put together games where we're executing everything well from start to finish."
One thing is certain, the wait for the next game won't seem quite as long this time.