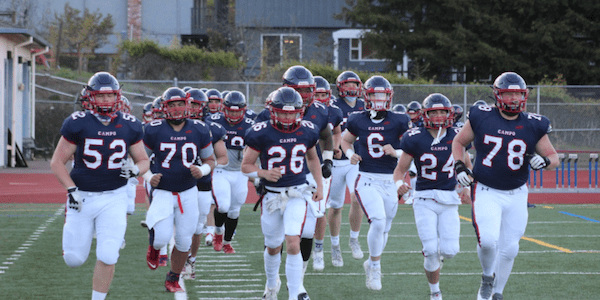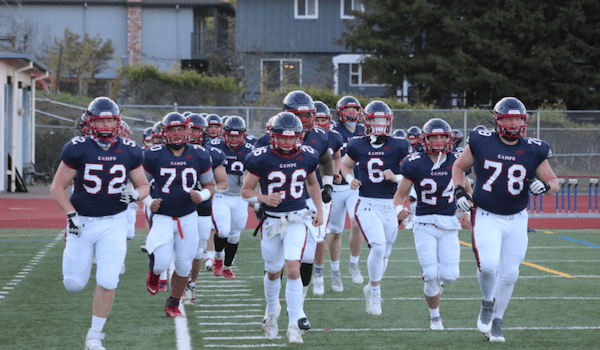 When Campolindo Lineman Elijah Klock's Father Passed Away Five Days Before Facing Rival Acalanes, It Led The Cougars On A Week That Truly Underscored...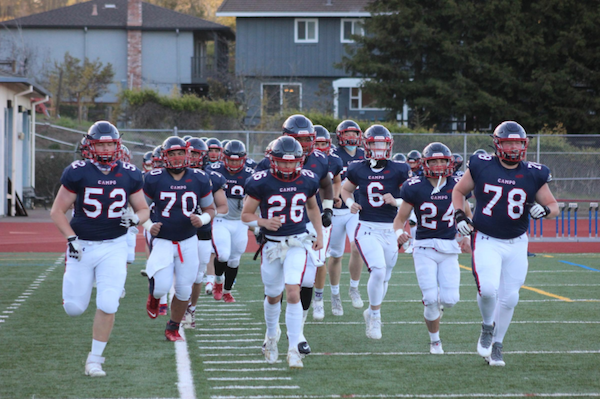 When Campolindo Lineman Elijah Klock's Father Passed Away Five Days Before Facing Rival Acalanes, It Led The Cougars On A Week That Truly Underscored The Importance Of This Brief Football Season •
Campolindo football coach Kevin Macy is no stranger to magical moments on the football field. 
Through his 24 years of coaching at the Moraga high school, the Cougars have won several championships in dramatic fashion. 
There was the 2011 North Coast Section championship at the Oakland Coliseum that ended with a game-winning field goal as time expired. The Cougars defeated a Marin Catholic-Kenfield team that night led by a junior quarterback named Jared Goff. Players carried Macy off the field. 
That drama paled in comparison to the team's 2014 CIF Division III State Championship Bowl Game victory over El Capitan-Lakeside. Four days after the school's longtime coach and athletic director Bob Wilson had lost his battle with cancer, Campolindo came from 21 points down and won on an 85-yard fumble return in the game's final minute.
There have been many other emotional wins for Macy and Campolindo football over the years. But the team's 28-13 defeat of Acalanes-Lafayette on March 26 will hold special meaning long after he retires.
He will remember it for what happened in the week leading up to the game.
He will remember it for the season in which it occurred — a weird, short spring season that nearly never happened due to the COVID-19 pandemic.
And he'll remember how important it was that the team was able to be together when it was.
Elijah Klock will remember it too.
The junior lineman and his family had to say goodbye to his dad Jonathan on Sunday, March 21. Jonathan had experienced a heart attack the week before, and while he'd survived, too long of a lapse in oxygen to his brain had left him hospitalized and unresponsive.
_______________________________
CONNECT WITH US:
Follow SportStars on Twitter & Instagram | Like us on Facebook | Subscribe!
_______________________________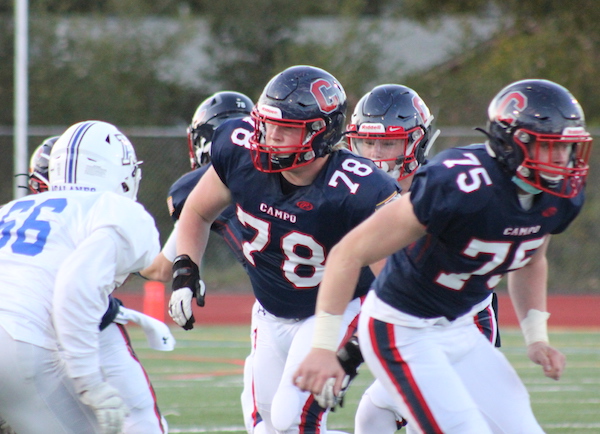 Klock's house had been a regular hangout for the rest of the linemen on the team. Jonathan Klock had even become a father figure to some. 
"This week had to be about us, and nothing else." Macy said after the game.
The Cougars circled the wagons. They forbid each other any rivalry talk. The name Acalanes was not allowed to be spoken all week. It was only about them. And Elijah.
Midweek, a candlelight vigil was held at the Klock residence. The entire Campolindo football team showed up in uniform along with many of the players' families. 
"It's an actual brotherhood," Elijah Klock said of his teammates after the game. "Some teams claim they have a brotherhood, but this team has a real one.
"This past week my teammates have been at my house supporting me and it's been more than I could ask for. They've been second brothers to me and it's so wonderful that I have that."
And that's the other side to this story. He nearly didn't have that.
Had the grassroots movement of the Golden State Coaches Community and Let Them Play California not succeeded in lobbying state officials to open up the youth sports guidelines when they did, this football season may not have happened.
"The fact that we had to wait and beg for crumbs to get this season going," Macy said with a sigh as he looked around at his team basking in the glow of its victory. "Wherever you look around, up and down the state, this is what football is: Magic moments for kids."
Did we mention that some may have considered Campolindo the underdog against Acalanes? That the Cougars never trailed? Or that several elements of the team's offensive and defensive looks had just been installed during the week?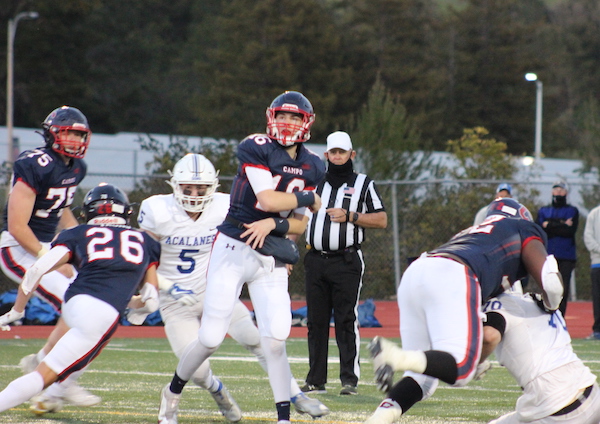 Oh, and the pandemic isn't all the way over yet. That reminder came 20 minutes before game time when a school administrator stopped the team in its walk up the hill to the football stadium to ask if every player had his mask.
Half didn't.
When the full team finally ran into the half-empty stadium, it had lost about a third of its pregame warmup time. There was no time to drill any of the new offensive schemes.
So when the Cougars won the toss, they deferred.
Both teams had entered unbeaten in their first two games. The Dons had achieved their two wins behind an explosive offense led by senior quarterback Brady Huchingson. Behind Huchingson's seven TD passes, Acalanes had scored more than 30 points in each of its first two games.
Campolindo's defense made the evening miserable for the star quarterback, though. Huchingson threw for just 168 yards and no TDs. He was intercepted once and lost a pair of fumbles.
"Brady is a dynamic player," Campolindo senior safety Maxwell Weaver said. "I'm sure he's going to play in college someday. But our guys really rallied to the ball, and our defensive backs did a really good job of not giving their receivers any breathing room."
The offense was pretty good too.
As it turned out, one of the stars of the night had moved back to California just for this game.
When his older sister Ashley graduated from Campolindo with a scholarship to play basketball at Weber State, Dillan Thoms and his family moved to Utah to be closer to her and watch her games. Then late in 2019, Dillan and his dad Art came back to visit and watched Acalanes defeat Campolindo 17-7.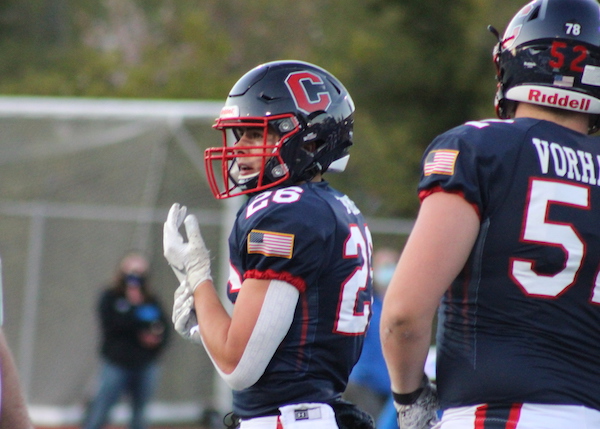 "Dillan told me right after that game that we are moving back so that they can beat Acalanes next year," said Art Thoms, who coached girls basketball at Campolindo before moving and now assists on the football staff. "It made him sick to see them lose and not be able to help."
Dillan rushed 30 times for 110 yards and two touchdowns. He also hauled in a pass for nine yards. His two scores helped build a 14-0 lead. 
"It just feels great working as a unit," Dillan Thoms said of the effort his team put forth. "We're all so happy for each other on every single play."
Joey Schmidt caught a 77-yard touchdown pass from Jacob Griessel and TJ Clarke added a 25-yard scoring run. When Jake Leuteneker grabbed his second fumble recovery of the night with less than two minutes to play, the win was sealed.
With fans not allowed on the field this season for safety precautions, Macy had the Cougars take a knee at the edge of the track so all the Campolindo football family members could be near enough to hear him address the team.
"There's just a lot that this team went through this week that not many outside of this team really knows about," Macy said to all who gathered, but only after he'd performed a quick dance to the delight and laughter of players. "We don't have any state championships this year, but tonight was our state championship."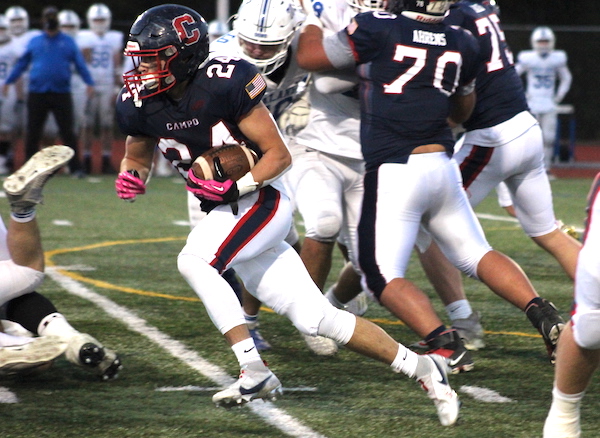 The release of tension and outpouring of joy was evident as players took pictures, spoke with family and each other before making the trek downhill to the locker room.
As he watched it unfold, Macy couldn't help but mention the same word Klock had.
"The brotherhood," he said. "Everyone talks about it. You see it. You see in these situations what that brotherhood really is. Outsiders can never fully understand it. It's why it's so important that this sport has to continue and survive."