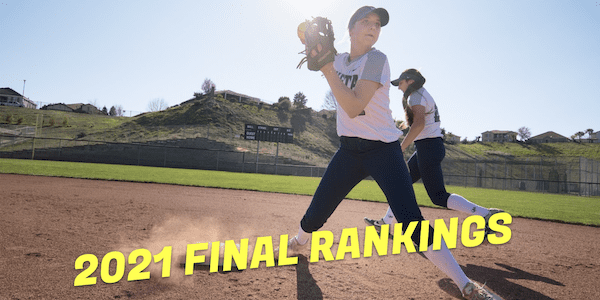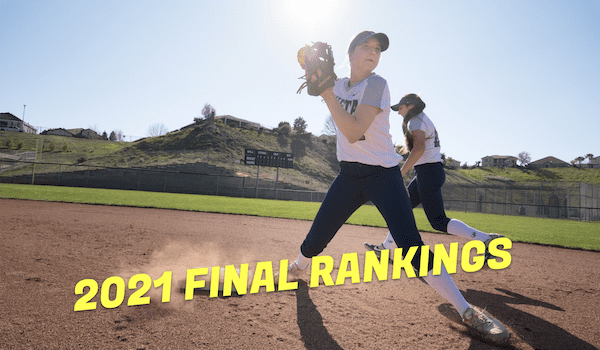 St. Francis Left Zero Doubt Over Its Credentials To Be The Top Team In Our Final NorCal Softball Rankings Of 2021 • Final NorCal...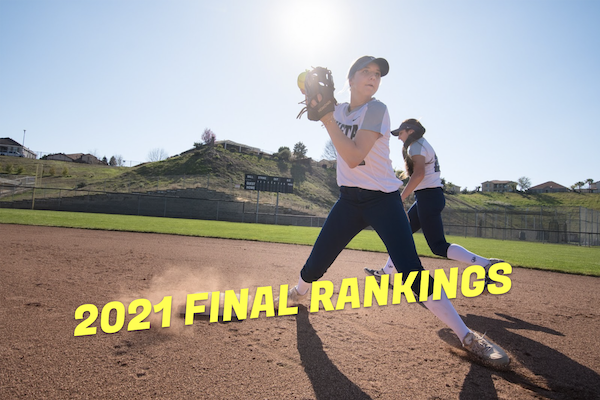 St. Francis Left Zero Doubt Over Its Credentials To Be The Top Team In Our Final NorCal Softball Rankings Of 2021 •
Final NorCal Softball Rankings For 2021. Previous rank in parenthesis. (TOP PHOTO: Tayler Biehl of No. 15 Vista del Lago-Folsom; James K. Leash photo)
1. (1) St. Francis-Mountain View (26-0)
Not only are the Lancers a clear choice for NorCal's top softball team of 2021, but they will undoubtedly be a finalist for 2020-2021 NorCal Team of the Year Vote. St. Francis outscored its 26 opponents 267-30 and batted .444 as a team. Eight different players logged at least 25 hits. That's dominance.
2. (2) Heritage-Brentwood (22-0)
Much could be made about the fact that the Bay Valley Athletic League schools only played each other, but those who know Heritage's talent level won't question the Patriots' position here. And 22-0 is still awful hard to do against any set of opponents.
3. (3) Foothill-Pleasanton (17-2)
No more Nicole May, no problem. The Falcons established themselves as the East Bay Athletic League's top team by closing out the year with 10 straight wins while also avenging their only two losses on the season.
4. (4) Rocklin (18-2)
Thanks to its head-to-head win over Sheldon-Sacramento, there should be little debate over the Thunder being the Sac-Joaquin Section's top team this spring. Rocklin defeated the Huskies 8-1 en route to going 5-1 against final-ranked teams.
5. (5) Sheldon-Sacramento (15-8*)
Sheldon shrugged off its six self-assessed forfeits from early in the year to win its final 15 games and claim yet another Delta League crown. Their only true losses on the field were to No. 4 Rocklin and No. 8 Vanden-Fairfield. They went 5-0 against other final-ranked opponents.
_______________________________
CONNECT WITH US:
Follow SportStars on Twitter & Instagram | Like us on Facebook | Subscribe!
_______________________________
6. (6) Livermore (16-3)
The EBAL is a constant grind, and the Cowboys only stumbled three times. They were one of two teams to get the best of final No. 3 Foothill-Pleasanton.
7. (9) Notre Dame-Salinas (17-3)
The Spirits lost just one game to a NorCal opponent this season, it was to No. 1 St. Francis in the CCS Open Division final.
8. (7) Vanden-Fairfield (11-0)
The Vikings played just one ranked opponent in their 11 games, but it was the right one. An 11-8 win over final-No. 5 Sheldon was enough to prove Vanden's mettle.
9. (8) Archbishop Mitty-San Jose (14-7)
Of the Monarch's seven losses, five were to No. 1 St. Francis and another came against No. 7 Notre Dame. The team did get a win over final-ranked Amador Valley-Pleasanton.
10. (10) Marin Catholic-Kentfield (15-1)
Outscoring opponents 123-20, the Wildcats were rarely pushed during their North Bay-dominant schedule. The most important win was avenging an early-season loss to final-No. 24 Redwood-Larkspur.
11. (11) Amador Valley-Pleasanton (12-6)
It wasn't the outright dominant season we're used to seeing from this program, but the Dons still had multiple wins over ranked opponents. Also two of their losses were a 5-4 result vs. No. 3 Foothill-Pleasanton and a 9-6, 10-inning defeat at the hands of No. 6 Livermore.
12. (12) Aragon-San Mateo (15-3)
Two of the Dons' three losses came against No. 1 St. Francis. The dynamic of duo of Olivia Dinardo and Megan Grant still have one more year in the scarlet and black.
13. (13) Sutter (24-0)
Any doubts of this Northern Section team's legitimacy were shed when they rolled into Elk Grove and defeated the Thundering Herd 5-2.
14. (14) Elk Grove (18-8)
Things sort of fell apart for the Herd at the end of the season as they lost five of their last six. However, star pitcher Aissa Silva was only in the circle for a total 5.2 innings in four of those losses. Before that stretch, they had wins over three final-ranked opponents, lost to No. 4 Rocklin just 1-0 and suffered close losses in both Delta League showdowns with No. 5 Sheldon.
15. (15) Vista del Lago-Folsom (18-3)
With just two seniors moving, and star shortstop Tayler Biehl returning, the Eagles have a chance to finish several spots higher than this in 2022.
16. (16) Roseville (19-4)
The Tigers were one of the hottest teams in the SJS when the pandemic brought the 2020 season to a stop. They made up for lost time by rolling to an undefeated Capital Valley Conference championship. They went 2-3 vs. final-ranked teams.
17. (NR) Watsonville (19-1)
A banner season for the Wildcatz was capped with a CCS Division I championship.
18. (19) Del Oro-Loomis (16-7)
The scrappy Golden Eagles were one of just two teams to log a win over No. 4 Rocklin.
19. (20) St. Francis-Sacramento (15-6)
Wins over final-ranked teams included Vista del Lago and Elk Grove. Sheldon accounted for two the team's losses (one was a 3-2 nail-biter) and Del Oro needed nine innings to take down the Troubadours.
20. (NR) San Benito-Hollister (14-4)
The Haybalers dominated the CCS Div. II playoff field, rolling to the title by a combined score of 26-3 across three games.
21. (17) College Park-Pleasant Hill (14-2)
The Falcons rolled to an easy league title, which included two lopsided victories over final-No. 23 Alhambra-Martinez.
22. (18) Granada-Livermore (14-8)
Five of the Matadors' eight losses came by two runs or less, including a 3-2 result against No. 3 Foothill and a 2-1 loss to No. 6 Livermore.
23. (NR) Alhambra-Marintez (19-4)
The Bulldogs could not solve College Park, but they were nails against just about everybody else. They also went 4-2 against EBAL opponents.
24. (NR) Redwood-Larkspur (17-2)
The Giants were the only team to get the best of No. 10 Marin Catholic, rolling the Wildcats 6-0 in the teams' first meeting.
25. (NR) Freedom-Oakley (17-5)
All five losses came against final-No. 2 Heritage-Brentwood, and each of the last two meetings were decided by one run. In fact, Heritage had to come from behind for a 4-3 win in the BVAL championship game.