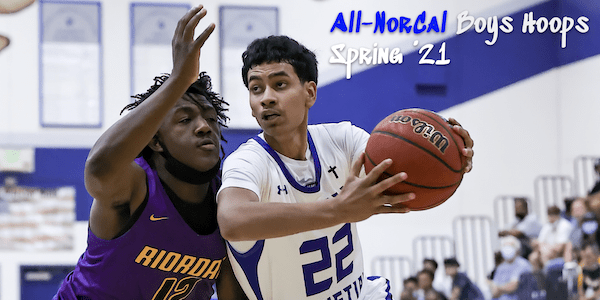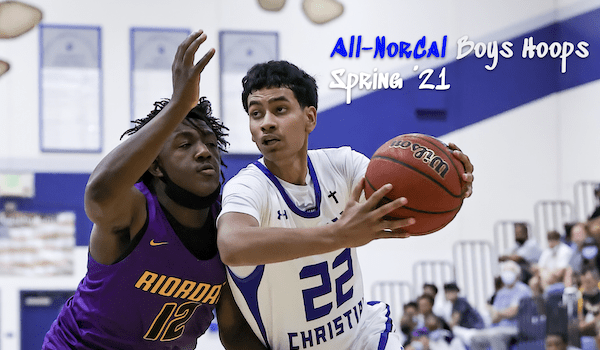 After A Unique 2021 Spring Season, We Scrap The First-Team, Second-Team Format And Just Name Our 15-Player All-NorCal Boys Basketball Team • TOP IMAGE:...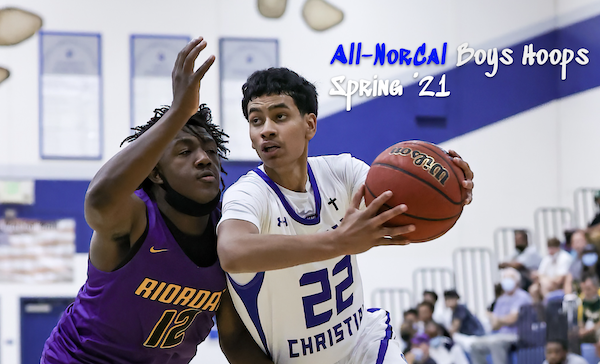 After A Unique 2021 Spring Season, We Scrap The First-Team, Second-Team Format And Just Name Our 15-Player All-NorCal Boys Basketball Team •
TOP IMAGE: Sione Lose, Capital Christian-Sacramento (David Gershon photo)
With the 2021 Spring providing such a unique season that differed from league to league and section to section, we built our All-NorCal Boys Basketball teams a little different this year.
We decided to shed our tradition of first-, second- and third-team designation. Instead, we're listing all 15 players together as one alphabetical roster. 
All-NorCal Boys Basketball 2020-21
PLAYER OF THE YEAR: Emmanuel Callas, Campolindo-Moraga
FULL ROSTER
AMEERE BRITTON
Elk Grove | 6-2 | Jr.
Britton's coming-out-party spring ended with him being named Delta League MVP after averaging 18.5 points, 6.2 rebounds, 3.4 assists and 2 steals per game as the Thundering Herd went 10-1. 
CHRIS BUNCH
De La Salle-Concord | 6-7 | Jr.
It was an up-and-down spring for the Spartans, but not so much for Bunch. The lengthy sharpshooter with offers that include Syracuse and Florida State, averaged 16 points and six rebounds a contest. 
NIGEL BURRIS
Archbishop Mitty-San Jose | 6-7 | Sr.
A consistent presence for the Central Coast Section Open Div. champions, Burris averaged 13.8 points and 6.6 rebounds over 18 games.
_______________________________
CONNECT WITH US:
Follow SportStars on Twitter & Instagram | Like us on Facebook | Subscribe!
_______________________________
EMMANUEL CALLAS
Campolindo-Moraga | 6-5 | Sr.
With star junior Aiden Mahaney battling injuries, Callas became the rock of a Camplindo team that would go 15-0 and finish the shortened season ranked No. 1 in NorCal. He averaged 15.9 points, 7.7 rebounds, 2.5 assists and 2 steals en route to being named our NorCal Player of the Year. 
JEREMIAH DARGAN
Clayton Valley-Concord | 6-6 | Jr.
Dargan knows how to make a good first impression. In his first season after transferring from De La Salle, Dargan helped lead the Ugly Eagles to a 12-3 record by averaging 18.7 points, 8.9 rebounds, 3.1 assists, 2.5 steals and 1.3 blocks.
JEREMIAH JONES
Salesian-Richmond | 6-1 | Sr.
The Pride reeled off a 13-2 spring thanks in large part to the scoring efforts of Jones. He averaged 11.9 per game to go with 2.9 assists and 1.6 rebounds. 
SIONE LOSE
Capital Christian-Sacramento | 6-5 | Sr.
The UC Davis-bound Lose can score off the dribble or beyond the arc. He helped propel Capital Christian to a 12-2 mark this spring by averaging 13.5 points, 4.2 rebounds, 3.2 assists and 2.6 steals.
MICHAEL MITCHELL
Archbishop Mitty-San Jose | 6-3 | Sr.
Mitchell finds himself on our All-NorCal team for the third straight year after a stellar senior season. The Pepperdine commit averaged 14.7 points, 6.4 assists and 5.1 rebounds as he led the Monarchs to a 17-1 record with league and section titles.
JOJO MURPHY
Piedmont | 6-2 | So.
If his sophomore season is any indication, Murphy has a great shot at joining Mitchell in the three-time selection club two years from now. Murphy was the highest-scoring sophomore in the state, among reported stats. He averaged 25.6 points and added 6.6 rebounds and 3.6 assists.
CALEB ODEN
Dublin | 6-5 | Sr.
Oden will suit up for Nevada next fall after a dominant senior season that saw him lead a very good Dublin team in several categories, including points per game (17) and rebounds (7). 
JAMARI PHILLIPS
Modesto Christian | 6-2 | Fr.
The gifted freshman scorer already has offers from Cal and Washington State after helping lead the Crusaders to a 15-0 mark this spring.
ISA SILVA
Jesuit-Carmichael | 6-0 | Sr.
With some new scorers entering the fold, the Stanford-bound Silva was happy to take on a more balanced role in leading the Marauders to a 16-0 season. He averaged 12.8 points, 6.1 rebounds, 3.7 assists and 1.9 steals.
ANDREJ STOJAKOVIC
Jesuit-Carmichael | 6-4 | So.
The son of former Sacramento Kings star, Peja Stojakovic, it should come as no surprise that Andrej can fill it up. He averaged 17.4 points and 7.2 rebounds per game. He shot 48 percent from the field and 41 percent from the 3-point line. 
ROBERT VAIHOLA
Archbishop Riordan-S.F. | 6-8 | Sr.
The Fresno State-bound Vaihola was the driving force for a talented Riordan squad that finished 14-4 and runner-up to Mitty in both the WCAL and CCS Open finals. He averaged a double-double of 12.3 points and 12.3 rebounds.
JAYLEN WELLS
Folsom | 6-6 | Sr.
Wells was recently named the Sacramento Bee Player of the Year after averaging 26.3 points and 4.4 rebounds for the 11-2 Bulldogs. He scored 30 or more in six of the team's 13 contests.