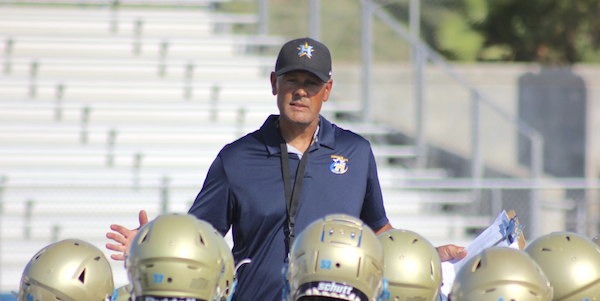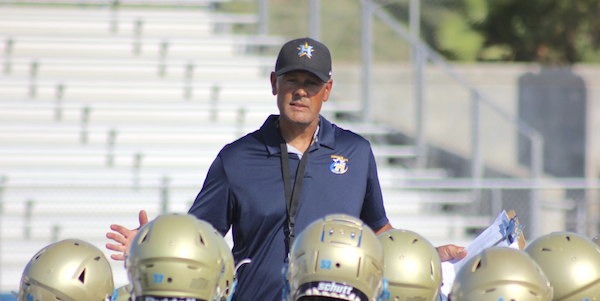 For New Football Coaches, Old Methods Don't Apply To Socially-Distanced Sidelines And Team Rooms • So you want to run your own high school...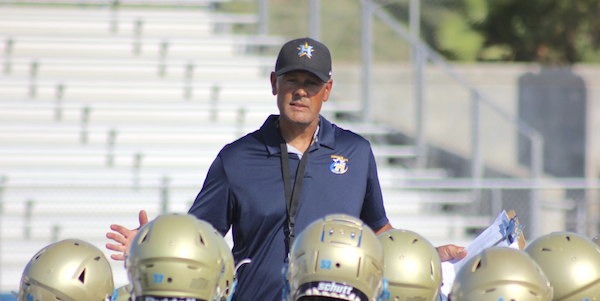 For New Football Coaches, Old Methods Don't Apply To Socially-Distanced Sidelines And Team Rooms •
So you want to run your own high school football program?
Try figuring out how to do it during a global pandemic.
The learning curve associated with taking over a program is steep under the best of circumstances, but for Northern California's newest head coaches, COVID-19 has introduced a whole different set of challenges.
For Bishop O'Dowd-Oakland's Dave Perry, taking over two weeks before the Bay Area entered lockdown meant shifting into educator mode. A teacher at Willard Middle School in Berkeley, Perry had to shift his classroom to remote learning to adjust to a new reality.
He decided to do the same with his football team.
Using Zoom, Perry focused on enrichment rather than football. The team held a Mother's Day cooking challenge, and when a teammate's family member passed away, the Dragons worked together virtually to create cards and support the family.
_______________________________
CONNECT WITH US:
Follow SportStars on Twitter & Instagram | Like us on Facebook | Subscribe!
_______________________________
"You hear a lot of great coaches say all the time that culture gets wins and culture builds wins and things of that nature. That was my focus," Perry said. "Create a classroom environment with the hope of a season happening at some point in time and build the culture of my program exactly like I want it. The focus became less scheme and more culture."
Eventually, Perry identified team leaders and built a network that tasked them with staying in touch with their teammates. Once kids had the ability to work out in pods, he sent them play sheets and wristband inserts and they used their pods to teach themselves a new offense.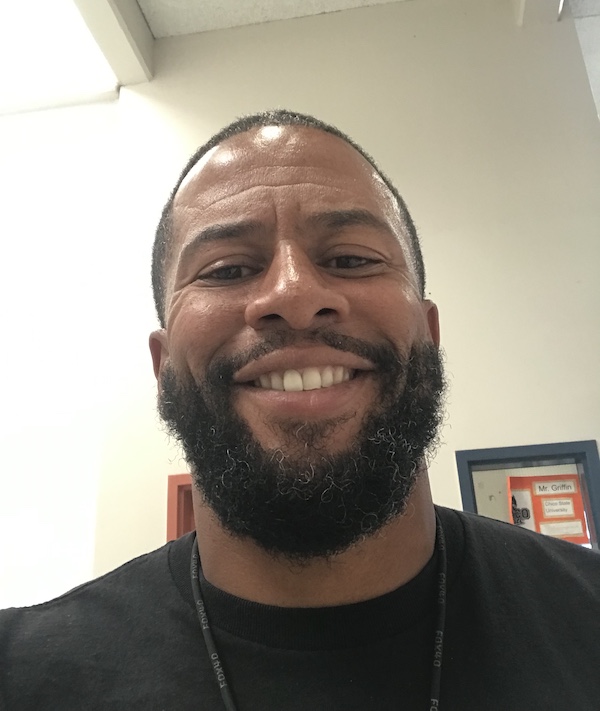 Those small groups filmed their work so Perry could make suggestions and adjustments over Zoom, and the result is a library of over 500 video clips that makes up the foundation of an offense the Dragons think has a chance to be quite successful in 2021.
The experience was similar for California-San Ramon coach Danny Calcagno. An accomplished head coach at Chabot College looking to make the transition back to high school, Calcagno did what he could to put his stamp on the program.
"It was very challenging. I would say my advantage was I knew a lot of the kids just from growing up. I coached them in Little League, so I had a relationship with probably half the kids," Calcagno said. "It was just a tough COVID year. You couldn't really implement all of your discipline stuff and building a culture, that was hard. We overcame it, it was an obstacle but we got through it and I was very thankful to have the six (spring) games and give those seniors something to have some memories from."
Just a few miles up Interstate 680, Monte Vista-Danville endured an uncharacteristically tough spring season, going 0-6 and changing coaches over the summer. Heading into the fall, the Mustangs have turned to former NFL and Cal running back C.J. Anderson to right the ship as their new head coach.
And while Anderson might be taking on his first head coaching job, he brings with him recent experience with the NFL's protocols for remaining COVID safe. Primary among those are the need to stay vigilant away from the field and to follow the guidelines set by San Ramon Valley Unified School District and local health officials.