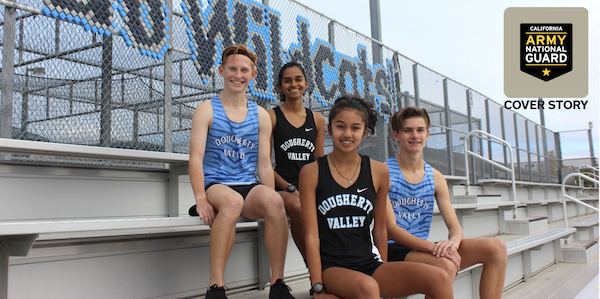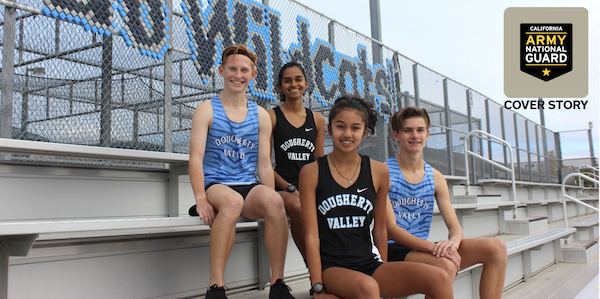 After Establishing Itself As A Championship Program Within The North Coast Section, Dougherty Valley Cross Country Looks Poised To Begin Building A CIF Reputation...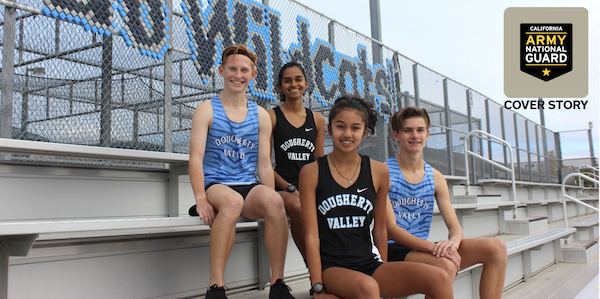 After Establishing Itself As A Championship Program Within The North Coast Section, Dougherty Valley Cross Country Looks Poised To Begin Building A CIF Reputation Too •
Cracking into the ranks of California's most elite teams in cross country is not easy.
Certain schools dominate year in and year out. Down south, the mighty Great Oak of Temecula has won the last six boys CIF Division I state titles and eight in the last decade in girls. Up north in the East Bay, the girls from Campolindo-Moraga are a force, with five state championships in Division III in 20 years, most recently in 2019 when the school won both boys and girls state honors.
But Dougherty Valley in San Ramon is threatening to crack the ceiling, or at least crowd into the top floor. Their postseason adventure gets underway with the East Bay Athletic League championships on Nov. 6 at Newhall Park in Concord.
"When you get the chance to really experience racing the best teams, like Newbury Park and Great Oak, and Bellarmine up here and Dublin, you really get the feel for what it's like to be in that mix," said Andy Richards, one of the core junior boys runners. "When the postseason comes along, we'll get even more of a chance to race those guys."
Opportunity has arrived for Dougherty Valley, which has competed at every division from IV on up, and is now entrenched as a contender in the top division.
"There are great teams out there like Buchanan (of Clovis) and other teams that are well known," said senior girls runner Rhea Braganza. "Dougherty has not made its name in cross country or track as a team yet. But we never have had that kind of attention yet. It would be new and it is something we try to work for, because we know we haven't gotten it before."
_______________________________
CONNECT WITH US:
Follow SportStars on Twitter & Instagram | Like us on Facebook | Subscribe!
_______________________________
Most recently the Wildcats shined on the CIF state championships course in Woodward Park, competing in the Rough Rider Invitational on Oct. 15. There Dougherty's girls finished second to Campolindo 46 to 60 in the large school 5,000 meters, with freshman Sabrina Noriega fourth (18:44.8), Braganza fifth (18:46.9) and Eva Shen eighth (19:00.3).
The boys finished third with Shane Badcock leading the way (16:15.2). He was 14th, but true to form, he led a Dougherty Valley pack that nabbed five of the ensuing 12 spots.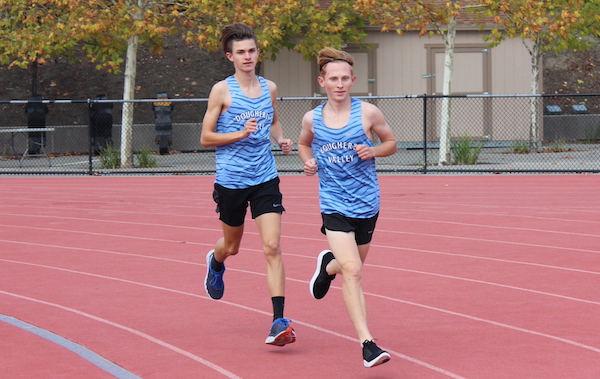 It's not as if the Wildcats have not enjoyed success before. The school, which opened in 2007, has collected boys North Coast Section Division I titles in 2016-17 and girls NCS championships in 2009 in Division IV and 2017 in Division I. But now they exude confidence that they can succeed statewide.
Founding head coach Stephanie Bambury built the Dougherty Valley program into a successful one. She moved out of the area before this season, so the program is now led by Lauren Nakaso, an assistant the past five years, and Ralph Gowen, a longtime volunteer. 
Both the boys and girls teams are enjoying fine seasons, each with distinct characteristics. The boys are a fun-loving bunch who may not have that standout runner, but have tremendous depth and consistency. The girls are powered by an impressive freshman and a potent senior group.
For the girls, freshman Sabrina Noriega has provided a spark with her unique approach to racing.
"Our freshman is fearless," Gowen said. "She goes to the front and stays there, which is very entertaining to watch."
Noriega runs her style, while her teammates take a more traditional measured pace, starting off slower. "But then they close like freight trains. And they finish not that far behind," Gowen said.
Hers is a different approach, but very successful.
"I never really have a racing strategy. I just race by my heart," said Noriega, who started at age 9 in USATF and AAU races. "From then my dad worked with me so much and coached me, and that just developed my love for running even more."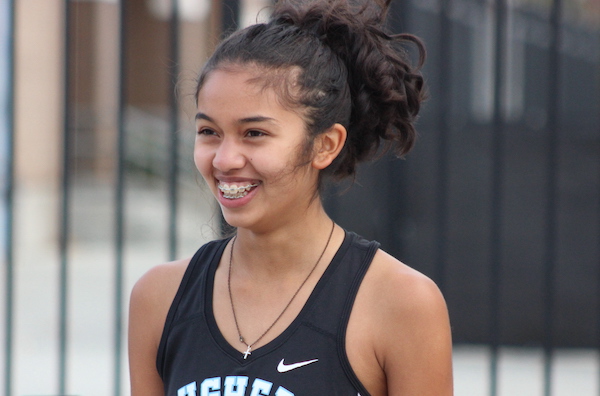 Her contributions have been a pleasant surprise for her teammates, who quickly made her feel at home.
"They encourage me a lot and offer a lot of support, which is the nicest thing for me," Noriega said. "We are all really positive and cheer each other on."
Noriega has given great hope for the present and future.
"She's been a great addition to our team in terms of finding someone who is able to push us constantly and also, I feel like she is the hope for the future in Dougherty," said Braganza, in her fourth year of varsity for the Wildcats. "We weren't expecting her but she became a really key component of our really strong team. And she'll be here for her sophomore, junior and senior years, so I will be very happy to see where she goes with it."
At the start, the older runners didn't know what to make of her. She made an impact with a school-record 5:03 time in a 1,600 run conducted on Campolindo's track.
"We all were pretty nervous about Sabrina, but in a good way," Braganza said. "How much potential does she have? What can she do? She likes to get out there and run with the guys and push herself to extremes. And that is what we all look up to her for."
Braganza and her fellow seniors take a different approach, but it all adds up to team victories.
"She likes to take bolder moves at the start. She likes to get up there with the front pack," she said of Noriega. "My teammates Eva and Kirsten, they like to start from the back and move forward. And they end up negative-splitting on courses like state. .. I think it is pretty interesting how different we all race, but we end up getting to the same place at the end."
They'd like to get to places that last season's team was not able to go, since there was no postseason in the delayed and abbreviated spring outing. That team, with senior standouts now at the Division I level, Sameen Andar of Irvine and Ritika Singh of USC, along with three exceptional juniors, Braganza, Shen and Kirsten Chan, certainly had potential.
"That was the strongest girls team — bar none — that we had to that point," Gowen said. So how does this team compare in potential?
"It's hard to evaluate because we never will know what last year's team would have done. I'm counting chickens before we hatch, but this will be the strongest team we have taken to state, and I fully expect we will be at state."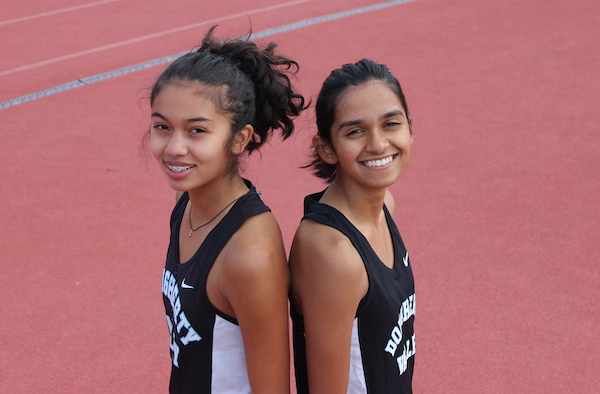 And should the Wildcats get there, they will get to measure themselves against the very best. They know which teams are the measuring sticks.
"Campolindo is a great team and they score really low all the time," Braganza said. "Just to see my teammates racing against Ellie Buckley and their top runners. Me trailing behind her and my teammates less than 30 seconds behind me and probably a 30-second spread between the first four runners. It's such an amazing feeling to be so close together and near the top. It's a newer experience for Dougherty."
Since there was no state meet last season, the motivation is great for returning varsity athletes like Richards.
"I wanted to taste what state would feel like and that looks like it is going to happen," he said. "We had a lot of seniors leave so (fellow junior) Shane Badcock and I were looking for more responsibility this year. It's a different year."
One thing's for sure: No one will accuse the Dougherty Valley boys runners of being too serious.
"We're very silly," Richards said. "The only thing we take very seriously is racing. That's it. We just joke around. It's hard for us to be serious. When the race starts and the workout is going, we're grinding. Every day, in and out, we're moving. After that we are kind of just messing around. It's the best way to be. Practice is a blast."
As Gowen puts it, "the dynamics at practice are always entertaining."
The Farmer Invitational in Hayward on Sept 11 provided the first semblance of a normal fall season, where Dougherty Valley finished second to EBAL rival and NCS Division I power Dublin.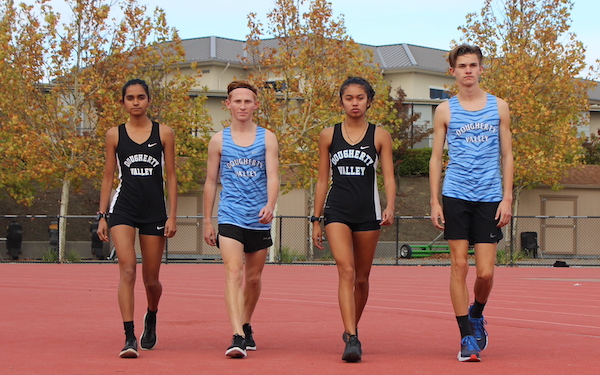 That was really our first cross country invitational that we had in a really long time," Badcock said. "To me it was 'We're back here, we're actually running cross country.'"
The consistency of the pack has been the key.
"We have a team where we don't have any outstanding runners, but we are all really close together in times," Badcock said. "With that similarity, and the speed and the times, because we all are up there, because our team is so consistent, we're able to qualify for some of those bigger meets.
"We have six guys … no, we have eight guys who are all really good," Badcock said. "Six guys who are almost exactly together, and two more guys, freshmen who are new and are really fast."
Badcock calls his team "six strong" and the Wildcats hope to capitalize on their depth in the postseason. They can see the potential ahead.
"These next few meets, EBAL and NCS are going to show all the other schools what Dougherty has, what we can do as a team and how we can compete," Badcock said. "And then state, that is going to be the peak of our fitness. So that should be our best race of the season. We're really excited to go to state this year, if we make it. We're really looking forward to it."