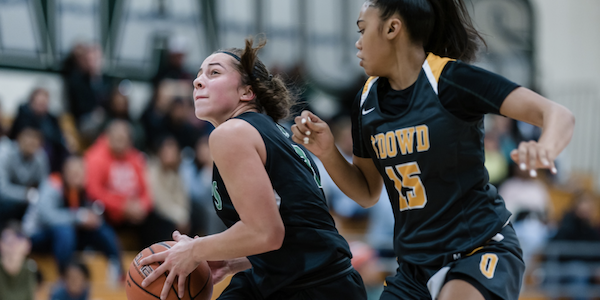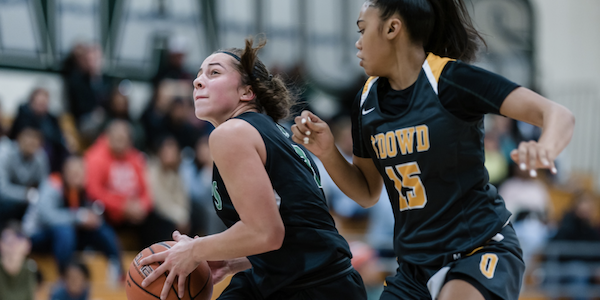 If Spring's Shortened Season Provided Any Indication, Stockton's St. Mary's Basketball Is More Than Ready To Rule NorCal Once Again • PICTURED ABOVE: St....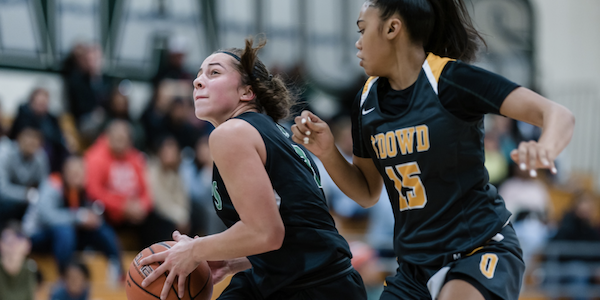 If Spring's Shortened Season Provided Any Indication, Stockton's St. Mary's Basketball Is More Than Ready To Rule NorCal Once Again •
PICTURED ABOVE: St. Mary's Junior Guard Brooklyn Perry From January 2020. (Jean-Paul Toshiro photo)
Alle Moreno had just seven practices to prepare for her first game as a head coach. Seven days to prepare her St. Mary's High team to face arguably NorCal's most decorated and storied program, Archbishop Mitty-San Jose. In a pandemic.
Naturally, Moreno's Rams won the game 73-63 to open their abbreviated season last spring.
Did she think about retiring right then and there? Undefeated with a win over legendary Mitty and USA Basketball coach, Sue Phillips?
Moreno had a good laugh at the question.
"Sue is such a fun person. I talked to her a lot while recruiting kids from her program as an assistant at San Jose State," Moreno said. "Truthfully, I learned a lot in the game. I can only hope for many more games like that."
Rest assured, they're coming.
_______________________________
CONNECT WITH US:
Follow SportStars on Twitter & Instagram | Like us on Facebook | Subscribe!
_______________________________
With plenty of talent back following an 8-1 spring, the Rams of Stockton begin the 2021-22 season ranked No. 2 in SportStars' Preseason NorCal Top 20 rankings — right behind Sue Phillips and the Mitty Monarchs. Though, no one would blame anyone who might have the two teams' transposed based on that spring head-to-head win.
After winning eight of nine games, with a brand new coach and limited practice, the buildup for a traditional season feels like a luxury to Moreno and the rest of the Rams.
"Getting to practice five to six times a week and getting into more details has been really nice," said Moreno, a 2010 St. Mary's graduate. "Just being together more has brought a bigger family and team feel. … The kids are getting that excitement going, knowing that we're actually going to get to compete for something.
"It's really nice to just feel like it's basketball season."
Leading the way for Moreno's squad this season is a pair of juniors beginning their third season of varsity ball, Brooklyn Perry and Nia Anderson. Anderson runs point and provides a "calming influence" for the Rams, according to Moreno. However, Moreno will be pushing for her to be a bit more of a scorer this season.
Meanwhile, Perry and sophomore phenom Jordan Lee run the wings. Senior Sophia Lee is a fourth returning starter.
"Between those four, they just bring so much intensity to practice," Moreno said.
Lee may end up with the highest collegiate ceiling when all is said and done. Nearly 6-feet, she's an explosive combo guard that Moreno can employ at nearly every position. In her eight games as a freshman, Lee averaged 18.1 points and 6.6 rebounds.
"She's spectacular," said Moreno, who also serves as Lee's club coach at Kidd Select. "She hit the weight room for the first time this past summer, so she's stronger and working on her 3-point game. She can really give us whatever we need, a true all-around player."
Perry averaged 19.1 points over nine games last spring and will be among the most feared shooters in the Sac-Joaquin Section this winter.
"She's just shooting the ball at such a high level right now," Moreno said. "I haven't seen a shooter like her in several years. She can run point and her defense is better than it's ever been."
Filling out the starting lineup is 6-1 transfer Jamyah Perry (no relation to Brooklyn). With all of the team's backcourt talent, her inside presence is something Moreno is really excited about incorporating into the flow of the Rams' offense this season.
"I'm excited to integrate some stuff inside the paint with her this season," the coach said. "It will open up our 3-point game more as well."
The Rams' future is also on the roster with three freshmen — Nyah Bunton, Mia Warren and Natalie Munoz — that Moreno expects to contribute over the course of the season.
Speed, depth, shooting. Moreno can't wait to see how it all comes together.
"I'm excited, but I really want to see how they react in tight situations," she said. "We can't just be the athletic group. We also need to be the smart and fundamental group."
Plan on the Rams being the winning group quite often.