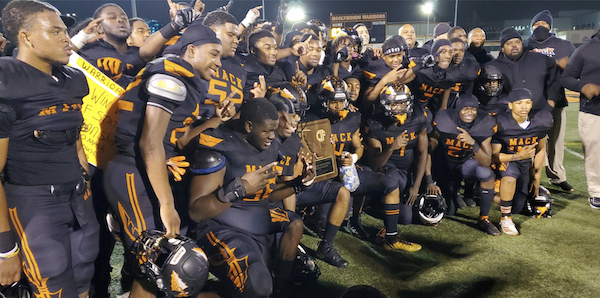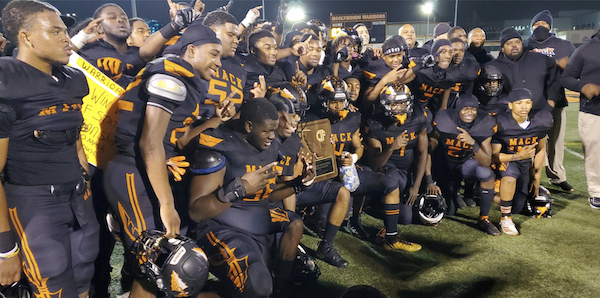 Young Speed, Steady Experience Lead Warriors Past Campolindo And Into 3-A State Bowl Championship Game Moments after his team beat visiting Campolindo-Moraga 40-21 to...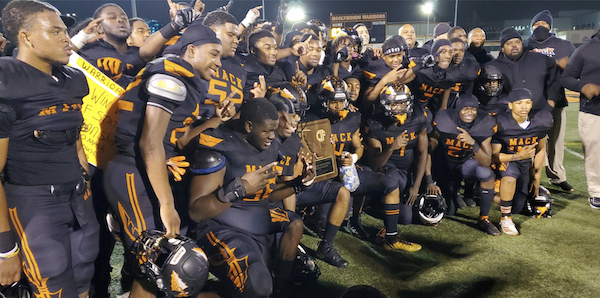 Young Speed, Steady Experience Lead Warriors Past Campolindo And Into 3-A State Bowl Championship Game
Moments after his team beat visiting Campolindo-Moraga 40-21 to secure a fifth-straight California Interscholastic Federation Northern California title, McClymonds-Oakland coach Michael Peters tried to put his team's accomplishment into context.
"It means a lot coming from a small school like we do," Peters said. "I believe we're the only school that has made it in four different divisions. That's huge for a small school in West Oakland. It means a lot."
Consistency has been the norm under Peters, who has guided the Warriors to one of the most impressive runs in the modern CIF bowl era. With a roster that most years hovers just below 30 players, the winning formula of hard work put forth by a tight-knit group continues to pay dividends both on and off the field.
This time around, the Warriors will take a young squad into battle when they host Birmingham-Van Nuys in the CIF Division 3-A final on Saturday at 6 p.m. That youth has made for some growing pains throughout the season, and an early season loss at Menlo-Atherton forced the Warriors to re-focus heading into Oakland Athletic League play.
"With the doubt we had from the beginning of the year, it means a lot," junior running back Jaivian Thomas said. "Small team, young team, they didn't expect too much out of us. (It was) maturity. In the beginning, we used to argue and not be on the same page. We grew over time."
Thomas serves as a prime example of McClymonds' youth being served. When starting running back Tajir Golden, himself only a sophomore, went down with an injury during that game at Menlo-Atherton, Thomas assumed the role of main playmaker in the backfield.
_______________________________
CONNECT WITH US:
Follow SportStars on Twitter & Instagram | Like us on Facebook | Subscribe!
_______________________________
Against Campolindo, Thomas demonstrated why that opportunity turned into a long-term gig. On McClymonds' first play from scrimmage, Thomas took the carry and exploded through the hole, outrunning the Cougars for a 64-yard touchdown.
The next time Thomas touched the ball, the script was nearly the same. Another run up the middle, another turbo boost of speed and the junior put McClymonds ahead 12-7 with 1:39 left in the first quarter.
Jaivian Thomas rumbles in from 11 out for his 3rd TD of the evening. 2 pt pass fails and with 752 left 1st half @McClymondsHS leads @campocougfb 18-7. pic.twitter.com/vUTb8U0HAj — SportStars™ Magazine (@SportStarsMag) December 5, 2021
"He put us on his back. He carried us like he did all through OAL," senior quarterback Dreyan Paul said of his backfield mate. "That's a great player. I don't know how to explain it. He's a great teammate, a great role model and I love him."
Thomas extended McClymonds' lead to 18-7 in the second quarter, adding an 11-yard touchdown run to his evening. By the time he sat down for good in the third quarter, he owned an impressive stat line of 11 carries for 239 yards and three scores.
"We just ran the ball good. We played physical and fast. That was our key," Peters said. "They had a great game plan coming in over there; they ran quarters coverage so they stopped some of our deep ball passing. We stuck to the big boys up front and just ran the ball."
Campolindo did what it could to keep the game within reach. Michael Coane scored on a 1-yard run, Max Rittmann added an 8-yard touchdown run and Dashiell Weaver found Robbie Mascheroni for a 12-yard touchdown pass to round out the scoring.
With McClymonds limiting the Cougars' ability to move the ball on the ground, Weaver did much of the heavy lifting and ended the night with 304 yards passing on 43 attempts.
A few of McClymonds' senior leaders also shined in the victory. A standout at safety all evening, Dwayne McDougle chipped in with a 33-yard touchdown run. Paul, who is well-established as one of Northern California's top dual-threat quarterbacks, didn't have to do much through the air but did connect with fellow senior Trey Hammork for a 19-yard touchdown pass. The Warriors' senior signal-caller also ran for an 8-yard touchdown and finished with 62 yards on the ground.
"We practiced all season for this," Paul said. "I knew we had the guys, the teammates and the coaching staff to do it. We just had to put in the work on and off the field, and that's what we did. 
"This is the road to state right here. Next game wins it all. We're going to put in the work during the week and see what we can do."