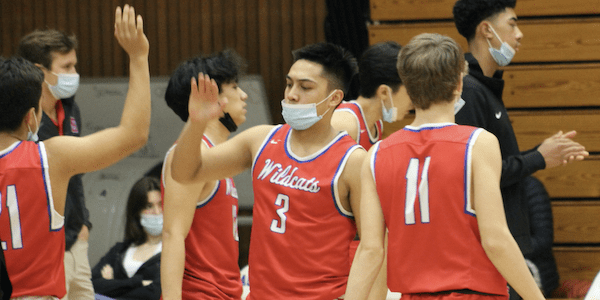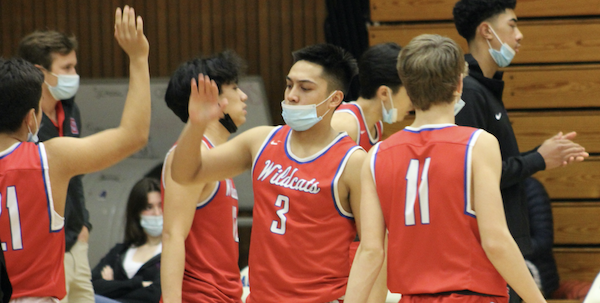 A Roster Loaded With Unselfish Seniors Has St. Ignatius Boys Basketball NorCal-Ranked And Ready For WCAL Play • PICTURED ABOVE: St. Ignatius senior Sean...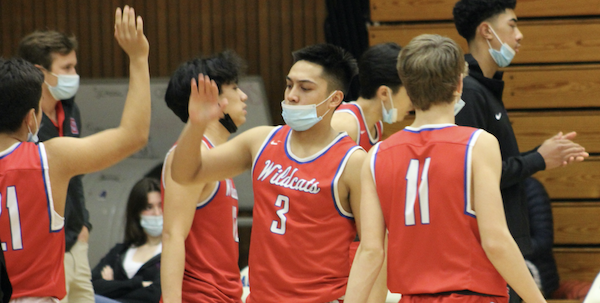 A Roster Loaded With Unselfish Seniors Has St. Ignatius Boys Basketball NorCal-Ranked And Ready For WCAL Play •
PICTURED ABOVE: St. Ignatius senior Sean Quanico high-fives Zachary Ferdon during the announcement of starting lineups on Dec. 29. (Chace Bryson photo)
It's hard to beat experience. And these days, it's awfully hard to beat the St. Ignatius High boys basketball team.
Led by a slew of seniors, the Wildcats of San Francisco will open West Catholic Athletic League play on Jan. 4 ranked among NorCal's Top 20 teams after completing a 9-1 nonleague slate.
St. Ignatius actually opened its 2021-22 season with nine straight wins before falling 59-55 to Branson-Ross in the championship game of the Chris Huber Classic on Dec. 30 at Acalanes High.
It was the first blip upon an otherwise sterling first month of the season.
The previous night, St. Ignatius put their depth and skill on display in a 61-41 drubbing of Redwood-Larkspur. The Wildcats overwhelmed the Giants from the outset, scoring the first 15 points of the game and never allowing them within single digits the rest of the night.
"We came out with a mentality that we've had in spurts in games (so far this season), and we were able to carry it through the whole way," St. Ignatius coach Jason Greenfield said afterward. "We played our first real full game of basketball."
_______________________________
CONNECT WITH US:
Follow SportStars on Twitter & Instagram | Like us on Facebook | Subscribe!
_______________________________
Redwood didn't get its first points of the game until Ainsworth Fish sank a 3-pointer to beat the first-quarter buzzer. St. Ignatius led 15-3 after the first eight minutes and pushed the lead to 22 (33-11) by halftime. 
"I think we had good intensity on the defensive end," senior guard Rory Kenneally said. "That led to the offense which came more so in the second quarter. Our defense led to everything that went right."
Kenneally is one of four seniors in the starting lineup, joining Giancarlo Toledo and co-captains Sean Quanico and Ryan Conroy. John Squire, a 6-7 junior center, fills out the starting five.
All 12 Wildcats who got in the game against Redwood cracked the scoring column. Kenneally led all scorers with 13 and Squire added 11.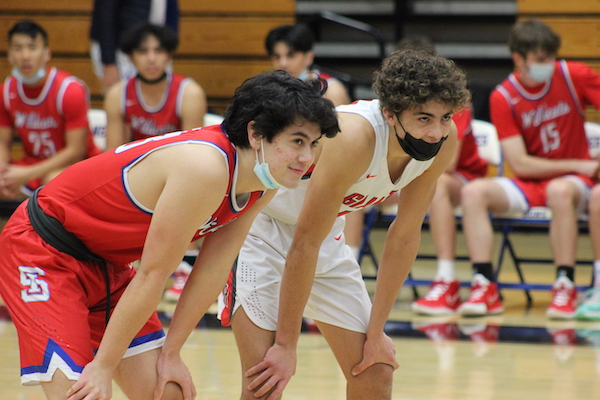 That balanced effort certainly reflects the way St. Ignatius has played over its first 10 games. No one is worried about who is putting the ball in the bucket. 
"We've bought in and we play together," Greenfield said of his group. "We average something like 15 to 16 assists a game, and in high school that's pretty dang good. … They like to move it around and they like getting assists. I gotta guy who makes a dump in pass to my big man who makes a layup and he's like 'Coach, I got that assist.'
"They care about that stuff."
That mentality is built through trust. And it's fostered by a group of seniors that have played with one another for more than a few years now.
"I've got 12 of them," Greenfield said of his seniors, before joking that he might just take a sabbatical next season. "They've been together. They know each other. They play in a fun style and they trust each other. On both sides of the ball."
The team's 9-1 start includes wins over a good Piedmont team, two wins over Monte Vista-Danville and a win over the same Branson team that bested them in the Chris Huber finale.
As the wins piled up, so did the group's confidence.
"It's definitely grown," Squire said. "We know we don't have to play hero ball. We just play our game, and it's working."
The WCAL schedule will be an entirely new test, though. Five of the league's eight teams finished December with at least seven wins. St. Ignatius was one of four teams ranked in the SportStars NorCal Top 20 released on Dec. 27. The Wildcats were No. 14 while Archbishop Mitty-San Jose checked in at No. 3, Archbishop Riordan-S.F. at No. 9 and Bellarmine-San Jose at No. 15.
St. Ignatius will open its league schedule against cross-city rival Sacred Heart Cathedral-S.F. — and it will only get more intense from there.
Greenfield will readily acknowledge the tough road ahead, but if he keeps getting the same style of play he saw in the group's first 10 games, he'll take it.
"They're playing hard and they're playing the right way," Greenfield said. "As long as they continue to play together, we're pretty good."