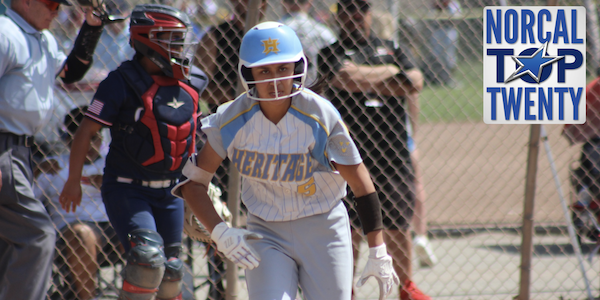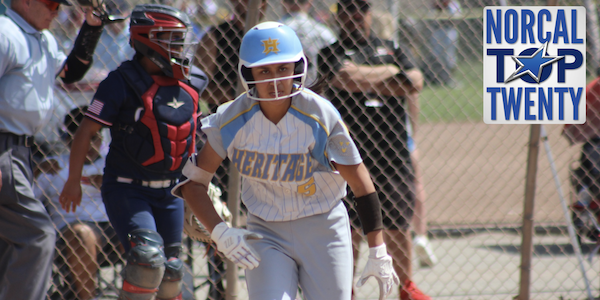 Section Finals Deliver Full Shakeup To The NorCal Softball Rankings — And Regional Playoffs Could Do The Same For Next Week's Final Rankings •...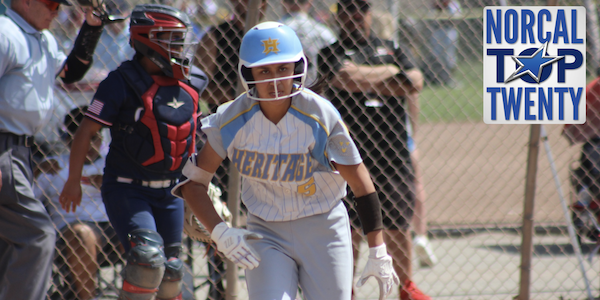 Section Finals Deliver Full Shakeup To The NorCal Softball Rankings — And Regional Playoffs Could Do The Same For Next Week's Final Rankings •
NorCal Softball Rankings
Previous rankings in parenthesis. All records are through Saturday, May 28
PICTURED ABOVE: Jessica Im of No. 5 Heritage-Brentwood. (Chace Bryson photo)
1. (1) St. Francis-Mountain View  28-2
2. (2) Archbishop Mitty-San Jose   26-4
3. (7) Sheldon-Sacramento  27-5
4. (4) Sutter 28-1
5. (8) Heritage-Brentwood   24-3-1
6. (9) Del Oro-Loomis   26-4
7. (3) Livermore   24-4-1
8. (5) Granada-Livermore   26-4
9. (10) St. Francis-Sacramento   26-4
10. (6) Vanden-Fairfield  20-1
11. (11)  Elk Grove   21-7-1
12. (14) Vista del Lago-Folsom  24-4-1
13. (12) Notre Dame-Salinas   20-7
14. (13) East Nicolaus   28-2
15. (15) Central Catholic-Modesto   26-4-1
16. (20) Lincoln-Stockton   24-5-1
17. (17) Folsom   20-6-1
18. (18) Vintage-Napa   21-4
19. (NR) Benicia  22-6
20. (NR) Marin Catholic-Kentfield   22-4
DROPPED OUT: No. 16 Oakdale and No. 19 Aragon-San Mateo
5 TEAMS KNOCKING:
21. Oakdale (26-3-1), 22. Aragon-San Mateo (18-5), 23. Pinole Valley (24-3-1), 24. Redwood-Larkspur (21-7) and 25. Dixon (22-1-1).
AROUND THE HORN
In a week where Northern California's best softball teams squared off with one another in search of section glory, the list of highlights is long.
So, let's just begin at the top. The third meeting between No. 1 St. Francis-Mountain View and No. 2 Archbishop Mitty-San Jose lived up to the hype as Sydney Stewart's RBI single in the bottom of the ninth inning made the difference in a 6-5 Lancers win that earned St. Francis the Central Coast Section Open Division title. 
_______________________________
CONNECT WITH US:
Follow SportStars on Twitter & Instagram | Like us on Facebook | Subscribe!
_______________________________
The fact that three of Mitty's four losses have come against the top-ranked Lancers means the Monarchs aren't going anywhere from their No. 2 spot in the NorCal rankings. They may get yet another chance at their West Catholic Athletic League rivals, but more on that in a bit.
Sheldon-Sacramento re-joins the top five this week thanks to a Sac-Joaquin Section Division I title run that ended with a 7-1 win over Lincoln-Stockton. Head coach Mary Jo Truesdale's bunch won one of the toughest leagues in the region, the Delta League, allowed just three runs in four section playoff games, and the Huskies are really rolling when the games matter most.
Sutter didn't play, but it hangs onto the No. 4 spot in the rankings despite the ascension of our new No. 5, Heritage-Brentwood. Pegged as one of NorCal's top teams before the season, the Patriots are right where they wanted to be as North Coast Section Div. I champs. Senior southpaw Kasey Aguinaga fired a no-hitter in a 1-0 semifinal win over Vintage, then added a 5-hit shutout in an 8-0 victory over Granada-Livermore in the title game. 
Newly crowned SJS Div. II champion Del Oro-Loomis jumps to No. 6 in this week's rankings as the Golden Eagles outlasted a furious comeback effort from St. Francis-Sacramento to claim a 10-9 victory in the final. Livermore, Granada, St. Francis-Sacramento and Vanden-Fairfield round out the top 10.
Vista del Lago-Folsom jumps a few spots up to No. 12 this week after beating Central Catholic-Modesto 7-5 to win the SJS Div. III title. Benicia enters the rankings at No. 19 thanks to a 6-1 win over Marin Catholic-Kentfield in the NCS Div. II championship game. And, despite falling to the Panthers in the final, those same Wildcats also join the top 20 at No. 20 thanks in large part to a stunning 8-3 victory over a Livermore team that entered the game ranked in the top 3 and on a 12-game winning streak.
So, section finals mark the end of the road, right? Not this time. The CIF Regional Championships offer one more week of outstanding matchups, especially in Division I. St. Francis-Mountain View enters as the top seed and will face St. Francis-Sacramento in the regional opener. 
Sheldon and Mitty square off to complete the top of the bracket, which means we could see an all-WCAL semifinal, an all-Delta semifinal, or a mixture of the two. Every permutation leads to a quality matchup.
In the bottom half of the D-I bracket, CIF's creative approach to cartography landed Clovis the No. 3 seed in the Northern regional and earned Heritage a trip to the Central Valley. Del Oro enters as the No. 2 seed and takes on Granada to complete the field. 
Notre Dame-Salinas will be the top seed in Div. II, Sutter leads the way in Div. III, Dixon is the top seed in Div. IV and Big Valley Christian-Modesto earned the top spot in Div. V. All first-round games are set for Tuesday.