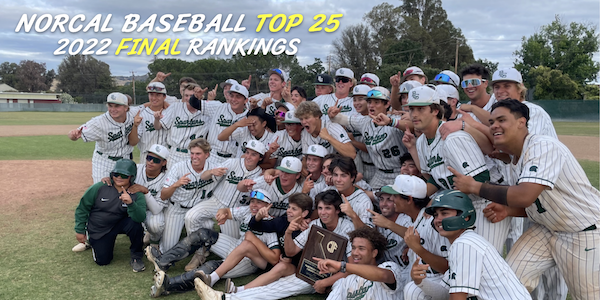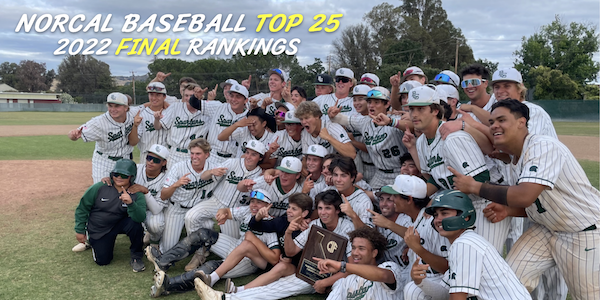 Pitching Depth And Stubbornly Resilient Lineup Lead De La Salle To Two Titles And The Top Spot In Our Final NorCal Baseball Rankings •...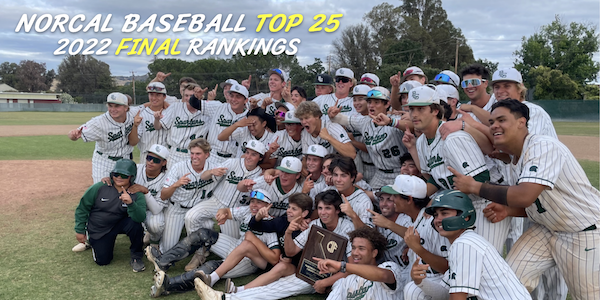 Pitching Depth And Stubbornly Resilient Lineup Lead De La Salle To Two Titles And The Top Spot In Our Final NorCal Baseball Rankings •
PICTURED ABOVE: No. 1 De La Salle Celebrates Its NorCal Div. I title. (Jean-Paul Toshiro photo)
Final NorCal Baseball Rankings. All records are through June 4.
1. (2) De La Salle-Concord (27-6)
Spartans won both the North Coast Section and CIF NorCal Div. I finals in comeback fashion, topping then-state No. 1 St. Francis in the latter.
2. (1) St. Francis-Mountain View (31-5)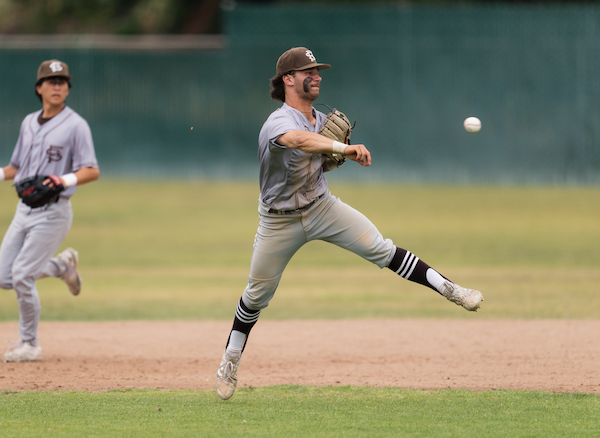 Gut-wrenching seventh inning collapse to De La Salle in NorCal final was Lancers first loss since calendar flipped to May.  
3. (3) Foothill-Pleasanton (26-6)
Three of Falcons' six losses came to No. 1 De La Salle, though they did manage to top the Spartans 4-1 in the East Bay Athletic League championship game.
4. (4) Palo Alto (26-7)
Vikings played St. Francis to a scoreless tie through seven innings of the Central Coast Section Div. I final; were bounced by Foothill in CIF Div. I opening round.
5. (5) Valley Christian-San Jose (24-7-1)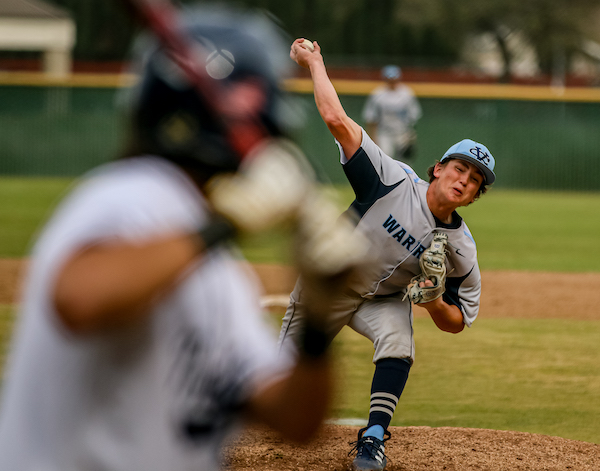 A consistent Top 5 team all season, the Warriors saw three of their seven losses come against St. Francis — including a season-ending 3-2 defeat in CIF Div. I semifinals.
_______________________________
CONNECT WITH US:
Follow SportStars on Twitter & Instagram | Like us on Facebook | Subscribe!
_______________________________
6. (6) Bellarmine-San Jose (22-10-1)
Bells' strong season included a pair of wins over CIF Div. II champion Mitty, as well as single victories over St. Francis and Valley Christian.
7. (8) Woodcreek-Roseville (25-3)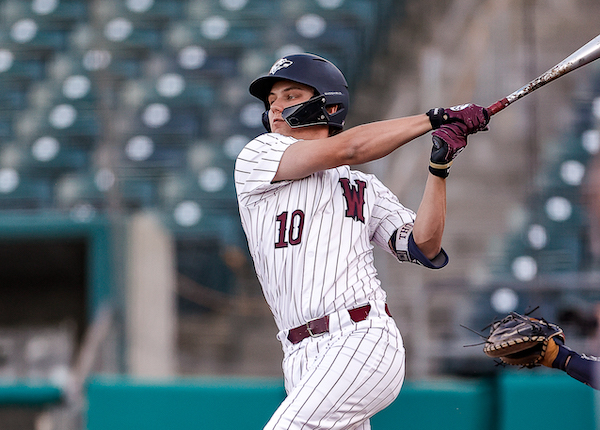 Timberwolves opened the season 24-1 and held No. 1 for two weeks spanning April and May, but an intense regular season finish (nine games in 11 days) may have factored in SJS playoff opening-round upset.
8. (9) Archbishop Mitty-San Jose (24-10)
An 11-1 Boras Invitational championship game loss to Woodcreek was the CIF Div. II champ's only loss outside of West Catholic Athletic League play.
9. (7) California-San Ramon (23-6)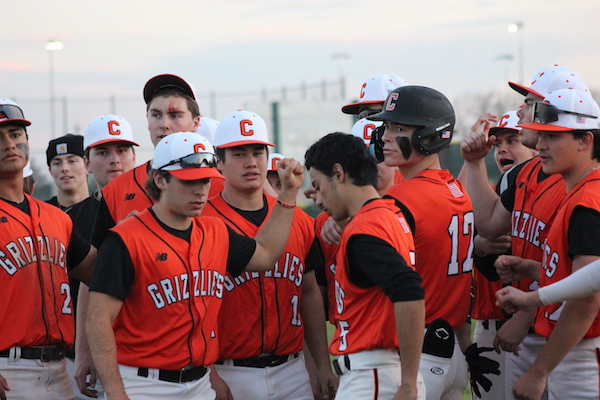 Grizzlies saw their season end to Foothill (who won in extra innings after scoring four to tie in the bottom of the seventh) in the NCS Div. I semis.
10. (10) Del Campo-Fair Oaks (29-6)
After a high-profile run to the SJS Div. III title, the Cougars landed the CIF competitive equity short straw with a first-round Div. I matchup at De La Salle.
11. (11) Granite Bay (21-14)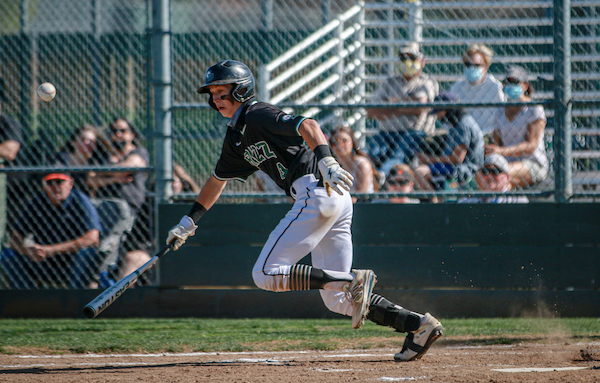 The SJS Div. II champions and CIF Div. II runners-up had nearly 40 percent of their wins come against teams ranked in our Final 25.
12. (12) Whitney-Rocklin (28-6)
A landmark season for this program included its first SJS title by defeating McClatchy 2-1 in the Div. I final; season ended with regional loss to Valley Christian.
13. (13) McClatchy-Sacramento (29-5)
Lions senior catcher Malcolm Moore is getting MLB first-round-pick buzz after hitting .500 with 13 HR and 51 RBI in 34 games.
14. (18) College Park-Pleasant Hill (16-9)
The Falcons moved up in these final rankings as section and regional results help add shine to their overall body of work; Best win: Granite Bay (4-3)
15. (15) Franklin-Elk Grove (24-7)
Wildcats entered the SJS playoffs as the No. 1 seed in Div. I, but were upset by McClatchy in straight games during the best-of-3 semifinal.
16. (20) Clayton Valley-Concord (21-5)
Another team to move up thanks to some opponents' late season success, the Ugly Eagles tallied wins over Granite Bay, Cardinal Newman, College Park and Oak Ridge-El Dorado Hills.
17. (NR) Elk Grove (20-9)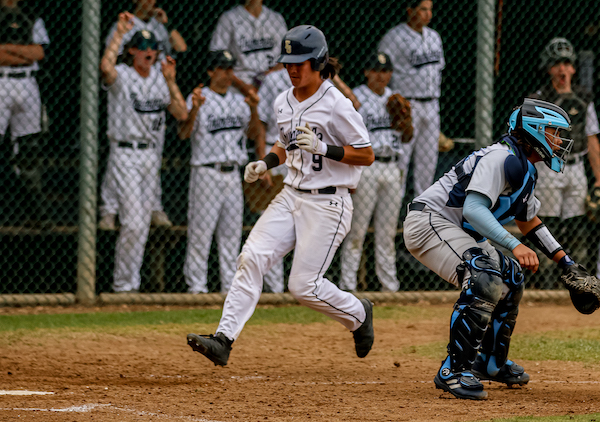 Thundering Herd never found consistency in 2022, but still wound up with wins over Valley Christian and Granite Bay as well as a one-run loss to De La Salle.
18. (16) Cardinal Newman-Santa Rosa (24-6)
After predictably rolling to an NCS Div. IV championship, the Cardinals season ended with a Div. I regional opening-round loss to St. Francis.
19. (19) Vanden-Fairfield (28-5)
Del Campo needed extra innings to vanquish the Vikings in the CIF Div. III championship; Bellarmine found them to be an equally tough out in CIF Div. II play
20. (NR) Sacred Heart Cathedral-S.F. (17-11-1)
Fighting Irish had wins over Mitty and Bellarmine in WCAL play, and 10 of the team's 11 losses came against teams that made the CIF regionals.
21. (NR) Oak Ridge-El Dorado Hills (17-15)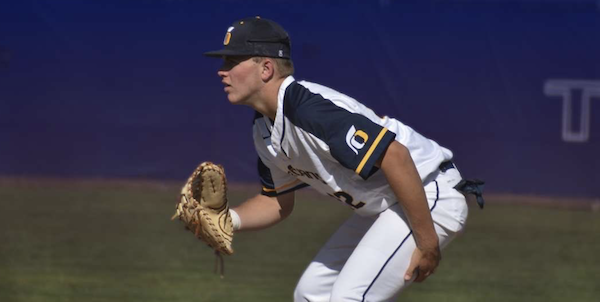 Trojans reached SJS Div. I finals as a No. 6 seed and logged regular season wins over Bellarmine, College Park, Whitney and Granite Bay (twice).
22. (NR) San Ramon Valley-Danville (16-11)
Perhaps no team pushed No. 1 De La Salle to its limits more than the Wolves. In four meetings, SRV had one win and a pair of one-run losses.
23. (17) Pleasant Valley-Chico (27-4)
Vikings finish as our top Northern Section team after playing McClatchy even through six innings of the teams' CIF Div. II opener (an eventual 11-7 loss).
24. (NR) Rio Americano-Sacramento (21-13)
Raiders won nine of their last 11 to finish as SJS Div. II runners-up and CIF Div. III semifinalists.
25. (NR) Rodriguez-Fairfield (26-4)
Mustangs breakout season ended in SJS semifinals loss to Granite Bay, but future remains bright with three of their top five hitters and their top pitcher all returning for 2023.