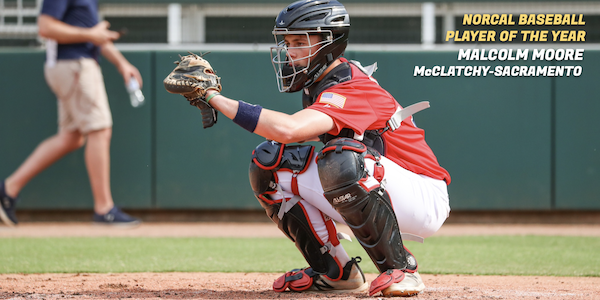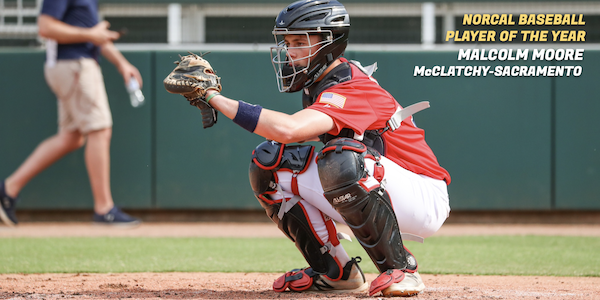 McClatchy's Malcolm Moore Went From Wearing Baseball Shoes To Kindergarten, To Becoming One Of The Nation's Top 60 Draft Prospects • PICTURED ABOVE: Malcom...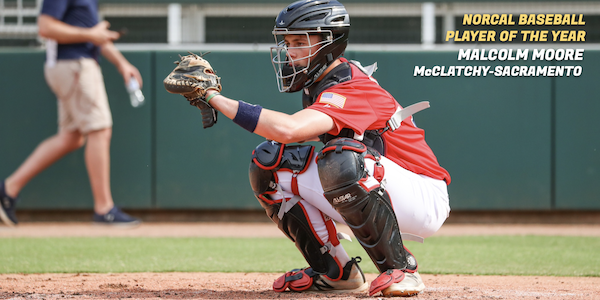 McClatchy's Malcolm Moore Went From Wearing Baseball Shoes To Kindergarten, To Becoming One Of The Nation's Top 60 Draft Prospects •
PICTURED ABOVE: Malcom Moore sets up behind home plate during his time playing for Team USA's U16 Development Team In 2019. (USA Baseball photo)
Long before he was a two-time Gatorade State Player of the Year and listed among the nation's Top 60 prospects for the Major League Baseball First-Year Player Draft, Malcolm Moore was a 6-year-old Sacramemto kid who just wanted to play Little League Baseball on his older brother's teams.
Mike de Nocochea was coaching one of those teams.
"The boys were like 10-12 and (Malcolm) was 6-7 and trying to get on the practice field with them," de Nocochea recalled. "He was already doing some things better than some of the older boys. We called him 'The Natural'.
"When he started kindergarten, he'd wear baseball trainers to school. We'd always love to have a laugh about that."
In subsequent years, Moore would show up to McClatchy High where de Nocochea has led the varsity program for the past 18 years.
"He was out there as a sixth grader trying to make our team," the Lions coach said. "I think I let him practice with us a bit when he was in junior high."
_______________________________
CONNECT WITH US:
Follow SportStars on Twitter & Instagram | Like us on Facebook | Subscribe!
_______________________________
In 2019 he was finally a freshman and promptly displaced a senior catcher to begin a stellar four-year career (with the COVID interruption, of course).
Moore just completed a senior season in which he hit .500 with 30 of his 47 hits going for extra bases — that includes the 13 home runs that tied Palo Alto's Henry Bolte and Stockdale's Austin Charles for tops in both California and the nation. His 51 RBI ranked second in the state, and his 49 runs scored ranked eighth (fourth in NorCal).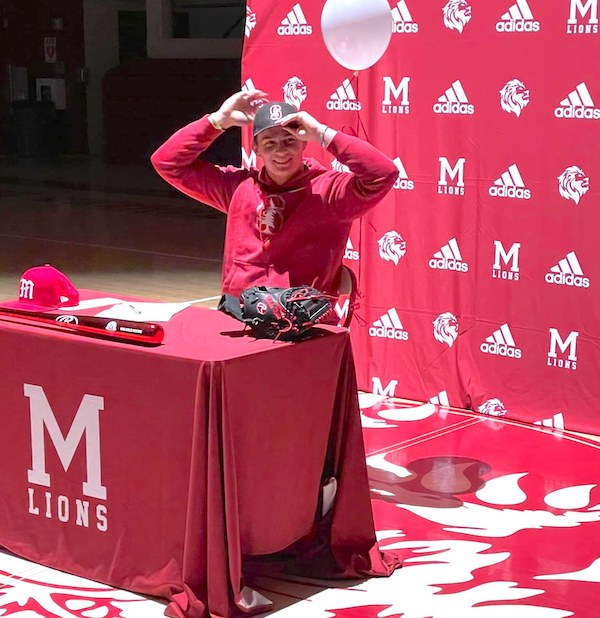 His dominant role in leading McClatchy to 29 wins with trips to the Sac-Joaquin Section Div. I title game and the CIF NorCal Div. II semifinals, allowed him to narrowly edge out Bolte for SportStars NorCal Player of the Year honors.
"He loves playing the game," de Nocochea said. "It's contagious. The part I'll miss the most is probably the batting practice sessions. It was incredible. Seeing the other kids' jaws drop as he sent balls all over the place — and then trying to go up there and do it themselves. When you see someone else do it, you think 'I can do that,' and you go up there trying to hit with more power."
McClatchy has a rich tradition of baseball on campus, but the Lions' field didn't get a fence until this season.
Let's just call it The Fence That Malcolm Built.
"His first two years, opponents could scoot back as far as they wanted when he got up to the plate," de Nocochea said with a bit of a chuckle. "But not anymore."
With a verbal commitment to Stanford since he was a freshman, Moore didn't face those peripheral concerns coming into his final season with the Lions. He simply put his focus on getting himself and his team better every day.
"I'd have him talk to our underclassmen about his focus (at the plate)," de Nocochea said. "Not just in the batter's box, but between pitches. He won't chase bad pitches, and when the situation calls to just put it in play to help the team, he'd make the adjustment. He just always got better and worked extremely hard."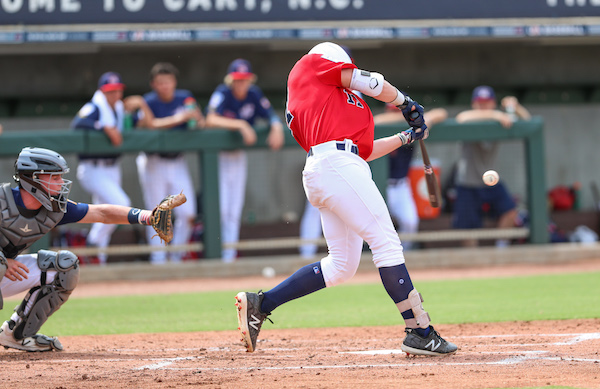 Whether Moore chooses to chase big league dreams or continue to hone his skills in Palo Alto with the reigning Pac-12 Champions, will likely be decided by where he's selected in the draft that begins July 17. A list of prospects on MLB.com ranks him 53rd overall.
And the coach who's watched him grow up on the diamonds of the Land Park community of the state capital, will follow along with pride.
"It just validates everything that you already know," de Nocochea said of the feelings he's experienced already. "For me it gives a sense for what it might have been like coaching someone like Bryce Harper in high school. … To have a guy like that grow up in your backyard, go to his hometown high school, play with his friends and just stay grounded.
"It's been special."