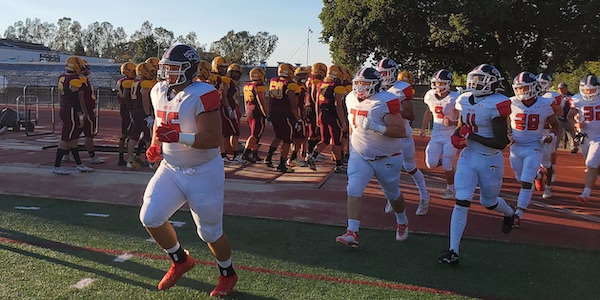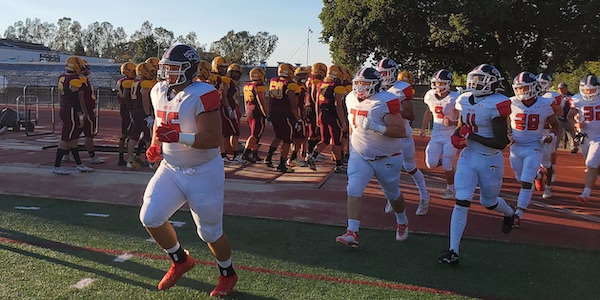 A Late Running Bus, Sluggish First Half Couldn't Derail The Rancho Cotate Football Team From A Strong Start To A Season With High Expectations...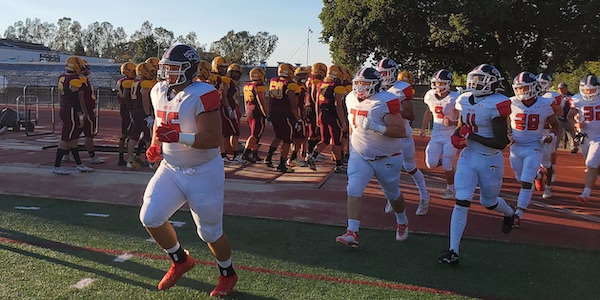 A Late Running Bus, Sluggish First Half Couldn't Derail The Rancho Cotate Football Team From A Strong Start To A Season With High Expectations •
PICTURED ABOVE: Malik Cleveland Leads Rancho Cotate Onto The Field. (Ben Enos photos)
Liam Keaney and his Rancho Cotate-Rohnert Park teammates worked all spring and summer with an eye towards being able to get back on the field for their 2022 season opener at Las Lomas-Walnut Creek.
So of course, the bus was late.
Such are the perils of traveling around the Bay Area on a Friday evening, but once the Cougars arrived and settled in, they unleashed an effort that affirmed just how special a season it could be. Keaney accounted for five touchdowns, fellow senior Sailasa Vadrawale scored three, and Rancho Cotate opened its season with a commanding 42-16 win over the host Knights.
With a roster that includes 23 seniors, expectations are justifiably high for coach Gehrig Hotaling's group. What happened after a bumpy start on Friday only demonstrated further why there is reason for optimism.
For as strong an overall performance as it was, that start will give Hotaling and his coaches some fodder for film study. Las Lomas jumped out to a 9-0 lead behind an 18-yard touchdown pass from Michael Wood to Alex Lisi and a safety that came when a high snap took the Rancho Cotate punter out of his own end zone.
Having perhaps needed a bit of time to shake off the bus ride, Rancho Cotate went to work in the second quarter. 
_______________________________
CONNECT WITH US:
Follow SportStars on Twitter & Instagram | Like us on Facebook | Subscribe!
_______________________________
Keaney provided the spark, connecting with fellow senior Dylan Gagnon for a 52-yard touchdown that got the Cougars on the board. A few moments later, Vadrawale scooped up a blocked punt and took it all the way to paydirt, putting the Cougars ahead 14-9 at halftime.
"We started out slow but we fought back," Keaney said. "Everyone was preaching just move on, keep playing, keep fighting and it worked out tonight. We battled."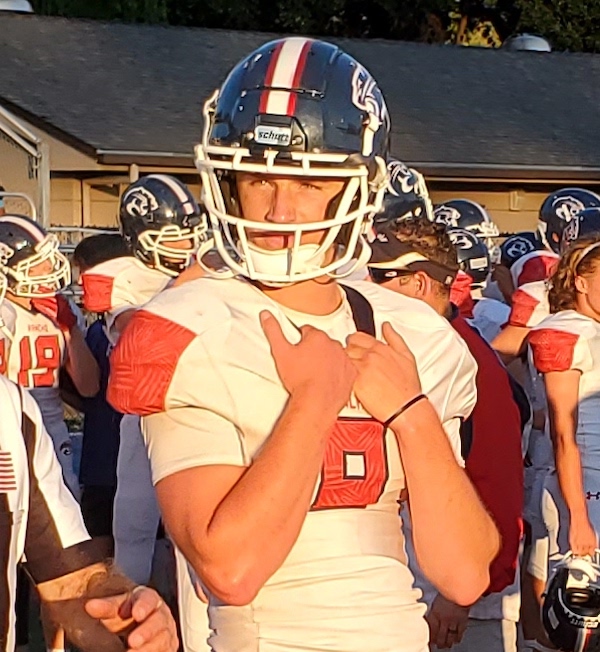 While Las Lomas battled the injury bug, Rancho Cotate took over in the second half. Keaney connected with Vadrawale for touchdown passes of 22 and 12 yards to make it 28-9 after three quarters. The Cougars' senior under center added a 1-yard run and a 7-yard pass to Will Morie in the fourth quarter to round out a night in which he also passed for 325 yards.
Vadrawale's skills on both sides of the ball showed throughout the night. The Cal-commit also grabbed an interception from his spot at free safety, and he finished with a team-high six catches for 89 yards.
"We started off slow, and we've got to start off faster in other games," Vadrawale said. "But I'm proud of the team and the way we reacted to going down by nine points."
Whether as a primary option, or providing a target on a busted play, Vadrawale's chemistry with his longtime quarterback is also readily apparent. He's not the only highly coveted Cougar on offense. Junior Ananias Walker is a three-star junior recruit with multiple Pac-12 offers, and Keaney also makes sure to praise the entire receiving unit for its talent and work ethic. A stout offensive line is led by UC Davis-commit Malik Cleveland.
But it's easy to spot what sort of connection exists between a quarterback and his top target.
"My freshman year, I actually played running back and we both traveled up to varsity together," Vadrawale said. "I didn't even like him at first. We used to play basketball against each other and he used to beat me out, so I didn't like him over that. But, we started getting a bond during that COVID year. We'd go to the field to run routes. We always put in the work and out here, it's like he knows where I'm at."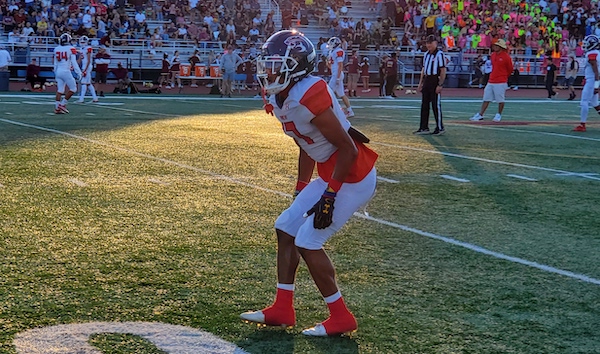 That sort of togetherness might just be the secret ingredient for a Rancho team that has designs on continued ascension. 
A positive atmosphere on the sideline, fueled by a large senior class that has largely played together for four years, served the Cougars in good stead against Las Lomas. It should be a major asset as they move through a challenging nonleague schedule and the always competitive North Bay League-Oak Division.
"I think the chemistry is really important," Keaney said. "Everybody gets along with everybody and we're always having a good time. We've been working hard and picking each other. There's never a dull moment but it's always work hard, show up and we have a job to do."
The home opener against Redwood-Larkspur looms next, but Rancho's nonleague campaign also includes tough tests in Sacramento High, 2022 state bowl champion Vanden-Fairfield and Northern Section stalwart Pleasant Valley-Chico.
Upside to the home opener? No bus necessary.