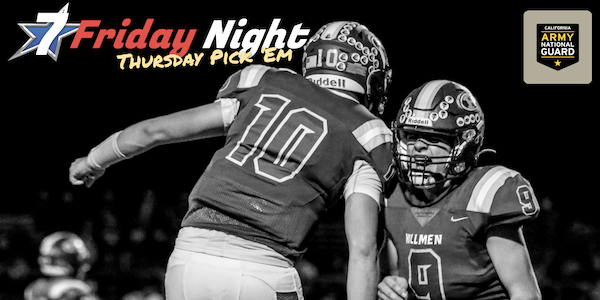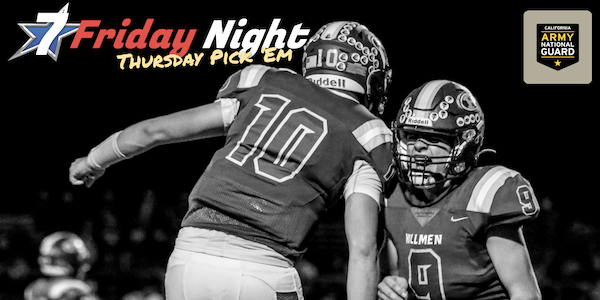 The 7 Friday Night Team Returns For Another Week Of NorCal Football Picks, Some Feeling Better Than Others • We're back for another week...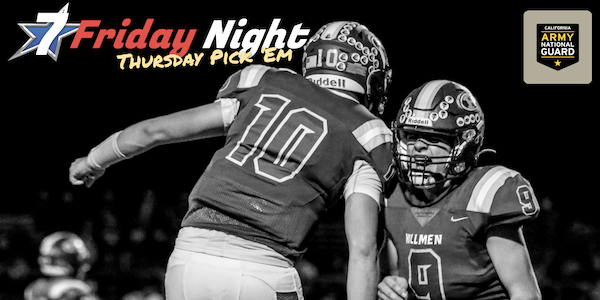 The 7 Friday Night Team Returns For Another Week Of NorCal Football Picks, Some Feeling Better Than Others •
We're back for another week of NorCal football picks. 7 Friday Night host Chace Bryson is looking to build off of a strong week, while co-host Ben Enos and Coach Terry Eidson try not to let bitterness consume them.
With plenty of good matchups to choose from, Chace and Ben make their usual three primary picks and follow up by giving one another two challenge picks. Coach Eidson makes his three picks and tries not to get too snarky when Chace mentions going 4-1 the previous week.
LISTEN TO YOUR PODS ON A SPECIFIC PLATFORM? Scroll Down To See Where Else You Can Listen, Rate & Subscribe!
GAMES DISCUSSED INCLUDE:
(Ranks are from SportStars NorCal Top 20)
• No. 15 at Central Catholic-Modesto @ No. 1 Serra-San Mateo
• No. 14 St. Francis-Mountain View @ No. 2 De La Salle-Concord
• Foothill-Pleasanton @ No. 10 Vanden-Fairfield
• Merced @ No. 13 Monterey Trail-Elk Grove
• Acalanes-Lafayette @ Sheldon-Sacramento
• Silverton (Ore.) @ Oak Ridge-El Dorado Hills (@ Honor Bowl)
• Jesuit-Carmichael vs. Christian Brothers-Sacramento (at Hughes Stadium)
• Elk Grove @ San Ramon Valley-Danville
• Berkeley @ American Canyon
• Placer-Auburn @ Vista del Lago-Folsom
• Cardinal Newman-Santa Rosa @ Vintage-Napa
7 Friday Night will be publishing new episodes every Tuesday and Thursday during the regular season.
Tuesday episodes will include discussion on the week ahead as well as interviews with Coach Eidson and whoever else we have lined up as guests. Thursday episodes will include Chace, Ben and Coach Eidson's picks and predictions for a selection of games that week. Make sure you're following or subscribed wherever you listen to your favorite podcasts.
Listening platforms include Spotify, Apple Podcasts, Google Podcasts, Breaker, Pocket Casts and Radio Public. Also, feel free to use the same platforms to look up SportStars' other podcasts: The 2021 oral history-style show SportStories, and the ask-an-expert health and fitness show, Know & Go, that's currently in its first season..
All previous episodes of 7 Friday Night, Know & GO and SportStories can also be found here.
Finally be sure to follow our podcasts' Twitter account @SportStarsPods to see guest announcements, participate in listener polls and more. You can also get game updates and scores on Friday nights by following @SportStarsMag.
PREDICTION SCOREBOARD
Through Sept. 3
CHACE
PRIMARY PICKS: 5-4
LOCKS: 2-1
CHALLENGE ROUND: 4-0
OVERALL: 9-4
BEN
PRIMARY PICKS: 3-6
LOCKS: 1-2
CHALLENGE ROUND: 4-0
OVERALL: 7-6
COACH EIDSON
OVERALL: 2-7