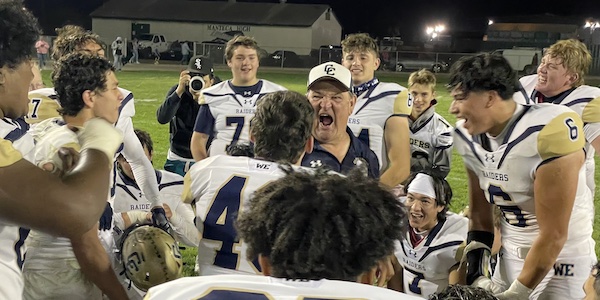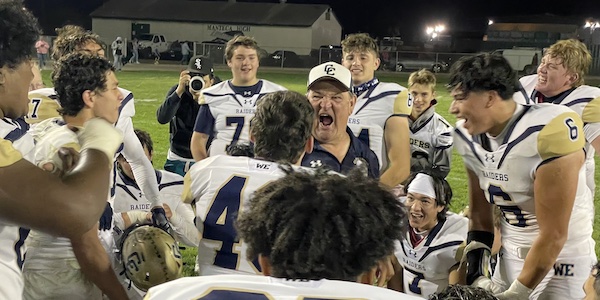 Shootout Win Over Manteca Sets Central Catholic Football Up For Second Straight Undefeated Run Through Valley Oak League • PICTURED ABOVE: Central Catholic Coach...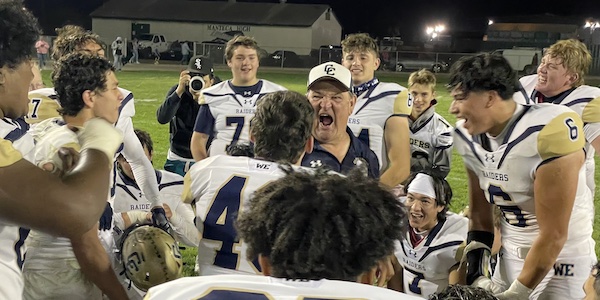 Shootout Win Over Manteca Sets Central Catholic Football Up For Second Straight Undefeated Run Through Valley Oak League •
PICTURED ABOVE: Central Catholic Coach Roger Canepa Delivers An Emphatic Postgame Message. (Chace Bryson photos)
"How 'bout them Raiders?!!"
The refrain thundered from Central Catholic football coach Roger Canepa and was immediately followed by raucous agreement from his players.
This was the scene last Friday night following an absolutely wild and wholly Valley Oak League shootout at Manteca. Central Catholic used a balanced effort in order to barely outlast a school record-breaking performance by the Buffaloes' Blake Nichelson, beating NorCal's No. 8-ranked team 56-49.
"One of the best high school games I've ever been involved with," Canepa said afterward. "Thank God we won, or I might've had a heart attack."
The win was justification for the insanely difficult nonleague schedule Canepa put together for his Raiders squad. Central Catholic began its season with a ho-hum win over Merced before four straight losses to teams that will enter Week 10 with a combined 30-4 record. Two of those teams are ranked in the Top 3 of SportStars' NorCal Top 20 rankings, and the other — St. John Bosco-Bellflower — is ranked No. 4 nationally by MaxPreps.com. 
Only one of those first five games were home games. 
_______________________________
CONNECT WITH US:
Follow SportStars on Twitter & Instagram | Like us on Facebook | Subscribe!
_______________________________
"I couldn't put them in any worse position than I did," Canepa readily admitted after the Manteca victory. 
The result of that schedule has led to a season ripe for the "How It Started/How It's Going" meme.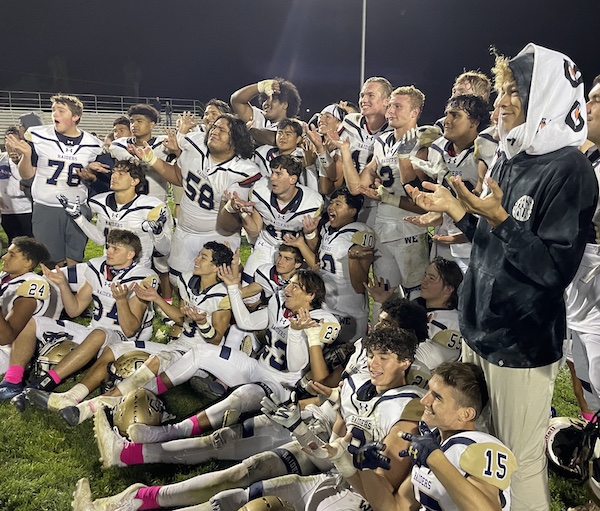 It started with a 1-4 record, but this Friday the Raiders can close out an undefeated Valley Oak League title with a home win over last-place Sierra-Manteca. The expected victory would likely assure Central Catholic of a top four seed in the Sac-Joaquin Section's Division I playoff bracket. 
"Coming into the season we had a couple kids wary of the schedule," said senior running back Tyler Jacklich after rushing for 179 yards and four touchdowns against Manteca. "The captains pushed the team and said, 'Hey, there's a reason we have this schedule. Regardless of whether we win or lose, we're going to come out of those games learning something — and we're going to use it when we go to VOL (play)."
The Raiders sure weren't bothered by playing from behind last week.
Nichelson ran for a 57-yard touchdown on the game's second play, and Central Catholic quarterback Tyler Wentworth threw an interception to Chris Chavez on the game's third play. The Buffaloes couldn't convert that turnover into points, but a fumble recovery — also by Chavez — just a few minutes later set up Manteca's second scoring drive. Nichelson scored on a 3-yard run for a 14-0 lead.
Then the script changed. The first of several twists and turns.
Teaalo Bullock took Manteca's pooch kickoff at his own 40 and got free along the visitors sideline, breaking multiple tackles before reaching the end zone.
"If we don't get that return, we're kind of just sitting there taking it a little bit," Canepa said.
It was the first of two critical plays from the Raiders' special teams. A recovery of a muffed pooch kick set up Tyler Wentworth's 28-yard scoring pass to Trace Hernandez that gave the team a 42-34 midway through the 3Q.
That was the second of three touchdown passes for Wentworth during a third quarter in which he was 6-for-6 for 114 yards. Manteca tied the game at 42 on a 35-yard run by Nichelson, but Wentworth's 62-yard TD strike to Jaelen Nichols put Central Catholic ahead for good.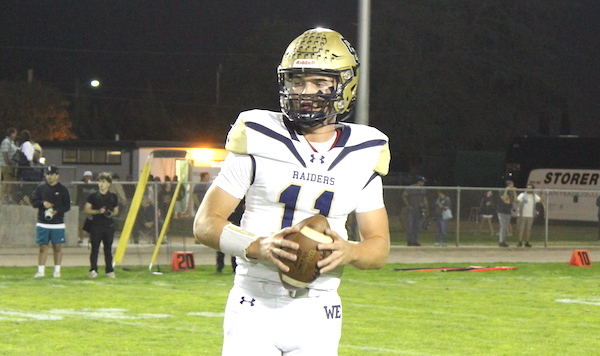 Nichelson finished with 409 rushing yards and seven touchdowns — both school records. Meanwhile, Manteca (8-1, 3-1 VOL) may still have a path to the top seed in the SJS Div. II bracket if it can beat a visiting Oakdale (6-3, 2-2) on Friday night. 
"They're a great football team," Canepa said of the Buffaloes. "This is why you coach. I've got to give them credit. We had to fight and we found a way to win."
There's plenty more challenges awaiting the Raiders in the Division I postseason, including NorCal No. 2 Folsom and No. 3 St. Mary's-Stockton. The latter beat the Raiders 47-7 as part of that aforementioned nonleague gauntlet.
They won't be favorites. But they will be battle-tested.