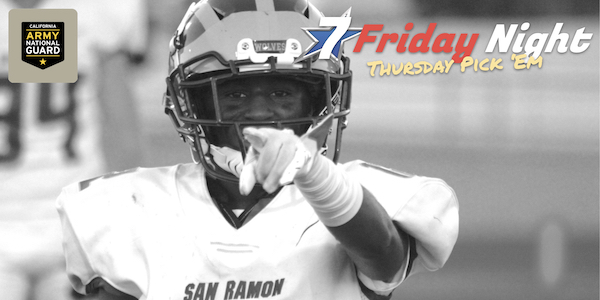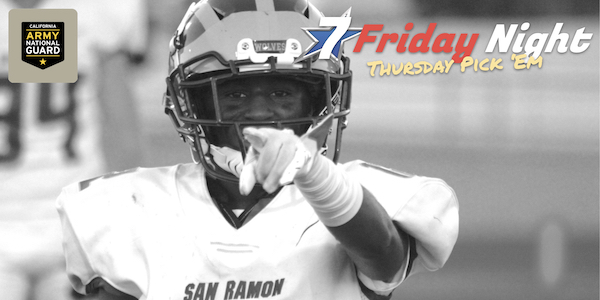 It's Section Championship Pick 'Em Time As The 7 Friday Night Crew Wants You To Have A Side Of NorCal Football Picks For Thanksgiving...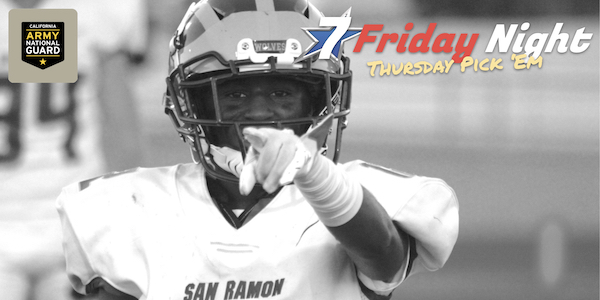 It's Section Championship Pick 'Em Time As The 7 Friday Night Crew Wants You To Have A Side Of NorCal Football Picks For Thanksgiving •
PICTURED ABOVE: San Ramon Valley-Danville senior WR/DB Noah Labeau. (Chace Bryson photo)
With Thanksgiving this Thursday, the 7 Friday Night Pick 'Em show arrives a day early. That way you can either get your NorCal football picks fix on Thanksgiving Eve, or it should make a great companion to your meal prep on Thursday morning.
Ben has taken a three game lead in the standings after a 5-0 week, so naturally Chace suggested a change to the format. This week, in order to get more games picked — and more shoutouts to deserving teams — the hosts partake in a picks draft. The each four games from the Division I-III championships in the three big sections. They also work jointly to pick the final game that went undrafted, and even add a couple Challenge Round picks to finish off. Coach Eidson also makes his three picks after another 2-1 week, and offers a brief "Dumb Football" segment.
LISTEN TO YOUR PODS ON A SPECIFIC PLATFORM? Scroll Down To See Where Else You Can Listen, Rate & Subscribe!
GAMES PICKED INCLUDE:
(Ranks are from SportStars NorCal Top 20)
• No. 4 Pittsburg vs. No. 6 Clayton Valley-Concord
• No. 16 San Ramon Valley-Danville vs. No. 15 Campolindo-Moraga
• El Cerrito vs. Windsor
• No. 1 Serra-San Mateo vs. No. 8 Mitty-San Jose
• St. Ignatius-S.F. vs. Bellarmine-San Jose
• Menlo School-Atherton vs. Hollister
• No. 2 Folsom vs. No. 5 Oak Ridge-El Dorado Hill
• No. 12 Manteca vs. No. 17 Granite Bay
• Grant-Sacramento vs. Christian Brothers-Sacramento
• Pinole Valley vs. Justin-Siena-Napa
• Vanden-Fairfield vs. Capital Christian-Sacramento
7 Friday Night will be publishing new episodes every Tuesday and Thursday during the regular season.
Tuesday episodes will include discussion on the week ahead as well as interviews with Coach Eidson and whoever else we have lined up as guests. Thursday episodes will include Chace, Ben and Coach Eidson's picks and predictions for a selection of games that week. Make sure you're following or subscribed wherever you listen to your favorite podcasts.
Listening platforms include Spotify, Apple Podcasts, Google Podcasts, Breaker, Pocket Casts and Radio Public. Also, feel free to use the same platforms to look up SportStars' other podcasts: The 2021 oral history-style show SportStories, and the ask-an-expert health and fitness show, Know & Go, that's currently in its first season..
All previous episodes of 7 Friday Night, Know & GO and SportStories can also be found here.
Finally be sure to follow our podcasts' Twitter account @SportStarsPods to see guest announcements, participate in listener polls and more. You can also get game updates and scores on Friday nights by following @SportStarsMag.
PREDICTION SCOREBOARD
Through Nov. 19
CHACE
PRIMARY PICKS: 27-15
LOCKS: 10-4
CHALLENGE ROUND: 17-9
OVERALL: 44-24
BEN
PRIMARY PICKS: 28-14
LOCKS: 11-3
CHALLENGE ROUND: 19-7
OVERALL: 47-21
COACH EIDSON
OVERALL: 21-21