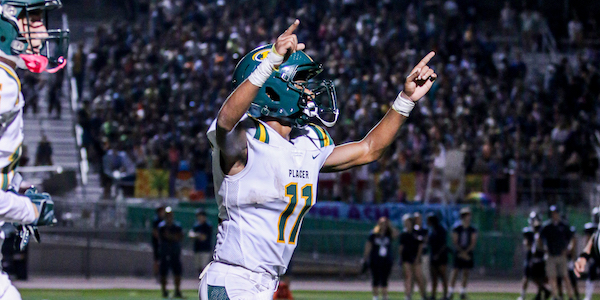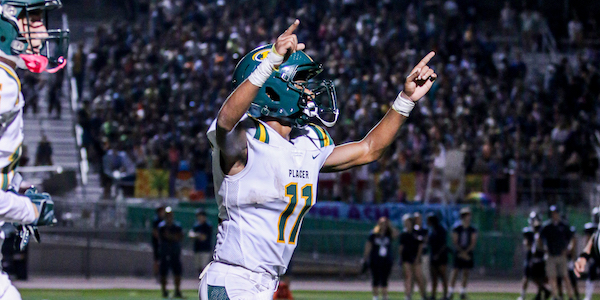 Battle-Tested And Powered By Legacy, The 10-0 Placer Football Team Opens Its Postseason Hosting Woodcreek In A Sac-Joaquin Section Quarterfinal • PICTURED ABOVE: Sophomore...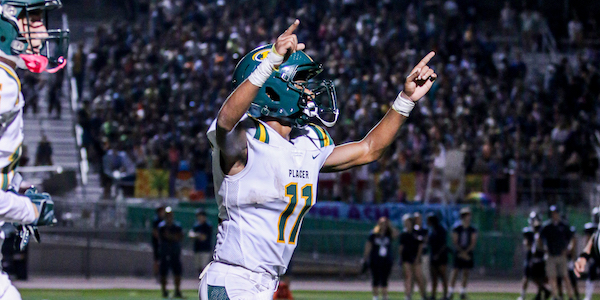 Battle-Tested And Powered By Legacy, The 10-0 Placer Football Team Opens Its Postseason Hosting Woodcreek In A Sac-Joaquin Section Quarterfinal •
PICTURED ABOVE: Sophomore Running Back Baylor Kelley Celebrates During Placer's Sept. 9 Win Over Vista del Lago-Folsom (Ike Dodson photos)
"It's great to be a Hillman."
Coach Joey Montoya's postgame catch phrase has a little stank on it when the Placer-Auburn football team is undefeated.
He ain't wrong though.
Tonight, 10-0 Placer will make its seventh consecutive Sac-Joaquin Section quarterfinal appearance. A win for the top-seeded Hillmen over No. 8 seed Woodcreek-Roseville would give the program six semifinal trips into the SJS playoffs in the last seven seasons.
"There is a lot of excitement and great energy right now," Montoya said Tuesday. "It's been a really fun group to coach, a group that has always been eager and hungry."
That hunger will need to be ravenous.
_______________________________
CONNECT WITH US:
Follow SportStars on Twitter & Instagram | Like us on Facebook | Subscribe!
_______________________________
The Division III playoff bracket is absolutely loaded, so much so that Woodcreek, with a 2,107-student enrollment and eight wins, is only the eighth seed.
Placer has just 1,366 students.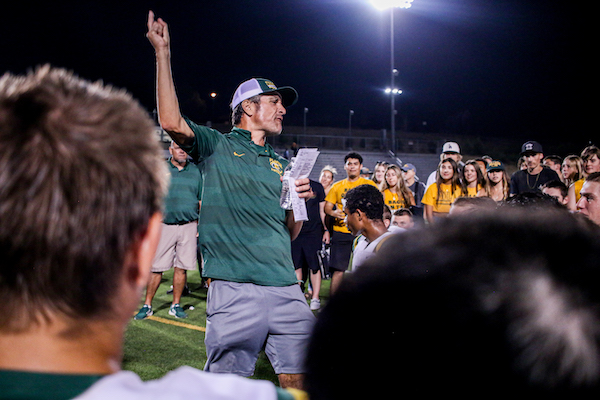 "We knew we would be playing Woodcreek, and would find ourselves in a war in the quarterfinals," Montoya said. "The guys know they have to play a great game on Friday."
The Div. III bracket also contains a 7-2 Grant-Sacramento team that lost just 49-42 to the No. 4 Div. I seed (Monterey Trail-Elk Grove), 9-1 Patterson and 8-2 Christian Brothers-Sacramento.
To survive this gauntlet, Placer will lean on its three most touted players, Foothill Valley League Offensive MVP and two-way lineman Collin Bray, FVL Defensive MVP Josh Maxwell and FVL lineman of the year Zander Esty (Oregon State Commit).
"I expect all those guys to be playing on Saturdays," Montoya said. "I'm so proud of those guys. And while it's obviously awesome to celebrate individual accolades, it's a collective celebration, because this is such a team game."
Placer's most honored players are quick to share the love.
For Bray, it's a reciprocated habit. The Fair Oaks native has always shared his biggest passions on the football field, where competition has forged more family.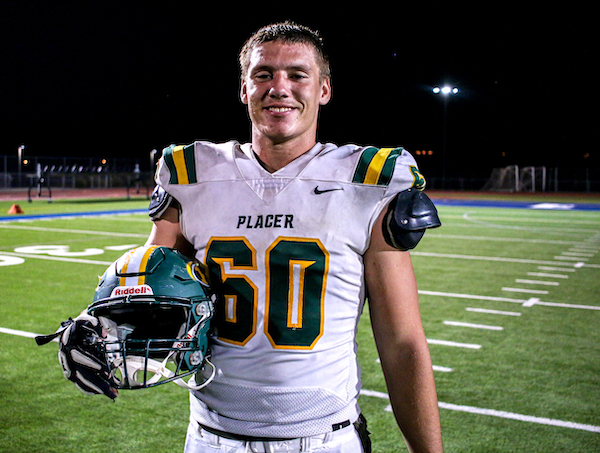 "My whole life, my dad has not been in the picture, and I am an only child, so it's always been me and my mom (Cristia Bray)," Collin said. "Not having a dad was different, and that's how I found football, just having an outlet for my emotions.
"I put it out there on the field."
Collin was the one promising players on the sideline at Vista Del Lago on Sept. 9 that, despite trailing late, they would win that game.
He's been a dynamic pass rusher and run stopper all season, and anchors an offensive line that has led the program to 4,780 offensive yards (3,447 yards and 45 touchdowns on the ground).
"We have been doing it in practice every day," Bray said. "We do all the stuff to be mentally tough in 105-degree heat, so when we come out here to games, it's easy."
Easy in learned execution, but certainly not easy competition.
Placer has three wins by three or fewer points and broke away from a 14-all halftime deadlock with Lincoln before winning 35-14. The Hillmen also overcame a 28-point fourth quarter from West Park-Roseville to hand the second-year varsity program its only defeat of the season, 42-35.
It was a 100-yard all-purpose game for Maxwell, who is himself quite all-purpose.
He's the "hurt you from anywhere" specialist who seems to shine when needed most.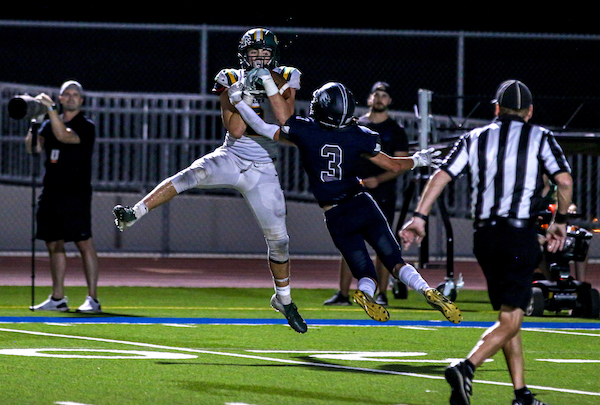 And he credits the coaching.
"We got some of the best coaches around, and their experience in coaching is crazy," Maxwell said. "When you come to Placer as a freshman, you learn that every coach trusts the process and buys into the program, and that's what they need from us, to buy into the program and trust the process.
"I trust Montoya, and I know he is always going to put us in the best position to win, as long as we are willing to buy in."
It's the price of being great.