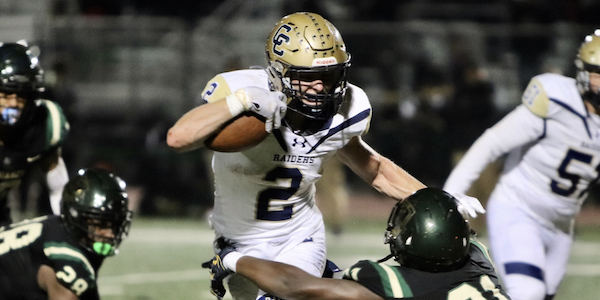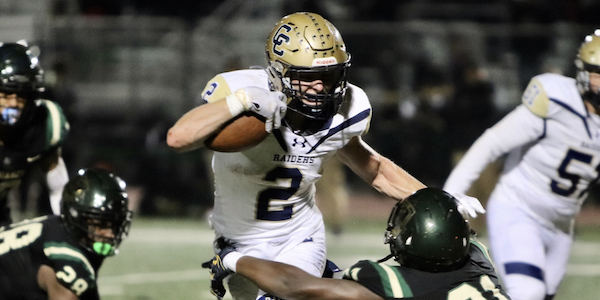 Senior Running Back Tyler Jacklich Ran For 288 Yards And Four TDs As Central Catholic Rolled Monterey Trail For A Date With Top-Seed Folsom...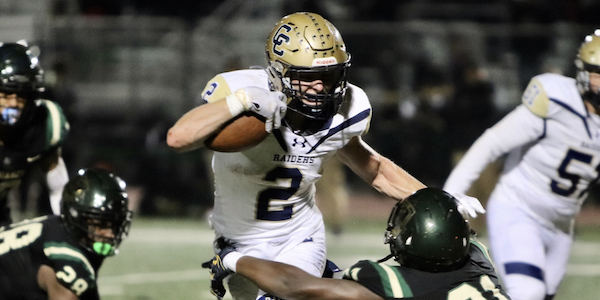 Senior Running Back Tyler Jacklich Ran For 288 Yards And Four TDs As Central Catholic Rolled Monterey Trail For A Date With Top-Seed Folsom •
Tyler Jacklich knows his history when it comes to high achieving running backs that have come through the Central Catholic-Modesto football program.
A standout senior season has added Jacklich's name to that list, and thanks in large part to his 288-yard, four-touchdown performance, No. 5 seeded Central Catholic is headed to the Sac-Joaquin Section Division 1 semifinals after a 56-29 victory at No. 4 Monterey Trail-Elk Grove.
The win earns the Raiders a shot at No. 1 seed Folsom next week in Folsom. A big-time matchup against the top seeded Bulldogs will present another opportunity for Jacklich to add to his chapter in Central Catholic history, but to get that chance, the Raiders' lead runner did everything he could to make sure there would be more football for he and his teammates to play.
Having already built a 21-7 lead by halftime, Jacklich helped Central Catholic (8-4) turn up the heat in the third quarter. After his kickoff return put the Raiders on their own 44 to start the first drive of the second half, Jacklich ripped off runs of 19, 23 and 14 yards to make it 28-7 in just over a minute of play.
Jacklich gained 153 yards in the third quarter alone, and by the time the period ended, Central Catholic found itself with a suddenly comfortable 49-13 lead over the No. 4 Mustangs (8-3).
"We went into the locker room and coach (Roger) Canepa gave us his pep talk. Halftime he always hypes us up and gets us back to 100 percent just like the start of the game," Jacklich said. "I give the credit to my line. They open up that hole for me, I see it, I've got to break one tackle and it's game over from there on."
_______________________________
CONNECT WITH US:
Follow SportStars on Twitter & Instagram | Like us on Facebook | Subscribe!
_______________________________
Central Catholic's other star Tyler, quarterback Tyler Wentworth, did his part when called on, tossing two touchdowns and running for another.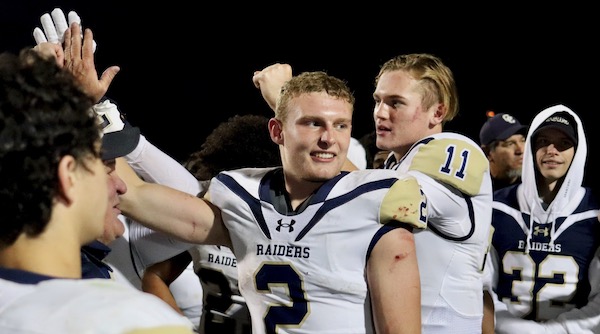 But for as much as he likes commanding a game through the air, even he knows when it's time to sit back and watch.
"Obviously, I like to throw but watching him, I carry out my fate and then I just watch the show," Wentworth said. "He puts on a show every night. I'm just glad to be a part of it and glad I'm on his team."
After a junior year spent watching the powerful tandem of Aiden Taylor and Julian Lopez, Jacklich stepped into the starter's role in 2022 with designs on establishing himself as a true lead back.
But for all he learned last year, the real lesson came a few years earlier. Jacklich's older brother also Kyle starred for the Raiders, rushing for nearly 1,000 yards in 2018.
"The main reason I actually wanted to play running back at Central Catholic was my brother. I wanted to follow in his footsteps," Jacklich said. "He was No. 2 and a running back for Central Catholic, he was a dog too, he did just what I'm doing. I learned everything I do from him and I do it all for him too."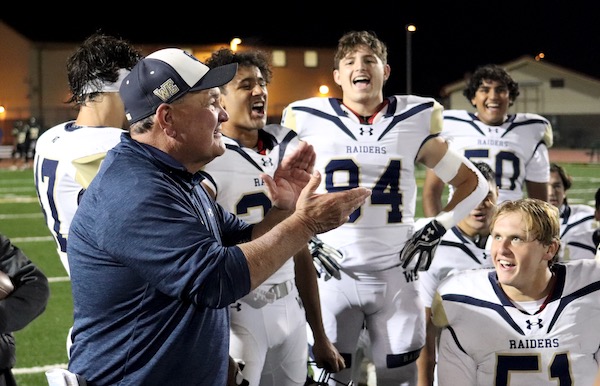 By rushing for 288 yards against the Mustangs, Jacklich eclipsed the 2,000-yard mark for the season. 
But that isn't where he and the Raiders want the story to end.
"We need to have a good week of practice. We all need to go in with no messing around, no fun or games," Jacklich said. "When it comes to this and you play a team like Folsom, it's no games. You have to be 100 percent into it. We have to work hard, watch film, and execute."