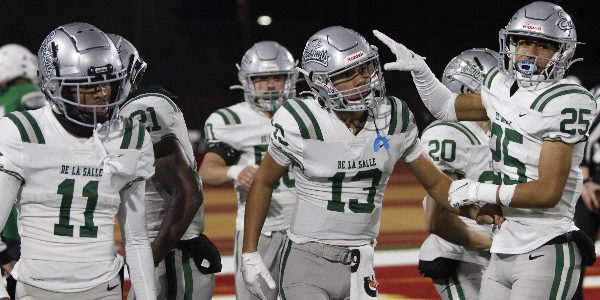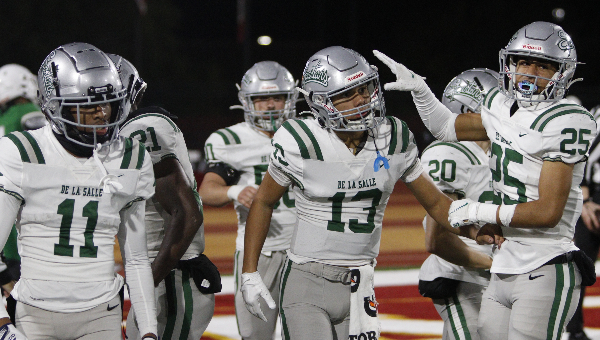 Lincoln Hornets Become First San Diego School To Top Spartans Despite De La Salle Nearly Pulling Off Epic Finish To Topsy-Turvy Season Nothing seemed...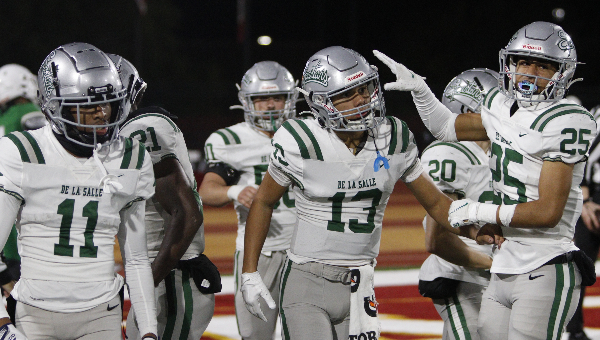 Lincoln Hornets Become First San Diego School To Top Spartans Despite De La Salle Nearly Pulling Off Epic Finish To Topsy-Turvy Season
Nothing seemed easy for the 2022 De La Salle football team. That included the ending. Which finished 20 yards shy of being a happy one.
Trailing 33-28 with less than two minutes remaining, Spartans sophomore running back Derrick Blanche made a terrific contested catch at the 20-yard line of Lincoln-San Diego. It looked like momentum was fully on the De La Salle's side as it attempted to come all the way back from a 13-point third-quarter deficit.
But a holding penalty followed by an incomplete pass and a pair of sacks brought an abrupt end to the program's roller-coaster season. Lincoln prevailed 33-28, becoming both the CIF 1-AA State Bowl Champions and the first San Diego Section school to beat De La Salle. Previous section teams were 0-6.
The championship game at Saddleback College in Mission Viejo on Friday night was a fitting encapsulation of De La Salle's up-and-down season. The Spartans (10-4) had some costly turnovers and missed tackles in addition to some explosive plays and gutsy efforts.
"When we have opportunities we have to come through and you have limited opportunities in championship games," De La Salle football coach Justin Alumbaugh said. "But you also have to have some perspective. … There are a lot of seniors on this team who literally gave all of themselves.
"I think the thought needs to be about what it took to get here and the life lessons and the life bonds they created. It's a great group. They re-instilled a lot of culture for us."
Lincoln (13-1) trailed 14-7 at the half but stormed into the lead with a three-touchdown third quarter behind the legs of Georgia-committed senior running back Roderick Robinson.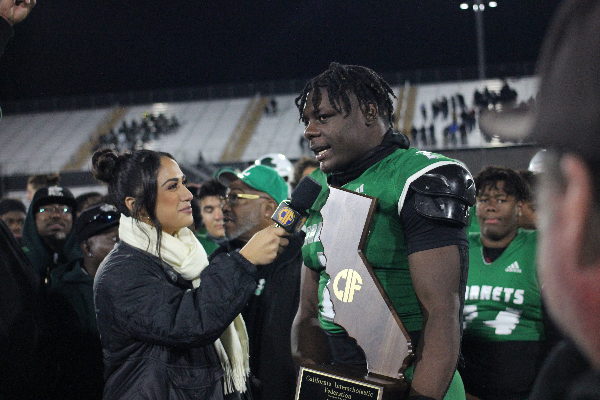 Robinson entered the game with more than 2,000 rushing yards on the season and 33 rushing touchdowns. He had just 38 rushing yards at the half on Friday but broke free for 60 on the first play of the third quarter. Two plays later he scored from 32 yards out.
Robinson scored again on a 2-yard run with 1:24 left in the third quarter, which put the Hornets up 27-14.
"He was as advertised," De La Salle offensive lineman Derek Thompson said of Robinson. "He was running kids over. Georgia doesn't recruit bad football players. They're definitely getting a good one."
De La Salle got back in the game behind the efforts of quarterback Toa Faavae. The sophomore set a CIF State Bowl record for longest touchdown run with an 88-yard designed run just 20 seconds after Robinson's second third-quarter touchdown.
After Robinson scored his fourth touchdown of the night on another 32-yard run, Faavae led the Spartans to an answering score. This time he hit Blanche for a 39-yard touchdown. Faavae finished with 158 rushing yards and two touchdowns while throwing for 144 yards and a score.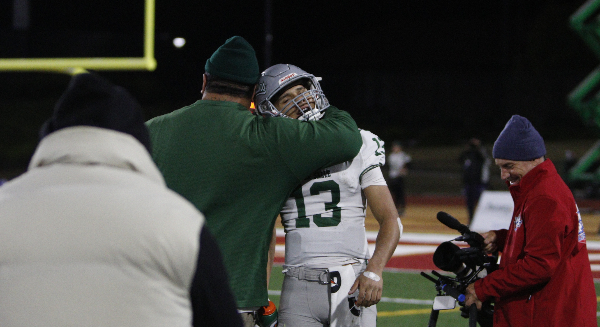 "We kept fighting. We kept fighting and we had an opportunity to win," Alumbaugh said. "There's a lot to be said and a lot to be proud of for that."
The Spartans actually held the first lead of the game.
After a first quarter that featured a pair of promising drives come up empty, De La Salle finally broke through when Charles Greer ripped a 67-yard touchdown run for a 7-0 lead with a little more than four minute left in the half.
Lincoln, which didn't have a first down until midway through the second quarter, finally got its offense started with the passing game. Robinson capped the 75-yard drive with a 3-yard run with just 27 seconds left in the half.
But the Spartans would still lead at halftime after freshman Jaden Jefferson took a reverse handoff on the ensuing kickoff and carried it 36 yards to midfield. Faavae hit Journey McKoy on a long pass to the Lincoln 6-yard line and the quarterback scrambled for a 6-yard score one play later. It was a 23-second scoring drive.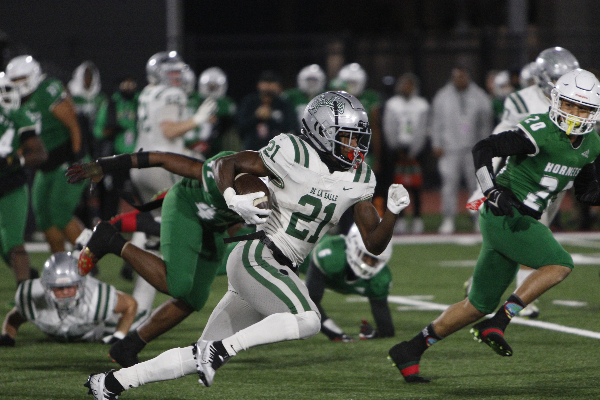 Robinson finished with 222 rushing yards on 22 carries. Greer finished with 120 yards on 16 carries.
"This game, it sucks," Thompson said. "It's the last memory of this team, but life goes on. There will be other great things in life. … Tonight didn't end up the way we wanted it to, but there's still a lot of potential for next year. Coach Alumbaugh will get them ready."