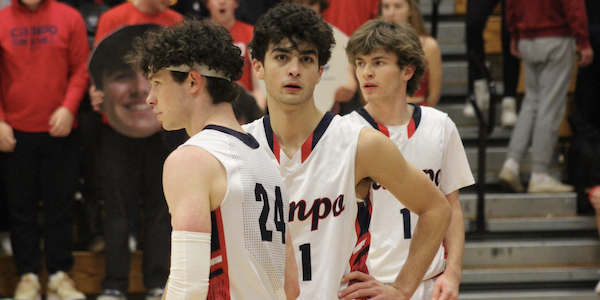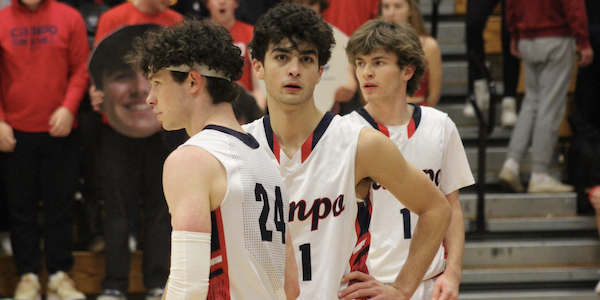 In Avenging Its First League Loss In Four Years, Campolindo Basketball Assured Rest Of NorCal That It Will Remain A Formidable Postseason Foe •...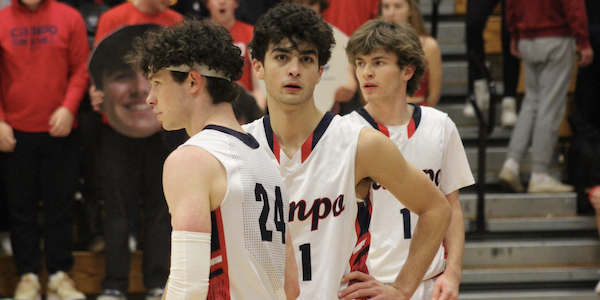 In Avenging Its First League Loss In Four Years, Campolindo Basketball Assured Rest Of NorCal That It Will Remain A Formidable Postseason Foe •
PICTURED ABOVE: (Left to Right) Logan Robeson, Dylan Mansour And Clay Naffziger Await Play To Resume Following A Timeout. (Chace Bryson photos)
Nobody was out there saying the Campolindo basketball team was slipping. 
But for the first time in several seasons, the Cougars haven't commanded the spotlight. They've spent all season in the Top 10 of most Bay Area rankings and in the bottom half of SportStars' NorCal Top 20 rankings.
But when a Jan. 11 road loss at Clayton Valley-Concord snapped Campolindo's near-four year Diablo Athletic League winning streak, the Cougars inched a little further into the background among the NorCal basketball community. 
Three weeks later, Campolindo (17-6, 8-1 DAL) is back tied for first place in the DAL-Foothill Division — and in the driver's seat for the league's automatic berth to the North Coast Section playoffs. The designated league champion is key in securing home games against at-large playoff teams. 
The team gained that advantage on Tuesday night with a 60-53 revenge victory over visiting Clayton Valley.
"It means everything," senior wing Logan Robeson said. Robeson had 18 points and seven rebounds in the win. "We've kind of been the ones on top of this league for the longest time, and we'd hate to be the team that breaks that streak. To come out here and get it done in front of everybody just means everything. We control our own destiny now, and it feels really good."
_______________________________

CONNECT WITH US:
Follow SportStars on Twitter & Instagram | Like us on Facebook | Subscribe!
_______________________________
Make no mistake, the Cougars performance wasn't just meant as a statement to Clayton Valley — but a reminder to anyone beyond the Diablo Athletic League who may have been checking Twitter or MaxPreps for the score later that night. 
Moraga is not a place you'll want to travel to in late February.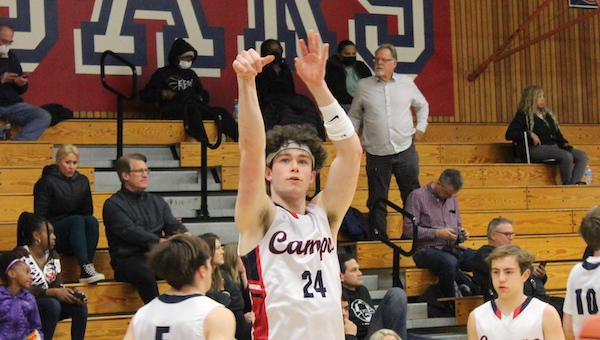 Clayton Valley (20-3, 8-1) never led at any point. If the first 16 minutes didn't qualify as Campolindo's best half of basketball this season, it's probably on a short list for it. 
The Cougars opened the game on a 10-0 run. They hit seven 3-pointers in the half, and recorded assists on 11 of 14 made baskets. Defensively, they held the Ugly Eagles to just 22 points (eight in the second quarter). 
"We just came prepared," senior Shane O'Reilly said. "We've been marking this game on the calendar for awhile now. We knew it had league title implications so we just took it as serious as we could."
O'Reilly's presence was a key difference between the first and second meetings with Clayton Valley. He missed the first matchup due to injury. With nine of his 13 points in the first quarter, O'Reilly clearly relished his opportunity to make up for his previous absence. 
Clay Nafzigger was the team's third senior to reach double figures. He actually led all scorers with 19 points. His night included four 3-pointers and seven rebounds.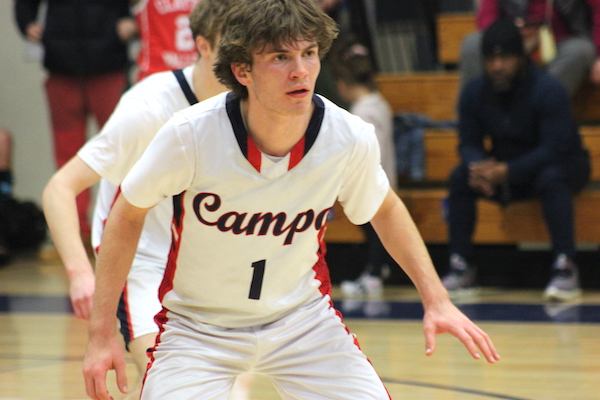 "We thought going in that we were going to win," Campolindo basketball coach Steven Dyer said. "Not to sound overconfident, but this is a confident group. We have a lot of guys that have won big games. Logan, Shane and Clay have all been part of teams that have won NorCal championships, NCS championships. They've been there before and played in those games. They're confident guys. Dylan Mansour and Tyler Bergren were part of that (NorCal Open Division finalist) team last year, and they know how to step up as well."
Mansour, a junior wing, has become an extremely versatile weapon for the Cougars. He showed that versatility with six points, six rebounds and six assists against the Ugly Eagles. Bergren didn't crack the scoring column, but still had three assists, two steals and two rebounds.
Clayton Valley coach Frank Allocco Jr. was far from surprised by the Campolindo team that showed up that night.
"They sort of approached this game, I don't want to use the word 'desperation', but they — for good reason — wanted to get this and they earned it," the second-year Ugly Eagles coach said. "For our guys, it was good to play in an environment like that against a great team that's out for blood, and to respond and battle."
As the defending champ, Campolindo is almost assured selection into the NCS Open Division where the Cougars will likely be joined by at least three East Bay Athletic League teams, likely Salesian-Richmond and potentially Clayton Valley. Selection and seeding will take place on the night of Feb. 11.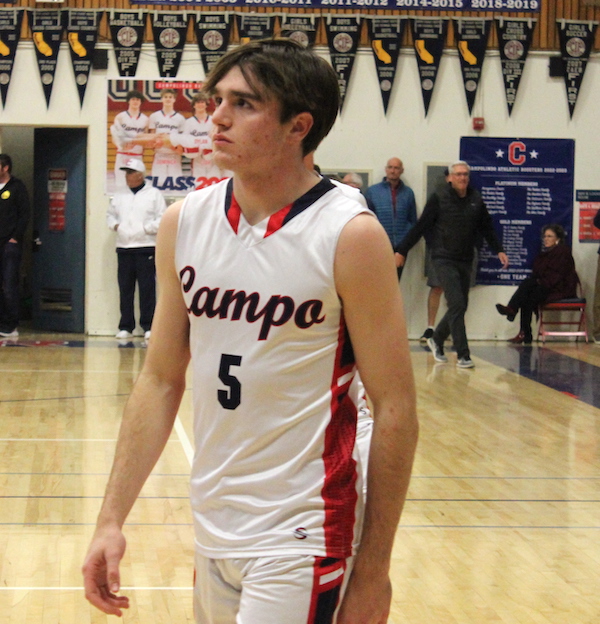 Before then, Campolindo can clinch the league's automatic NCS berth by winning its final three DAL contests against Las Lomas-Walnut Creek (Feb. 2), College Park-Pleasant Hill (Feb. 7) and Acalanes-Lafayette (Feb. 11). Should both the Cougars and Clayton Valley finish 11-1, Campolindo owns the tie-breaker of winning the second league meeting.
Momentum in February matters. And Campolindo is a team that knows how to ride it.
"We've had success in this league for a long time, and we have a coaching staff that knows how to get wins in this league," Robeson said. "As long as we stay disciplined and keep doing what they tell us, we're going to do great things."
Keep that spotlight handy.