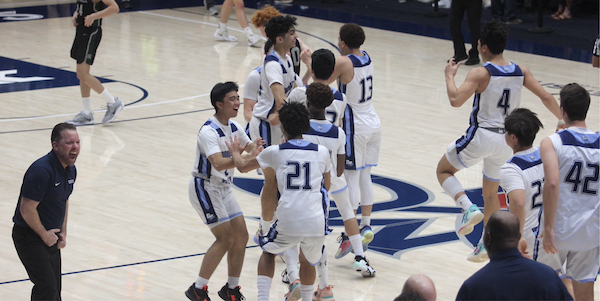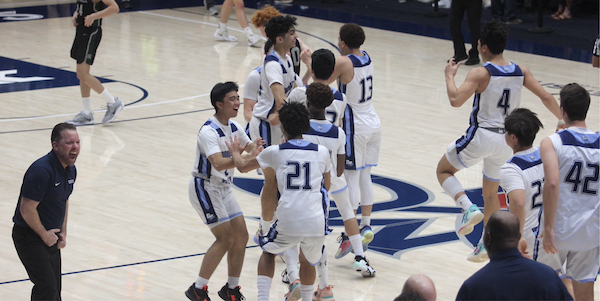 Seniors Lead The Way As Dougherty Valley Basketball Solidifies Its Standing As North Coast Section's Best With Open Championship Win • Dougherty Valley basketball...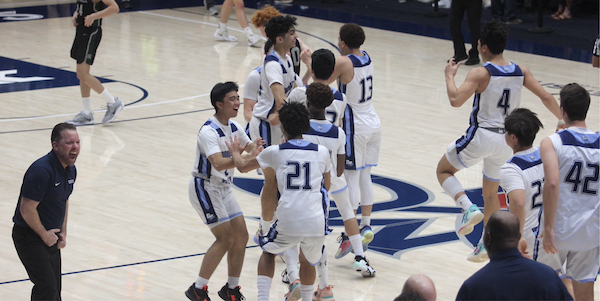 Seniors Lead The Way As Dougherty Valley Basketball Solidifies Its Standing As North Coast Section's Best With Open Championship Win •
Dougherty Valley basketball coach Mike Hansen handed Ryan Beasley the scissors and pointed upward.
Four years after beginning his Dougherty Valley High basketball career on the Saint Mary's College hardwood as an incoming freshman at the Randy Bennett Basketball Camp, Beasley was back inside the University Credit Union Pavilion — and he was about to cut down the net.
Beasley scored 21 points Friday night to lead all scorers as the Wildcats defeated De La Salle 65-51 to claim the North Coast Section Open Division championship before a crowd of close to 3,000. 
The first NCS title for the program.
"It's unbelievable," said Hansen, who's been the San Ramon school's only coach. "We opened the school in 2007, and it was like, 'Are we ever going to get anywhere?' You just keep believing and grinding. I leaned on my buddies. My coaching buddies. My dad. Just keep grinding it out. Eventually it will turn, and it did. Boy, this is special."
The Wildcats, ranked No. 2 in SportStars' NorCal rankings, improved to 26-3 with the victory. Their three losses were to a pair of Southern California teams, and a 64-61 January loss at Monte Vista-Danville with Beasley out of the lineup. It's expected they'll draw a top two seed when the CIF Open Division state playoff field is set on Sunday afternoon.
"This is big momentum for us," Beasley said. "We're going to enjoy this one, but get right back to work next week."
Despite 14 lead changes and six ties over the first 24 minutes of action, Dougherty Valley never trailed after any quarter of play. The Wildcats led 16-15 after one, 31-28 at the half, and 46-42 at the end of three quarters.
It was a step-back 3-pointer by Beasley that broke a 40-40 tie late in the third quarter which gave Dougherty Valley the lead for good. Chris Fallgren came off the bench to sink a corner 3 in the waning seconds of the quarter to put the team up four.
Four different Wildcats finished in double figures. In addition to Beasley's game-high, fellow seniors Connor Sevilla had 13 and Blake Hudson had 12. Junior wing Aadi Malali posted 10. 
_______________________________

CONNECT WITH US:
Follow SportStars on Twitter & Instagram | Like us on Facebook | Subscribe!
_______________________________
"Credit them," De La Salle coach Marcus Schroeder said. "The Beasley kid is just a ridiculous player. He's really, really good. Sevilla is awesome, and then Hudson got loose and got some buckets as well. And credit their role players cause they hit some big shots too."
De La Salle (21-8) played a majority of the second half without top scorer, sophomore wing Alec Blair. He opened the half with two fouls, but after scoring two quick baskets he was whistled for a pair of fouls in the span of a minute. He exited with 5:24 left in third quarter.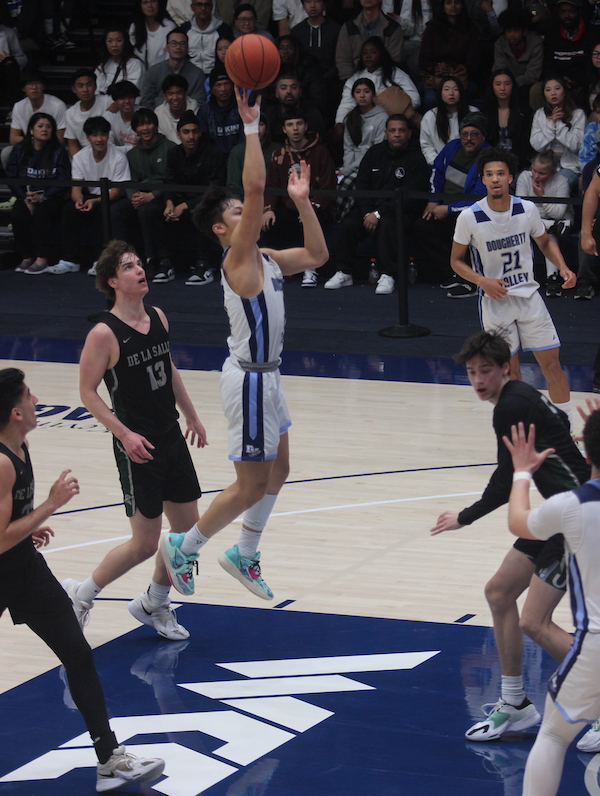 Blair returned with 6:07 left in the game and the Spartans within three, 50-47. But Dougherty Valley never let them get any closer and Blair fouled out with 3:45 to play. 
A basket inside by senior forward Landon Edmond, a 3-pointer from Malali, and back-to-back layups in traffic by Hudson, keyed a 9-2 run that put the Wildcats up 59-49 with under two minutes to play. 
"I get a little nervous. I never think it's in the bag until the horn goes off," Hansen said.
There was no official court storming from the packed Dougherty Valley student section. But there was still plenty of joy on the floor when the horn finally did sound. 
Sevilla carried the NCS championship banner with him for several minutes while players, parents and fans took photos on the floor.
A reporter asked the point guard what it took to reach that moment.
"Takes grit. A strong team," the senior said. "We have so much team chemistry. Last year we were in the same position in Division I and came up a little short. Our coach told us after that game, we're going to be back and in the Open Division. Just to be here, it means everything. We're a family. This is all a team effort. All our guys are bought in."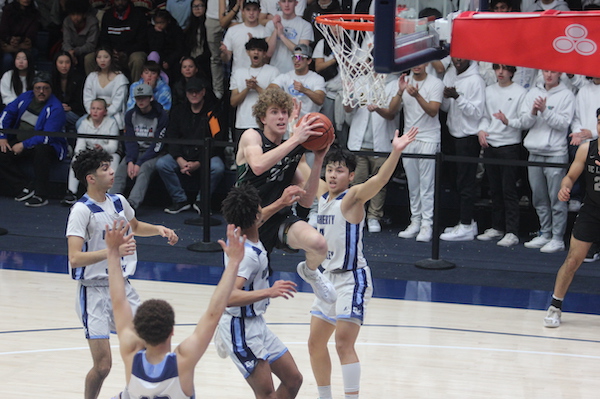 The Spartans were led by Billy Haggerty's 14 points and Blair contributed 11. They too will await their regional playoff seed when the state brackets are announced Sunday. Schroeder anticipates they'll land in the Open Division (where a rematch with Dougherty Valley is certainly possible). 
"I think they'll take two from NCS and we'll be the second," De La Salle's second-year coach said. "That's an accomplishment right there. To be top eight in NorCal. I'm proud of our program for that."