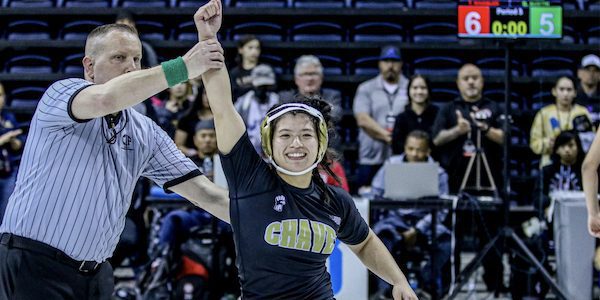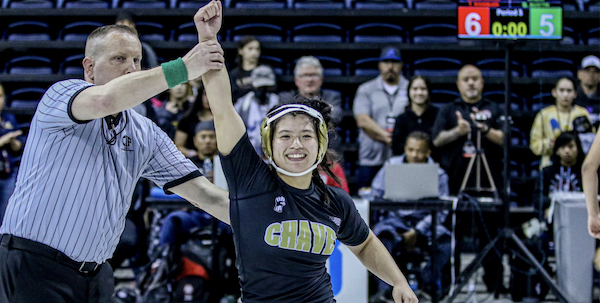 A Strong Weekend For Boys & Girls NorCal Wrestling Yielded Eight State Titles At The CIF State Wrestling Championships In Bakersfield • PICTURED ABOVE:...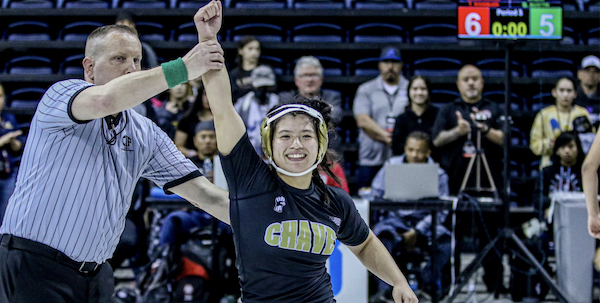 A Strong Weekend For Boys & Girls NorCal Wrestling Yielded Eight State Titles At The CIF State Wrestling Championships In Bakersfield •
PICTURED ABOVE: Cesar Chavez-Stockton Senior Taydem Khamjoi, Who Won The 131-Pound Girls State Title On Feb. 25. (Ike Dodson photos)
Sixty-four Northern California wrestlers escaped the three-day CIF State Wrestling Championships at Mechanics Bank Arena in Bakersfield with the ultimate bling.
Despite tremendous opposition from Central, Southern, Los Angeles and San Diego Section foes, NorCal's best shined on the biggest stage of prep competition to earn a state medal during Saturday's march up the podiums.
Perhaps no-one understands opposition quite like the second Branham-San Jose state champion in school history and first since 1983, 106-pound senior Scotty Moore. The Gilroy transfer didn't even join the program until late January.
He also missed two years from the mat while recovering from extensive surgery to repair a torn bicep and labrum he suffered in the state tournament his freshman year (he was sixth for Gilroy at the same weight).
"He's had a tough journey," Scotty's father, Scott Moore said. "It all came full circle at state."
At state this year, he overcame his sixth seed by slipping past No. 3 Thunder Lewis of Clovis in an 8-7 quarterfinal. Scotty pinned the second seed and bronze medalist Abram Cline of Granite Hills-El Cajon in the semifinals and overwhelmed top seed Rocklin Zinkin of Buchanan in the finals. Scotty was up 6-1 before a third-round pin. Scotty was also named the CIF "Dave Schultz Champion of Champions," awarded to the top wrestler, overall.
_______________________________

CONNECT WITH US:
Follow SportStars on Twitter & Instagram | Like us on Facebook | Subscribe!
_______________________________
The Central Coast Section champion began his journey in the Sacramento area in the youth wrestling rooms of El Dorado Hills, Granite Bay and Folsom. He credited his CCS success to Gilroy coach Daniel Cormier, Los Gatos coach Greg Varela and Branham coaches Greg Stefani and Ryan Matthews.
His late entry to the 2022-23 season was attributed to a lack of motivation.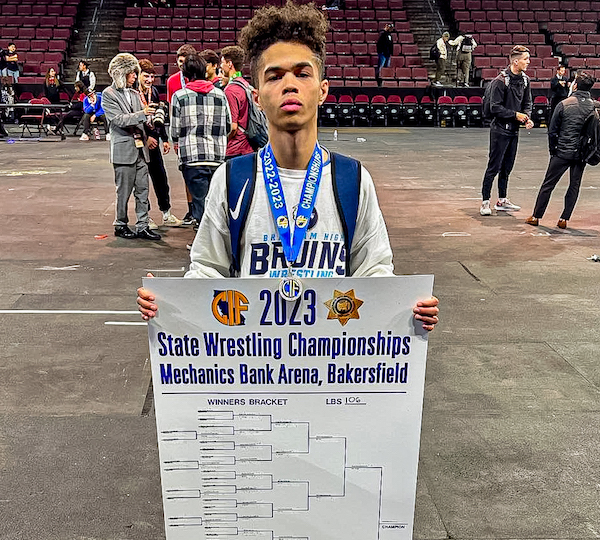 "I just wasn't feeling wrestling," Scotty admitted. "Then I saw people win the (Doc Buchanan), and I was like, 'I could do that,' so it made me pretty hungry to get back in it.
"It felt really good (to win state), and it's what I have been looking forward to for a while."
Including Scotty, the CCS won four of 14 weights. Gilroy finished third in team scoring (194 points), and would have seriously challenged Buchanan (244) for the team title, if not for the absence of gold-medal favorites Cody Merrill (injured at 220) and Moses Mendoza (missed weight at 113), who didn't make the postseason. 
"As soon as Cody got hurt, we realized we wouldn't be first this year, but we knew we had to leave it all on the mat so (the top teams) were going to know that with those two guys, it was going to be first for us this year," 120-pound Gilroy champion Isaiah Cortez said.
Isaiah's twin brother, Elijah Cortez, won the 126-pound title at state. Both earned the top seed after brilliant seasons and combined for 11 straight wins at the pinnacle of California prep wrestling. They did it in front of 15 family members who made the trek to Bakersfield, including their father, Jesse Cortez, and mother, Rosalyn Cortez.
"I saw them in the stands after I won and I pointed to them, because I definitely couldn't have done it without them," Isaiah said. "Elijah wrestled first (in the finals) and won his match, which gave me confidence for sure."
Isaiah avenged his only defeat of 2022 by beating Isaiah Quintero of El Dorado-Placentia in a 1-0 showdown Saturday. Since his aggression cost him last year at state, he adopted a defensive strategy for the 2023 finals, and scored the match's only point when he escaped in the second round.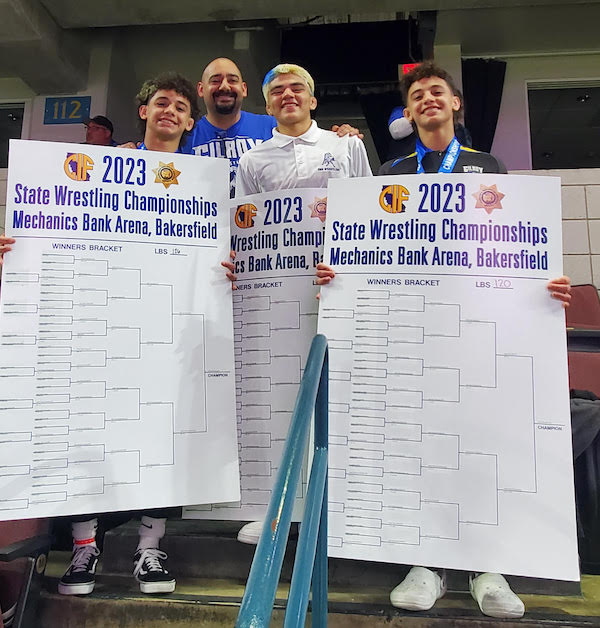 "I stayed on my knees, keeping a solid base, ready to defend and counter, and in the third period I rode him out (in the top position)," Isaiah Cortez said. "We had a scramble at the end that carried out to the end of the round."
Elijah won a 3-1 semifinal to reach the gold-medal match and beat Buchanan's Joseph Toscano in a 2-1 contest to win his weight. He said ultra competitive training with his brother was key.
"We definitely go at it, in the wrestling room or at our house," Elijah said. "It makes us both so much better."
The two constantly battle, and not just on the mat.
"Surprisingly we are really into chess," Elijah said. "It goes back and forth, but I am better."
"That's not true," Isaiah interrupted.
"We all know the real answer," Elijah laughed.
Daniel Zepeda also won a state title for Gilroy at 132.
CIF wrestling success at Pitman-Turlock is not ignored. State championships, like the first two won by Lillian Freitas, were commemorated by banners in the Pride gymnasium.
Administrators will have to clear a spot for a new Lillian. A first-round pin over Southern Section champion Lilyana Balderas of Anaheim in the 121-pound finals gave Lilly Avalos her third state medal and her first state title.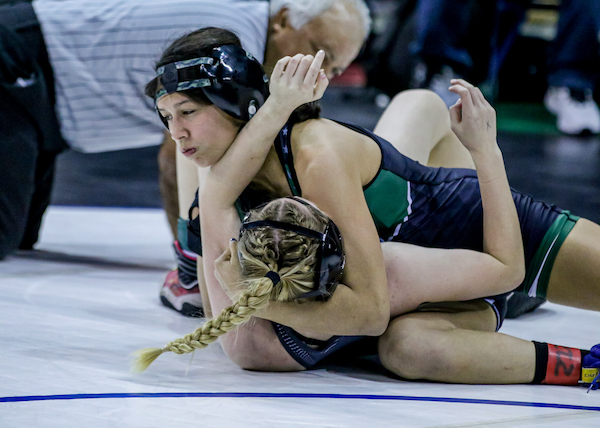 "It's pretty special," Pitman coach Adam Vasconcellos said. "She was chomping at the bit to make sure her face would be up there in the gym."
Avalos finished her senior campaign with an undefeated record. She will compete at Vanguard University in Costa Mesa next season.
"She has done almost everything you can possibly do in wrestling, from a Reno World title to state championships in freestyle and being undefeated on national teams, so the only thing left was for her to have an undefeated season and be a state champion," Vasconcellos said. "She did it while battling through some things, like a hurt shoulder, so it shows how great a human being she is."
Pitman was third (86 points) in team scoring at state, despite bringing just four qualifiers. Gabryella (131) and Baya (126) Austin both finished second after reaching the finals.
Perhaps the biggest favorite to win state, Alana Ontiveros, saw a stunning exit from the tournament after a narrow 8-6 loss in the second round and a consolation bracket pin in a match she was winning 5-0.
"Alana had been pretty sick the last two weeks, and we were only able to have one practice. And she has never had a bad tournament in her entire four-year career, but it happens in wrestling," Vasconcellos said. "If we wrestle this tournament 15 times, Alana probably wins it 14 times. She wrestled hard this year, and I am proud of her."
Four girls Ontiveros already defeated this season reached the medal podium at state, including eventual state champion Gianna Dibenedetto of Bella Vista-Fair Oaks. Ontiveros pinned her in just 26 seconds one week prior during the Sac-Joaquin Section Masters finals.
Alana's brother, freshman Mason Ontiveros, made his mark at state at 170 pounds. The seventh seeded wrestler lost 6-2 in the quarterfinals to state runner-up Sloan Swan of Buchanan-Clovis, and won consecutive matches in the consolation bracket to guarantee a medal. He pinned No. 6 seed Micah Doug Porter of Gilroy in the "blood round" and beat No. 8 Max McWilliams of Calvary Chapel-Costa Mesa 8-6 to reach the consolation semifinals. He lost that match to SJS champ Carlos Garcia of Oakdale, but came back to win 3-1 over Adrien Reyes of Clovis to finish fifth.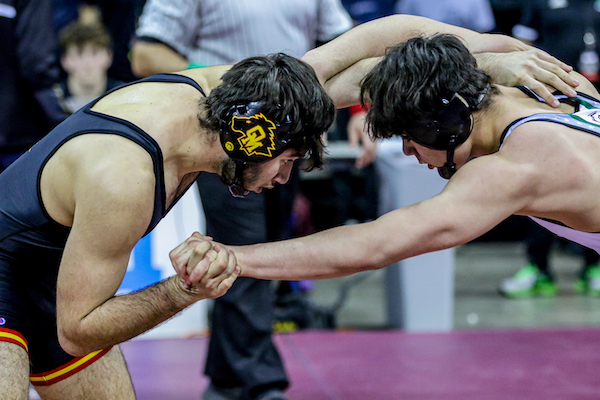 "Mason is a different kid," Vasconcellos said. "He loves the sport of wrestling, and when he got to the arena he was just bouncing around, saying he couldn't believe he gets to wrestle there.
"I have been coaching him a long time, and even when he was really young he had so much horsepower, but he has gotten so much better, skill-wise, in these last 10-11 months."
Achilles Clark also reached the quarterfinals for Pitman at 220, but the SJS runner-up fell just one win short of a state medal.
NorCal girls won 35 medals at state. One of those was a first-place marker for Cesar Chavez senior Taydem Khamjoi, who won her third straight showdown with Pitman's Gabryella Austin by pinning her in the midst of a 9-0 lead.
The win will make accepting credibility at school a bit easier.
"Everyone is always telling me, 'you are hella good,' and asking me how good I am in the state, and I always say, 'I'm up there, but I have never won state.'
"Now I can say I am number one."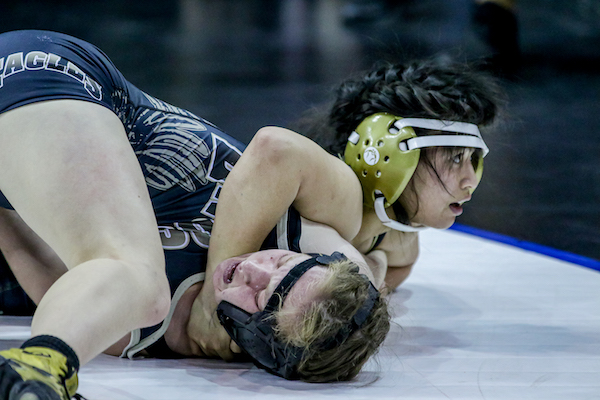 Khamjoi has now won three state medals in three attempts, and is excited to see her CIF gold already inspire recruitment.
"A lot more colleges have contacted me already," she said a day after her title grab. "It's pretty fun, now that I have more options."
Kahmjoi is the first state champion, boys or girls, in school history. She and the rest of NorCal's state placers are listed below:
NORCAL CIF MEDALISTS
GIRLS
101
Fourth: Kaiya Maggini, Fr., Del Oro-Loomis (SJS)
Fifth: Abbeygael Cabuag, Sr., Presentation-San Jose (CCS)
106
Fourth: Cynthia Meza, So., Calaveras-San Andreas (SJS)
Eighth: Aleena Nguyen, Fr., Central Catholic-Modesto (SJS)
111
First: Kiely Tabaldo, Sr., Menlo-Atherton (CCS)
Fifth: Mikayla Garcia, Jr., James Logan-Union City (NCS)
121
First: Lillian Avalos, Sr., Pitman (SJS)
Sixth: Mason Harsch, Jr., Monte Vista-Danville (NCS)
126
Second: Baya Austin, Fr., Pitman (SJS)
Third: Tamara Grace, Fr., Gilroy (CCS)
Fourth: Loretta Lopez, Sr., Elk Grove (SJS)
Seventh: Alondra Juarez, Jr., Alisal-Salinas (CCS)
131
First: Taydem Khamjoi, Sr., Cesar Chavez (SJS)
Second: Gabby Austin, So., Pitman (SJS)
Fourth: Sophia Hejnal, Jr., Enochs-Modesto (SJS)
137
First: Gianna Dibenedetto, Jr., Bella Vista-Fair Oaks (SJS)
Second: Valerie Glenn, Sr., Gilroy (CCS)
Fourth: Kayleen Tuavao, So., Tokay-Lodi (SJS)
Fifth: Alex Maday, So., Whitney-Rocklin (SJS)
Eighth: Ariana McPike, Sr., Mills-Millbrae (NCS)
143
Seventh: Megan Stottsberry, Sr., Orland (NS)
Eighth: Luna Stathopoulos, Jr., Novato (NCS)
150
Third: Mikayla Lancaster, Jr., Gregori-Modesto (SJS)
Fourth: Angeline Turner, Jr., Davis (SJS)
Fifth: Kaiulani Garcia, Jr., Gilroy (CCS)
Seventh: An Nguyen, Sr., Evergreen Valley-San Jose (CCS)
160
Third: Sophia Yurkovich, Sr., Liberty-Brentwood (NCS)
Sixth: Najeh Russo, Sr., Buhach Colony-Atwater (SJS)
170
Second: Kathryn Hingano, Jr., Rio Linda (SJS)
Fourth: Bianca Pesole, Sr., Elk Grove (SJS)
Eighth: Angela Gutierrez, Sr., Gridley (NS)
189
Sixth: Katianna Martinez, So., Evergreen Valley (CCS)
Seventh: Angelique Trueblood, Sr., Pleasant Valley-Chico (NS)
235
Fifth: Gemma Templeton, Jr., Rocklin (SJS)
Seventh: Julia Gomez, Jr., East Nicolaus (NS)
BOYS
106
First: Scotty Moore, Sr., Branham-San Jose (CCS)
Fifth: Siraj Sidhu, Fr., Del Oro-Loomis (SJS)
Eighth: Zack Hoover, So., Laguna Creek-Elk Grove (SJS)
113
Second: Antonio Rodriguez, Fr., Los Gatos (CCS)
Fourth: Kekoa Madayag, Sr., Novato (NCS)
120
First: Isaiah Cortez, So., Gilroy (CCS)
Seventh: Eziequel Vela, Jr., Oakdale (SJS)
126
First: Elijah Cortez, So., Gilroy (CCS)
Fifth: Bryce Luna, Jr., St. Francis-Mountain View (CCS)
Seventh: Isaac Herrera, Sr., Del Oro (SJS)
132
First: Daniel Zepeda, So., Gilroy (CCS)
Fifth: Josh Hannan, Sr., Arcata (NCS)
Seventh: Alias Raby, Fr., West Valley-Cottonwood (NS)
138
Fifth: Moses Mirabal, Jr., Gilroy (CCS)
145
Fifth: Ethan Parco, Jr., Los Gatos (CCS)
152
Third: Maxximus Martinez, Sr., Gilroy (CCS)
Fifth: Gavin Fernandez, Sr., De La Salle-Concord (NCS)
160
Fourth: Dylan Pile, So., Los Gatos (CCS)
Eighth: Shaiden Carr, Sr., Oak Ridge-El Dorado Hills (SJS)
170
Fourth: Carlos Garcia, Jr., Oakdale (SJS)
Fifth: Mason Ontiveros, Fr., Pitman (SJS)
182
Fourth: Thomas Sandoval, Jr., Vacaville (SJS)
Eighth: Wes Burford, Fr., Oakdale (SJS)
195
Second: Coby Merrill, Fr., Gilroy (CCS)
Eighth: David Calkins, Fr., Liberty (NCS)
220
Fifth: Nolan Frank, Sr., Elk Grove (SJS)
Sixth: Ryan Jaleel, Sr., Vallejo (NCS)
285
Second: Sam Hinojosa, Sr., Stagg-Stockton (SJS)
Fourth: Evan Glines, Sr., Vista Del Lago-Folsom (SJS)