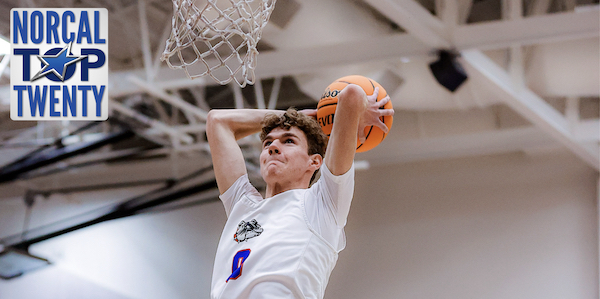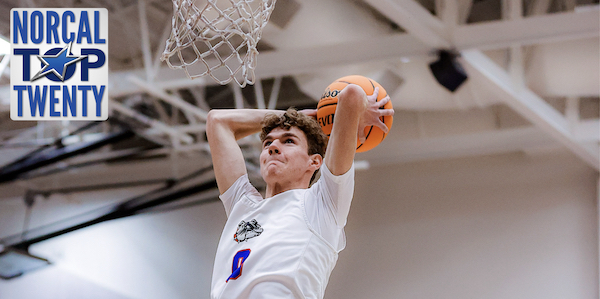 Top 12 Stick As Regular Season Closes; NorCal Boys Basketball Rankings See Only Minor Changes As We Head Into Section Playoffs • NorCal Boys...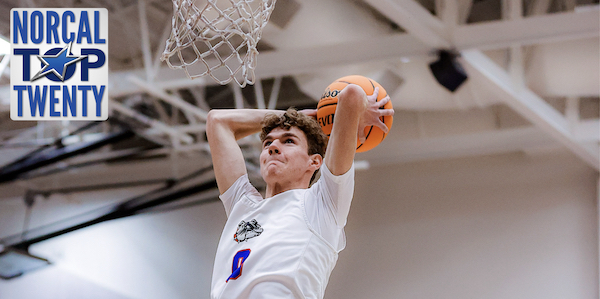 Top 12 Stick As Regular Season Closes; NorCal Boys Basketball Rankings See Only Minor Changes As We Head Into Section Playoffs •
NorCal Boys Basketball Rankings
All records are through Tuesday, Feb. 11. Previous rank in parenthesis. Records obtained through MaxPreps.com
PICTURED ABOVE: Senior Wing Justin Ard Of No. 3 Folsom. (David Gershon photo).
1. (1) Modesto Christian 22-6
2. (2) Dougherty Valley-San Ramon   25-3
3. (3) Folsom   25-2
4. (4) Inderkum-Sacramento   25-2
5. (5) Archbishop Mitty-San Jose   19-4
6. (6) Jesuit-Sacramento   23-4
7. (7) De La Salle-Concord 20-6
8. (8) Salesian-Richmond 21-7
9. (9) San Ramon Valley-Danville   23-6
10. (10) Archbishop Riordan-S.F.  18-5
11. (11) Granada-Livermore   21-8
12. (12) Dublin   18-9
13. (15) Moreau Catholic-Hayward   20-5
14. (14) Atwater   28-0
15. (16) Weston Ranch-Stockton   19-9
16. (17) Lincoln-Stockton   24-4
17. (13) St. Mary's-Stockton   22-6
18. (NR) Campolindo-Moraga   19-7
19. (18) Rio Americano-Sacramento   24-4
20. (19) University-S.F.   26-3
DROPPED OUT:
No. 20 Justin-Siena-Napa
5 TEAMS KNOCKING:
21. Clayton Valley-Concord (22-4), 22. Monte Vista-Danville (19-9), 23. Branson-Ross (24-3), 24. Las Lomas-Walnut Creek (17-9) and 25. Sacred Heart Prep (17-5).
FAST BREAKDOWN
It was a pretty low-key wrap to the league playoffs and the regular season, though No. 9 San Ramon Valley nearly caused major tremors. The Wolves had No. 2 Dougherty Valley down 27 points early in the second half of the the teams' East Bay Athletic League semifinal before the Wildcats stormed back for an incredible 86-83 win.
Obviously, SRV wasn't going to fall after that loss. And so we kept the Top 12 as is. The EBAL Tournament is going to happen all over again in the North Coast Section Open Division. Five of the six teams are from the EBAL, and we already have the four teams playing first round matchups ranked next to each other. SRV will face No. 8 Salesian-Richmond, and No. 11 Granada will take on No. 12 Dublin. They can decide things on the court. No. 7 De La Salle did lose to Granada in overtime of their semifinal, but again, the NCS Open bracket will set the hierarchy of those teams.
_______________________________
CONNECT WITH US:
Follow SportStars on Twitter & Instagram | Like us on Facebook | Subscribe!
_______________________________
One result that did cause a shift in the bottom half of the rankings was former-No. 17 Lincoln-Stockton avenging an earlier loss to then-No. 13 St. Mary's-Stockton. The Trojans held the Rams to just 28 points in the victory and move up one spot to No. 16 while St. Mary's drops four spots to No. 17.
Last week's No. 20 Justin-Siena-Napa was the one team to drop out this week. It's always tough to beat a good team three times, and the Braves finally succumbed to Petaluma 51-48 in the Vine Valley Athletic League championship game. Justin-Siena had defeated the Trojans by 15 and 13 points in the schools' first two meetings this season.
Campolindo-Moraga was the benefactor of Justin-Siena's drop. The Cougars rebounded from their loss to Las Lomas-Walnut Creek and secured the Diablo Athletic League-Foothill Division championship and No. 1 seed in the NCS Division I bracket. Their overall body of work made them the most obvious choice, and they slot back in at No. 18.
This will be the final rankings until after the section championships are played.