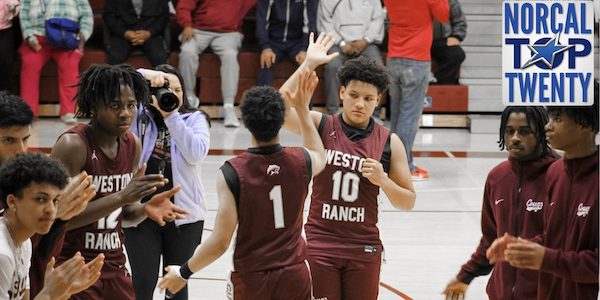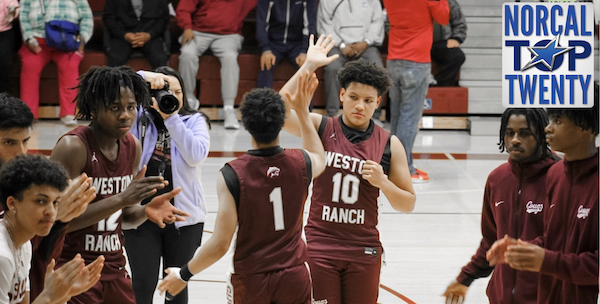 Our NorCal Boys Basketball Rankings Get The Full Shakeup Treatment As Four New Teams Crash The Party • NorCal Boys Basketball Rankings All records...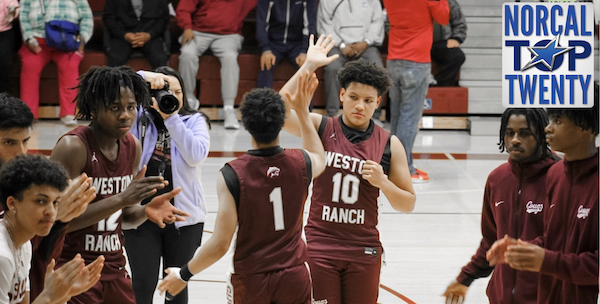 Our NorCal Boys Basketball Rankings Get The Full Shakeup Treatment As Four New Teams Crash The Party •
NorCal Boys Basketball Rankings
All records are through Tuesday, Feb. 8. Previous rank in parenthesis. Records obtained through MaxPreps.com
PICTURED ABOVE: Joziah Bell (10) And Xavion Bell (1) Of No. 16 Weston Ranch-Stockton. (Brianne Podesta photo/Twitter).
1. (1) Modesto Christian   22-6
2. (2) Dougherty Valley-San Ramon   23-3
3. (4) Folsom   24-2
4. (5) Inderkum-Sacramento   24-2
5. (3) Archbishop Mitty-San Jose   18-4
6. (6) Jesuit-Sacramento   22-4
7. (7) De La Salle-Concord  20-6
8. (9) Salesian-Richmond 19-7
9. (11) San Ramon Valley-Danville   23-5
10. (10) Archbishop Riordan-S.F.  17-5
11. (12) Granada-Livermore   20-7
12. (8) Dublin   18-9
13. (13) St. Mary's-Stockton   22-5
14. (16) Atwater   27-0
15. (19) Moreau Catholic-Hayward   19-5
16. (NR) Weston Ranch-Stockton   18-9
17. (18) Lincoln-Stockton   23-4
18. (NR) Rio Americano-Sacramento   23-4
19. (NR) University-S.F.   25-3
20. (NR) Justin-Siena-Napa   24-3
DROPPED OUT:
No. 14 Campolindo-Moraga, No. 15 Branson-Ross, No. 17 Clayton Valley-Concord and No. 20 Vanden-Fairfield
5 TEAMS KNOCKING:
21. Monte Vista-Danville (19-9), 22. Redwood-Larkspur (22-5), 23. Las Lomas-Walnut Creek (16-9), 24. Campolindo-Moraga (18-7) and 25. Oakland Tech (16-10).
FAST BREAKDOWN
It felt like we were overdue for a legitimate shakeup, and that's exactly what we got this week when it came to the NorCal boys basketball rankings.
Ten teams are in new spots this week, and four teams dropped out. There are even four new teams in the "5 Teams Knocking" list. We rarely talk about those teams in the breakdown, but one in particular deserves some love this week — as it's fully responsible for knocking two teams from the Top 20. We're referring to Las Lomas-Walnut Creek, which has barnstormed its way through the second half of play in the Diablo Athletic League-Foothill Division, recently beating No. 14 Campolindo and No. 17 Clayton Valley by a combined 35 points. Both games were on the road, too. The Knights' full body of work was pretty thin before that, but those wins against ranked teams (each with something to play for) can't be ignored.
_______________________________
CONNECT WITH US:
Follow SportStars on Twitter & Instagram | Like us on Facebook | Subscribe!
_______________________________
Now let's get into the Top 20. At the top, we have Mitty dropping two spots to No. 5 after a loss to unranked St. Ignatius-S.F.. The Monarchs avoided a bigger fall by rebounding with a win over No. 10 Riordan-S.F.
The East Bay Athletic League playoffs led to some shuffling in the middle ranks as then-No. 12 Granada avenged an earlier loss to No. 8 Dublin. The Matadors moved up one spot to No. 11 and Dublin dropped four. San Ramon Valley moved up two and now sits at No. 9. So the EBAL semifinals will feature No. 9 SRV at No. 2 Dougherty Valley, and No. 11 Granada at No. 7 De La Salle. Decent league this year.
Finally, let's talk about our four newcomers starting with a Weston Ranch team that opened the season with six straight losses and was 2-9 on Jan. 4. The Cougars now debut at No. 16 having won 16 straight with a number of quality wins, including an 81-73 win over Grant-Sacramento on Tuesday.
Rio Americano, who we wrote about earlier this week, moves into No. 18. The Raiders are one of just two teams who can claim a win over new-No. 3 Folsom — and it was about time they started getting credit for it. No. 15 Moreau Catholic is the other team.
Filling out the bottom two spots are No. 19 University-S.F. — which has built a strong resume of 25 wins but enters behind Rio Americano because of its loss to Folsom — and No. 20 Justin-Siena-Napa. The Braves are suddenly reaping the benefit of a 94-67 win over Las Lomas earlier this season. They also have quality wins over Windsor and Serra-San Mateo.