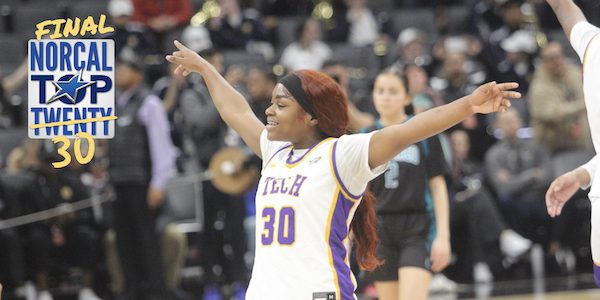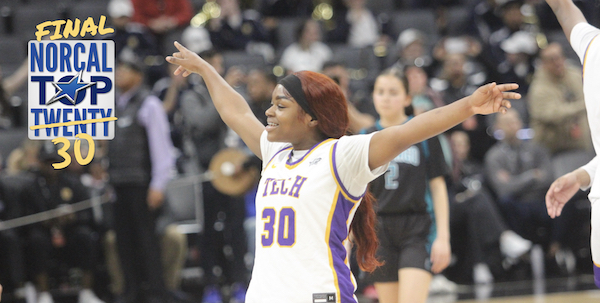 Mitty-San Jose Finishes At The Top Of Our Final NorCal Girls Basketball Rankings Yet Again — And The Dominance Isn't Likely To Stop •...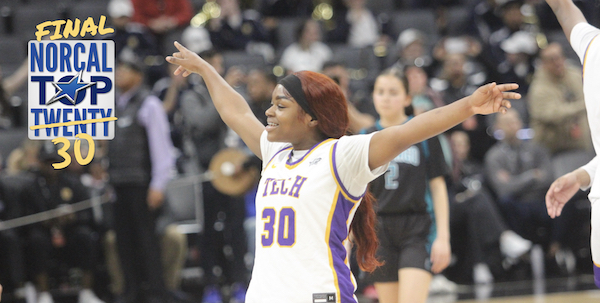 Mitty-San Jose Finishes At The Top Of Our Final NorCal Girls Basketball Rankings Yet Again — And The Dominance Isn't Likely To Stop •
PICTURED ABOVE: Senior guard Nia Hunter of No. 4 Oakland Tech. (Chace Bryson photo)
It's Mitty's world in Northern California and here in the NorCal Girls Basketball Rankings – the rest of the schools are just living in it.
Sure, the San Jose power lost a NorCal game to Piedmont back in December, and got beaten at the buzzer in the State Open championship, but the Sue Phillips' juggernaut just keeps on crushing pretenders to the regional throne. And with Power 5 prospects Morgan Cheli and McKenna Woliczko both back next year, we can already predict the 2023-24 preseason No. 1.
But looking back at 2022-23, Oakland Tech claimed another state title, this time in Division I, and Salesian, Piedmont and Folsom all earned Open Division berths. The only other NorCal team to win a California championship was Bret Hart in Division V, a team that lost three times in league before finding the magic in postseason.
Colfax and San Domenico both won NorCal titles but fell short in the championships at Golden 1 Center in Sacramento, and one final shoutout goes to Cornerstone Christian of Antioch, which won the Division VI NorCal crown in the only bracket that doesn't finish the year with a state championship game.
Final NorCal Girls Basketball Rankings. Previous rank in parenthesis, records via MaxPreps.
1. (1) Archbishop Mitty-San Jose (28-3)
A heartbreaking loss in the Open title game shouldn't erase the memories of another superb season in San Jose.
2. (2) Salesian-Richmond (27-5)
Players come and go, but the Pride always finds a way to get the job done — the win over previously unbeaten Piedmont was the icing on this year's cake.
3. (3) Piedmont (27-1)
It would have hurt less had that only loss come earlier in the year, but still, a wonderful year for the Highlanders.
4. (5) Oakland Tech (30-5)
Oakland Tech beat St. Mary's-Stockton when it counted most, and then went on to rout Santiago-Corona to win the Division I title.
5. (4) Folsom (26-3)
Folsom has established itself as the gold standard of the Gold Country and beyond, and this glittering record against quality opposition is just more proof.
_______________________________
CONNECT WITH US:
Follow SportStars on Twitter & Instagram | Like us on Facebook | Subscribe!
_______________________________
6. (6) St. Mary's-Stockton (26-10)
As usual, St. Mary's plays anyone and everyone — and every one of those 10 losses came to an elite team.
7. (7) Cardinal Newman-Santa Rosa (25-8)
Cardinal Newman might not have been the most physically imposing team in Northern California, but they beat seven teams in these rankings.
8. (8) San Ramon Valley-Danville (28-5)
San Ramon's mastery over rival Carondelet and a postseason win over Sacred Heart Cathedral earned the Wolves this spot.
9. (9) Carondelet-Concord (28-4)
Some might say Carondelet didn't live up to expectations this season, but a lot of schools would be holding celebratory rallies after 23 wins and a No. 9 ranking.
10. (10) Pinewood-Los Altos Hills (17-12)
This was a tale of two seasons for Pinewood: The healthy one and the injured one — and the healthy one was a lot more fun.
11. (11) Acalanes-Lafayette (21-8)
Acalanes won a state championship in 1999, and with a young, talented team, another banner may be on order sooner than many expect.
12. (12) Bishop O'Dowd-Oakland (20-9)
The Dragons went all in on a youth movement in 2022-23 and the expected growing pains, and losses, set the stage for a very bright future.
13. (13) Antelope (26-5)
Antelope couldn't quite keep the momentum going after a fast start, but 26 wins is a whole lot of wins.
14. (14) Vanden-Fairfield (25-8)
Another perennial power, Vanden always finds a home in the final NorCal rankings.
15. (15) Pleasant Valley-Chico (30-4)
Pleasant Valley doesn't get the same respect as teams from bigger cities, but 30 wins should open some minds.
16. (16) McClatchy-Sacramento (25-7)
McClatchy has been one of Sacramento's best for a long time, and this year was no exception.
17. (17) Palo Alto (20-7)
Palo Alto's big win over Sacred Heart Cathedral in NorCals surprised some, but not the folks on the Peninsula.
18. (18) Sacred Heart Cathedral-S.F. (21-6)
Not too many people expected this kind of season from Sacred Heart Cathedral, and if the team had stayed healthy, it might have been even better.
19. (19) Colfax (34-3)
Colfax won more games than any school in the state of California — and that's out of a pool of 1,400.
20. (20) Marin Catholic-Kentfield (28-6)
Marin Catholic lost by two in the state Division II semifinals to the eventual champ, which tells you a lot about just how good they were.
21. (NR) Heritage-Brentwood (28-6)
The win over No. 15 Pleasant Valley was huge, but a couple of upset losses kept the Patriots out of the top 20.
22. (NR) Monte Vista-Danville (26-7)
The Mustangs were below the radar all season long, but made their presence known in postseason, advancing to the D-II NorCal semifinals.
23. (NR) Christian Brothers-Sacramento (30-4)
A couple of surprising losses offset a very large number of wins.
24. (NR) Moreau Catholic-Hayward (21-10)
Moreau Catholic battled through a midseason coaching change to rack up another solid season.
25. (NR) San Marin-Novato (24-8)
San Marin capped off an impressive three-year run (77.3 winning percentage) with 24 victories and a NorCal win
26. (NR) Crystal Springs Uplands-Hillsborough (21-5)
Crystal Springs Uplands went 2-8 in the West Bay Foothill league last year, but times have changed for the better in Hillsborough.
27. (NR) Pinole Valley (20-11)
A big win over No. 19 Colfax in the West Coast Jamboree was the high point of a fine season for the Spartans.
28. (NR) University-S.F. (25-5)
A win over No. 10 Pinewood and four wins over No. 29 San Domenico earned University this spot.
29. (NR) San Domenico-San Anselmo (27-8)
San Domenico reached a state championship game for the second straight year, this time in Division IV.
30. (NR) Bret Harte-Angels Camp (26-7)
The 2023 banner hanging in the gym will read "State Champions," and how many schools have one of those on the wall?