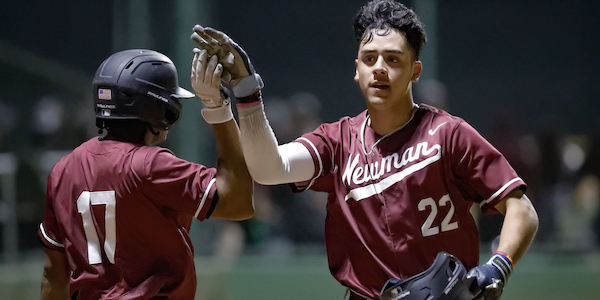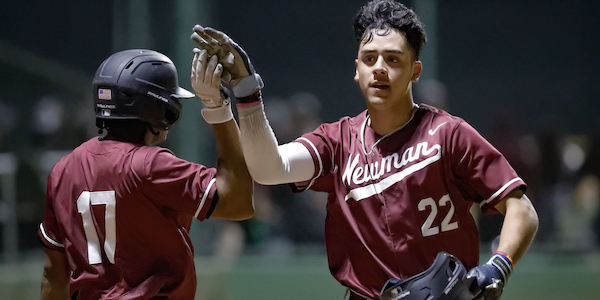 A Roster With 19 Seniors And An Identity Forged During The Covid Summer Of 2020, Has Cardinal Newman Baseball Among NorCal's Elite • PICTURED...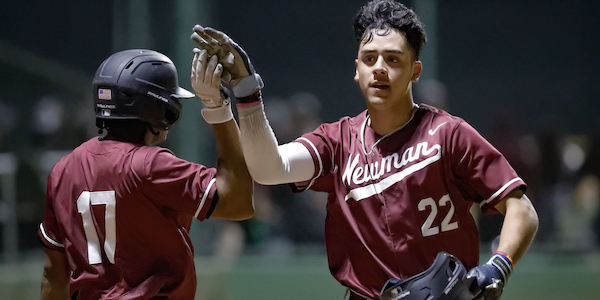 A Roster With 19 Seniors And An Identity Forged During The Covid Summer Of 2020, Has Cardinal Newman Baseball Among NorCal's Elite •
PICTURED ABOVE: Senior infielder Raul Valdivia (22) gets a high-five from Anane Wilson on his way back to the dugout. (David Gershon photos)
During the summer and fall of 2020, with Sonoma County following strict protocols in the still early stages of the pandemic, Cardinal Newman High School played host to some of the best baseball that nobody saw.
Once the North Coast Section allowed open field workouts in pods, Cardinal Newman baseball coach Derek DeBenedetti set to work getting as many kids from his program out of their quarantines and onto a diamond. Part of that was inviting 10 rising sophomores to the varsity workouts.
It started with a pitching machine and everyone wearing batting gloves on their throwing hands. Restrictions gradually loosened, and "we just played," the coach said. "All we could do was play against each other."
Mason Lerma was one of those rising sophomores. He and his nine classmates would team up with the juniors and play against the seniors. Over and over again. Three to four games a week.
"They were such good competitors," Lerma said of the 2021 senior class that included current starting Cal infielder Carson Crawford, Shane Moran (a Long Beach State signee) and Aidan Lombardi (Santa Rosa JC). "We constantly had to play our 'A' Game, and we lost almost all the time. But so many were really close. Like 3-2 or 5-4."
Those games were the flashpoint for a collective mindset that's driving the present day Cardinal Newman varsity baseball team. A team featuring 19 seniors, including those 10 sophomores of 2020.
"They hate losing more than they like winning," DeBenedetti said by phone April 12 a few hours before his team picked up a 9-5 road win in Ukiah to improve to 15-0. They beat the same Ukiah team Friday night, erasing an early 1-0 deficit to win 3-1. "They just despise losing. And right now they're refusing to."
That fortitude was on display over the first week of April when the Cardinals stormed their way to the NorCal bracket title of the prestigious Boras Classic tournament in Sacramento. They swept a doubleheader over Liberty-Brentwood and Oak Ridge-El Dorado Hills on Monday, April 3. They rested Tuesday, then topped St. Mary's-Stockton in Wednesday's semifinal and shut out Bellarmine-San Jose in Thursday's championship.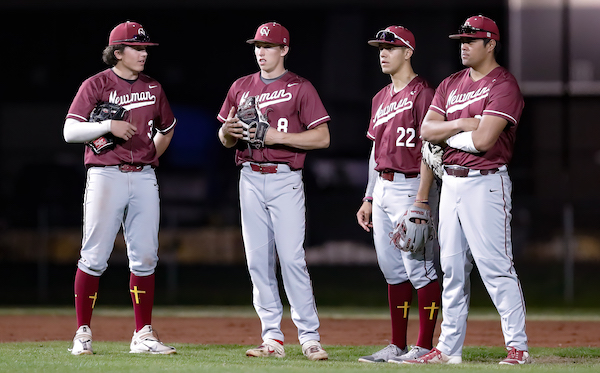 The current SportStars' NorCal Rankings of those last three teams? No. 10, No. 5 and No. 3. Which, in turn, put the Cardinals at No. 2.
"It revealed everything that we've been working toward," Newman senior catcher Justice Brinson said. "Newman has never won a Boras classic. It showed us what we can do. … We don't need the big names, or D1 guys from big showcases. We're going to be us. We're going to play our game, and we're just going to do our thing."
_______________________________
CONNECT WITH US:
Follow SportStars on Twitter & Instagram | Like us on Facebook | Subscribe!
_______________________________
It was Lerma who opened the Boras Classic with a no-hitter in a 1-0 win over Liberty. He struck out nine in the game. He actually has eight no-hit innings against the Lions this season, recording another on March 18 in one of his three saves this season. As of April 14, he's 5-0 with a 1.62 ERA.
"Mason loves the game of baseball. He's truly a sandlot player," DeBenedetti said. "He's just an ultimate competitor on the mound. There's a fearlessness about him. He just loves being out there.. Not just the big moments. He loves any moment."
Happy Easter NONO! 🐰
ICYMI: Mason Lerma ('23) out of Cardinal Newman HS was lights out @TheBorasClassic Here's all of his 9 strikeouts; Enjoy! This kid can really pitch. Congratulations young man🤝 #PGHS @PG_Uncommitted pic.twitter.com/JaqAEyHrEH— Perfect Game California (@California_PG) April 9, 2023
Lerma is far from being the pitching staff's only shining star. Fellow senior Jack Larson got the call in the Boras Classic final against Bellarmine. He tossed 5.2 scoreless innings, striking out eight and allowing just four hits. Senior Raul Valdivia completed the shutout, picking up the last four outs without giving up a hit.
Evan Sandoval and Landen Rota, both seniors, are both 2-0 with ERAs under 2.00 as well.
"The staff carries the same mentality as Mason," Brinson said, now in his second year catching for the Cardinals. "They want it. They want to go out and compete. No guy is for themselves out there. Everyone is in it for the team. They let their defense work and the strikeouts come when they do."
Brinson and the rest of the offense have done a pretty decent job at providing run support too.
Five seniors — sensing a theme? — have at least 12 hits through the team's first 15 games. Right fielder Nate Niehaus leads the way with 19, with four triples, 14 runs and 12 RBI. Shortstop Jack Lazark leads the team in both doubles (5) and runs scored (18). Third baseman Brady Boyd has a team-best 16 RBI, which included three in a game-winning home run over Oak Ridge in the Boras Classic quarterfinal.
Rota has 12 hits and center fielder Anane (pronounced Ah-nah-nay) Wilson has 15 with two home runs. 
It all makes for a pretty good spot to be in if you're setting up a pitch rotation or filling in a lineup card. DeBenedetti is now in his sixth year with the Cardinals, and though expectations were certainly high, he wasn't quite expecting 16-0 and being NorCal Boras champions. 
"I thought we would have success," the coach said. "But not at any point did I think we'd be unbeaten at this point. Because baseball doesn't always work that way, regardless of how good you are. This wasn't one of our goals, but it fits with our mind set of wanting to win every game we play."
Lerma pointed to the Boras tournament as a perfect example of that. 
"All of us felt like, 'Guys, this is our chance. We're here to win this,'" the pitcher said. " But we didn't think about who we were playing, or what they were ranked. We went out there and played our own game. We went out there with the mentality that we're the team to beat, but not letting the moment get too big. We played as a team so well that whole tournament."
And the Cardinals will hope they can put that playlist on repeat for the final three weeks of the regular season. It's no easy road to the finish line, either.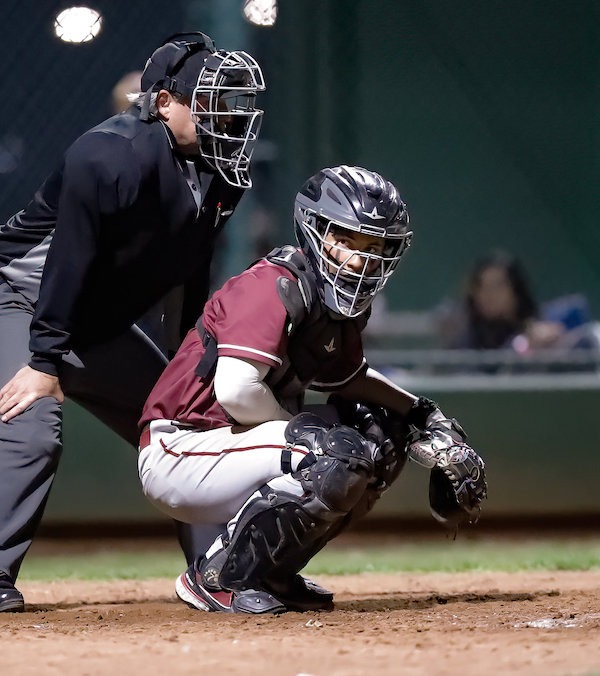 The team hosts NorCal No. 18 Marin Catholic-Kentfield in a Saturday matinee. Their last three North Bay League-Oak Division series will come against Maria Carrillo-Santa Rosa (9-5), rival Rancho Cotate-Rohnert Park (7-9) and Windsor (11-2). They will also play the Southern California Boras Classic winner (Notre Dame-Sherman Oaks or Huntington Beach) at Santa Clara University on April 29.
"I don't think anything is going to change," Brinson said. "We're going to stay within ourselves and play our game. … We have some tough games coming up ahead, but we're going to do our thing."
And that's clearly to avoid losing at all costs. Which certainly doesn't sound like a team you'd want to meet in a postseason tournament.