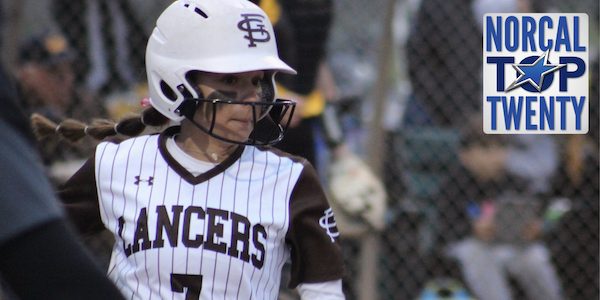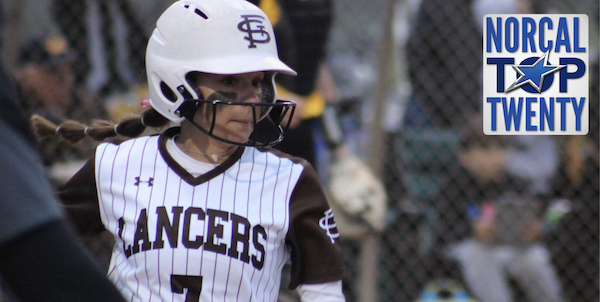 West Catholic, East Bay Athletic Leagues Dominate Livermore Stampede — Leading To Few Surprises In NorCal Softball Rankings • NorCal Softball Rankings All records...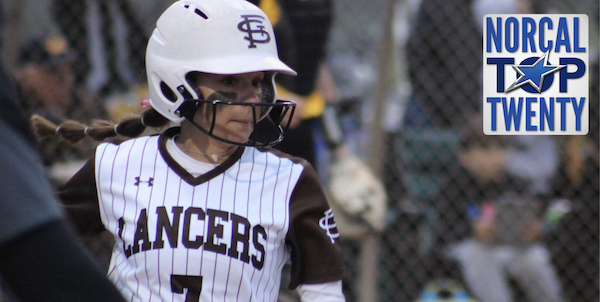 West Catholic, East Bay Athletic Leagues Dominate Livermore Stampede — Leading To Few Surprises In NorCal Softball Rankings •
NorCal Softball Rankings
All records are through Monday, April 12 (via MaxPreps). Previous rank is in parenthesis.
PICTURED ABOVE: Senior Carly Cummings Of No. 1 St. Francis-Mountain View. (Chace Bryson photo)
1. (1)  St. Francis-Mountain View   15-1
2. (4)  Archbishop Mitty-San Jose   11-2
3. (2)  Granada-Livermore   10-3
4. (6)  Hollister   16-2
5. (5)  San Ramon Valley-Danville   12-3
6. (3)  Central Catholic-Modesto   11-2
7. (7)  Sutter   13-0
8. (8)  Vista del Lago-Folsom  11-0
9. (9)  East Nicolaus  13-0-1
10. (10)  Notre Dame-Salinas   7-3
11. (11)  Oakdale   10-3
12. (17)  Franklin-Elk Grove   15-0
13. (13)  College Park-Pleasant Hill   8-3
14. (16)  Pinole Valley   17-0
15. (18) Whitney-Rocklin   10-3
16. (19)  Granite Bay   11-3
17. (14)  Heritage-Brentwood   8-3
18. (15)  Benicia   7-4-1
19. (NR)  Marin Catholic-Kentfield  9-2
20. (NR)  Amador Valley-Pleasanton   7-9
DROPPED OUT:
No. 12 Foothill-Pleasanton and No. 20 Sequoia-Redwood City.
5 TEAMS KNOCKING:
21. Livermore (11-5), 22. Pleasant Grove-Elk Grove (12-4), 23. Vacaville (10-1), 24. Vintage-Napa (9-4) and 25. Freedom-Oakley (5-5).
AROUND THE HORN
There shouldn't have been any doubt before, and there definitely shouldn't be any now: St. Francis-Mountain View is the absolute top dog of NorCal softball. The Lancers proved that unequivocally by blazing through the Livermore Stampede, NorCal's premier tournament.
Granada-Livermore was the one team to truly hang with St. Francis at the tournament, losing just 1-0 to a Kate Munnerlyn no-hitter in the Pool D finale. The NorCal 1 vs. 2 showdown was fitting of a championship game – so it's a bummer the two squads wound up in the same pool. And with last week's No. 3 Central Catholic dropping a game to unranked Lincoln-Stockton, that made the Stampede's 5th Place game between Granada and Mitty-San Jose a battle for the No. 2 ranking. Mitty prevailed 5-3.
_______________________________
CONNECT WITH US:
Follow SportStars on Twitter & Instagram | Like us on Facebook | Subscribe!
_______________________________
Despite the two WCAL teams back in the top two spots, the Stampede was still quite good for the EBAL. Granada played well despite its two losses to the St. Francis and Mitty. No. 5 San Ramon Valley-Danville defeated four ranked teams en route to reaching the final where it loss to 5-2 to St. Francis. Livermore won its pool, and Amador Valley upset Mitty 3-2 to win a pool as well. The Dons then returned to EBAL play on Tuesday and upset San Ramon Valley 4-3 in 11 innings. That's why they debut at No. 20 this week despite a sub-.500 mark.
At this point in the season, it's hard not to give undefeated teams their due respect. And that's what Franklin-Elk Grove and Pinole Valley are getting as they get decent bumps up the ladder. Franklin shut out a good Pleasant Grove-Elk Grove team on Wednesday to move to 15-0 and hop five spots up to No. 12. A scrappy Albany team pushed Pinole Valley in a pair of games, but the Spartans prevailed both times by one run to improve to 17-0 and rise two spots to No. 14.
The only other new team is a team we've already seen in the rankings this season. Marin Catholic-Kentfield has won six straight and is back in at No. 19. They slot one ahead of Amador Valley thanks to a head-to-head win in early March.