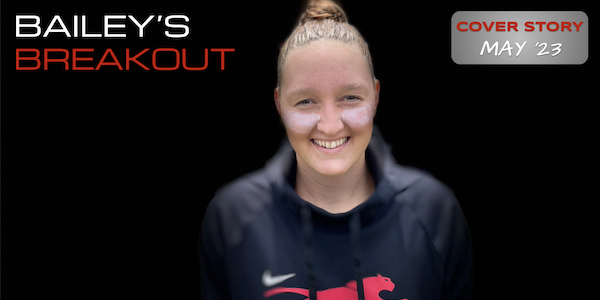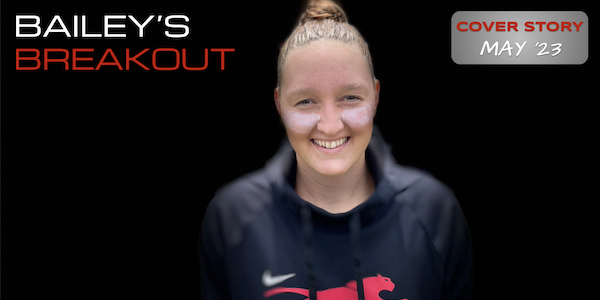 Bailey Hartman Is The Latest National-Level Swimmer At Carondelet — But The First Since 2013 To Help Carry The Cougars To An NCS Title...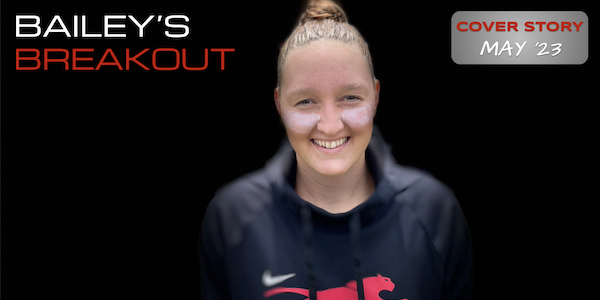 Bailey Hartman Is The Latest National-Level Swimmer At Carondelet — But The First Since 2013 To Help Carry The Cougars To An NCS Title •
Bailey Hartman sat comfortably in her fold-out camping chair posted squarely in the front corner of the Carondelet swimming tent.
Throughout the morning of May 5th at Concord Community Pool, as swimmers returned from their North Coast Section Championships qualifying heats, Hartman made a point of engaging every one. Nearly every interaction started with a smile and ended with a laugh.
This is a luxury for Hartman, one of the state's top-ranked swimmers in the 2024 class.
Over the next six weeks she'll be training and preparing to swim at the USA Swimming National Championships beginning June 27 in Indianapolis. That's where she'll swim in four events with the hope of making a national or junior national team.
But on this day, the junior who has already committed to NCAA defending-champion Virginia is soaking up the team vibes in her last weekend swimming for the Cougars.
"Going into this weekend, my goal is just to have fun," Hartman said. "This is really a fun time to experience because this is a good team that we have here, and it's a really good culture. And maybe try to break some records — you never know."
_______________________________
CONNECT WITH US:
Follow SportStars on Twitter & Instagram | Like us on Facebook | Subscribe!
_______________________________
No girls records fell during the prelims or finals, but the Carondelet team had an exceptional meet. Led by Hartman, of course. 
Hartman took first in both the 100- and 500-yard freestyles, back-to-back events separated only by the boys 100 freestyle. Which may not have been her first choice, and likely wasn't an optimal set-up for breaking any records in the 500 — an event in which she's posted faster times than Chelsea Chenault's 2012 mark of 4 minutes, 38.05 seconds. Hartman was always going to be team-first at NCS.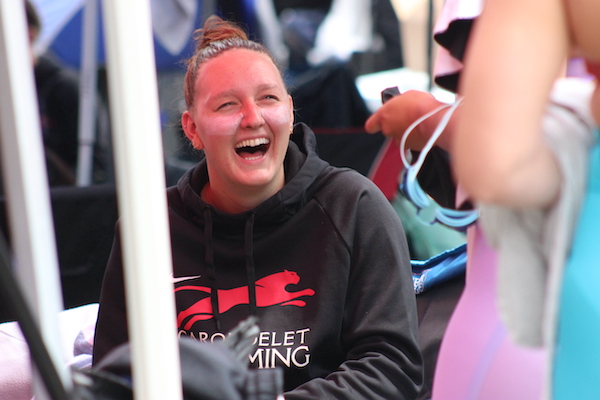 "I told (Carondelet coach) Roque (Santos) to do whatever he feels the team needs," she said. It's worth mentioning here that she finished just seven-tenths shy of setting the 100 freestyle record held by former Carondelet standout Madelyn Murphy. "We obviously want to win as a team, and he put me in the 100 and 500 because he thinks I can win both."
And once she did, it set up the Cougars for the back half of the finals. Junior Madison O'Connell took second in the 100 backstroke and senior Stephanie Iannaccone did the same in the 100 breaststroke. Carondelet then sealed its first section championship since 2013 with a dominant win in the 400 freestyle relay.
Iannaccone swam the lead leg, followed by Claudia Dumais, Ellie Butler and Hartman on the anchor leg. They finished a little more than five seconds in front of second-place Monte Vista-Danville.
Hartman understands the history and tradition of swimming for Carondelet, which owns all but two of the NCS meet records for the 12 standard events. But for all those records and standout performances, there hadn't been a team title in a decade. (There were no championships held in 2020 or 2021).
"Carondelet is such a good school to be a part of," Hartman said. "We say it a lot. It's like a sisterhood. And it really is. We really support each other and we're all part of this big family. It's really cool to be a part of something that big."
Her dedication to the team dynamic doesn't go unnoticed or unappreciated by teammates, either.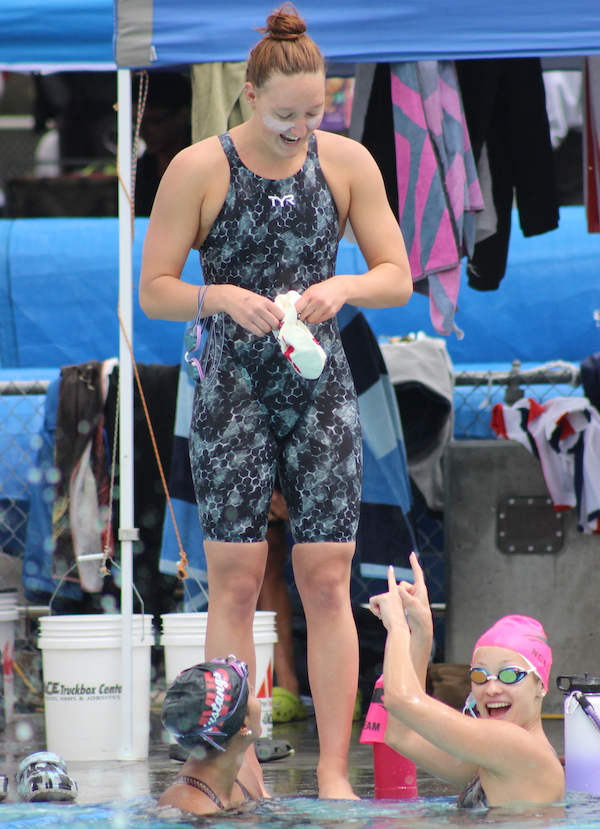 "Bailey Hartman is the most hard-working person and the best teammate that you'll ever have in your entire life," said Butler, a sophomore who took fifth in both the 200 freestyle and 100 butterfly finals, and was part of the third-place 200 freestyle relay team in addition to the 400 relay champs.
"She's not afraid to hold people accountable, and she makes sure that you're always putting your best foot forward both in and out of the pool."
Hartman's swimming journey began as an 8-year old in an attempt to be like her older sister Zoie.
Remember how we mentioned that there are just two non-Carondelet NCS meet records? Zoie Hartman owns one of them. She set the 200 individual medley record as a senior for Monte Vista in 2019. She just recently wrapped an extremely successful career for the University of Georgia where she holds the school record for both the 100-meter and 200-meter breaststroke.
Both sisters joined the Crow Canyon Sharks around the same time. And both will be swimming events at Nationals late next month.
Sharks head coach and Aquatics Director Joe Natina joined the club around the same time as the Hartman sisters and actually coached all three siblings. Their brother Zach swam for Monte Vista and graduated in 2022.
"All of the siblings, what sets them apart is their work ethic and consistency," Natina said. "Bailey doesn't blow away practice every day, but she executes the training sessions as prescribed every day. And when you do that over a long period of time, you get pretty good."
She was more than good at the Speedo Winter Junior Championships West in Austin, Texas, last December. She finished fourth in a blazing fast 500-yard freestyle finals that saw all four top finishers post times that would've won the previous two NCAA championships for the event.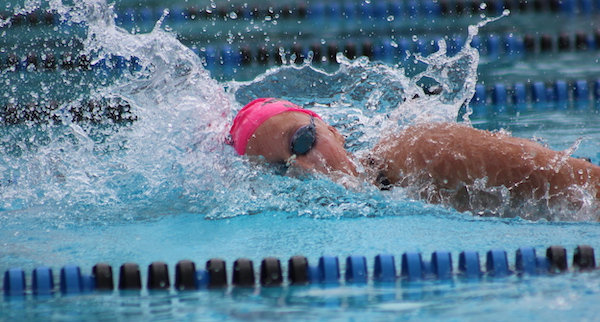 Hartman's time was 4:33.72 (remember we noted Chenault's NCS record was 4:38?). The top three spots were swept by three members of the Sandpipers of Nevada club. Bella Sims finished in 4:28.64, followed by Katie Grimes (4:29.53) and Claire Weinstein (4:33.03).
"That was definitely a shock," Bailey said. "Honestly it was a shock in prelims to go 4:39. I was really not expecting that out of myself at all. I was just trying to race the Sandpipers who were seeded in the middle of the pool. … I wasn't even mad about where I placed. I was really just proud of how I strove to finish the race well."
Natina couldn't believe it as he watched.
"I remember thinking she's got to be falling off pace, because the other girls were pulling away," the coach recalled. "I was just being blown away by the effort she was giving. … I don't know this for sure, but I think it's got to be the fastest heat of 500 frees there's ever been as far as depth goes. For all four of those girls to be under what won NCAA's the last two years? I was like, 'Wow.' That was the most amazing thing I'd ever seen in person, at least in terms of 500 free.
"I was proud of her effort, and I think she's hungry to do more."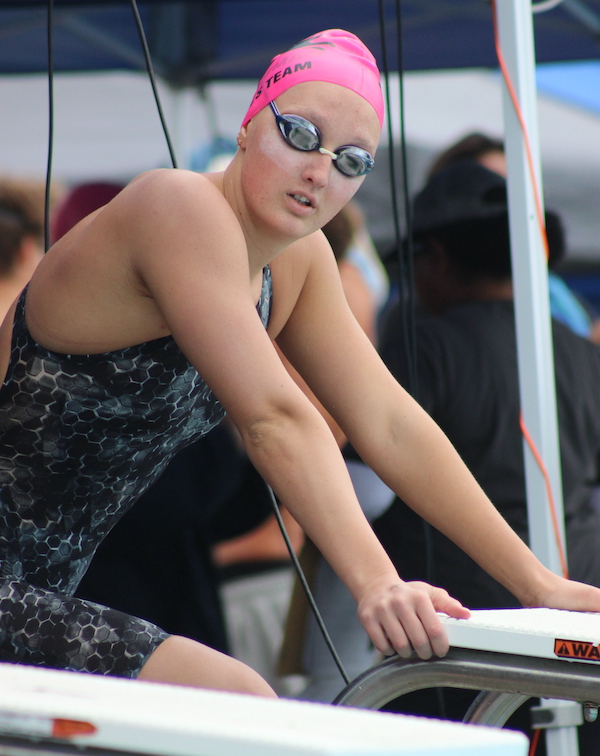 Doing more will start with a Pro Series meet in Mission Viejo in mid-May, an event that will lead to her skipping the CIF State Championships in Clovis. Then she'll gear up for Nationals at the end of June. She'll be swimming in four events there, the 100- and 200-meter butterfly, and the 200 and 400 freestyles. 
"With Bailey, it wasn't a matter of IF she was going to break through, but WHEN," Natina said. "I think she's got a fairly decent chance at (making) the world juniors team. … She's fired up."
And she'll dive into those goals as a now six-time (five race, one team) NCS champion. Even if the records have to wait.